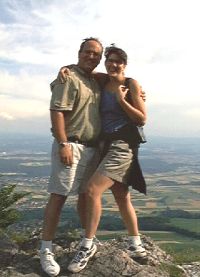 Office Odyssey:
The Virtual Workplace
at the Extreme
By JACK LYNE • Site Selection Executive Editor of Interactive Publishing
There's telecommuting, and then there's Office Odyssey (www.officeodyssey.com) - which even bills itself as "Extreme Telecommuting."
The site is certainly that. And Office Odyssey is little startling in how it relates to how and where the rest of us work.
The startling aspect comes from the fact that Sid and Kristanne Heaton, the husband and wife team behind Office Odyssey, live as the ultimate digital nomads. They frequently tour the world while simultaneously maintaining substantive jobs through telecommuting.
Remember when that kind of existence was seen as the workplace future? IT and the Net, some analysts insisted, would make place irrelevant, creating a world in which everyone worked anywhere they wanted.
Things, of course, didn't turn out that way. Sure, lots of us do part of our work in non-traditional settings. But place - particularly for knowledge work - has become even more important.
---
ABOVE: Top of the digital world, Ma: The globetrotting Heatons.
BELOW: Digital pilgrims' progress: the map of the 13-month European jaunt.
---
A 13-Month European Trek
Sid and Kristanne Heaton, though, ran with the virtual-workplace idea to the ends of the Earth - literally. You'll find onsite, for example, weekly recaps of the 13 months the Heatons spent in Europe ("the only place in the world where the solo albums of David Hasselhoff are still selling like hotcakes," Stan drolly notes).
Sid and Kristanne lived in five European countries during that 13-month span, and they spent considerable time in seven others. All the while they kept the same jobs, working virtually. (The site has an interactive map of Europe. A click on highlighted cities takes you directly to the reportage and photos related to that city.)
This is pretty mind-boggling stuff to those of us at once thoroughly wired and so thoroughly covered up in work that vacations present scheduling problems. The Heatons, on the other hand, seem to be on permanent vacation.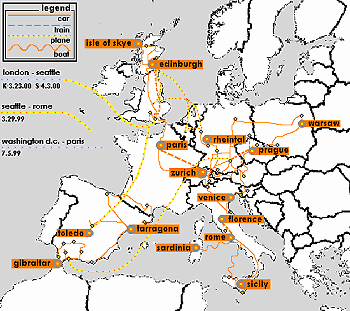 Bonuses and Raises for Sid,
A Boost for Human Nature
'Theory B'
During their long treks, though, the couple actually works - and rather productively to boot.
For example, Sid, a technical writer with an unnamed California company, has gotten bonuses and raises while living as a globetrotting telecommuter. That success, in turn, buttresses the so-called "Theory B" of human nature - the one that posits that people want to work and want to enjoy meaningful work.
Stan can certainly write. His voluminous onsite reportage is often funny. (Stan on Spain's Dali Museum: "From the building itself, all covered with sculptures of loaves of bread, to the giant mural in front of his grave, all the way to the indescribably strange installment of an old Cadillac with two mannequins and a rain machine inside and a rowboat with a parasol on top, the Dali Museum is definitely a real head-scratcher.")
If you're looking for business wisdom, though, don't look here. Most of Office Odyssey is like a Woody Allen travelogue on Dexedrine. (In fact, the site has an overabundance of exclamation points. Sometimes these seem unnecessary! Know what I mean! And you may agree that the site's brown background wasn't the most reader-friendly choice).
You'll probably leave Office Odyssey feeling a bit envious of the Heatons. But you'll also likely leave with a revitalized appreciation for both virtual work and for your own wanderlust.