The Illinois DCCA Site:
Strong Technology, Straightforward Approach
By JACK LYNE • Site Selection Executive Editor of Interactive Publishing
E-gad! The e-xcess!
That was on-e of our ov-e-rwh-e-lming r-e-actions at IDRC's r-e-c-e-nt Florida World Congr-e-ss.
Generally, great program. As always, great group. But, oh my, the glut of technobabble. There were probably more hyphenated "e's" and mangled buzzwords flying around than there were disqualified ballots in Palm Beach County.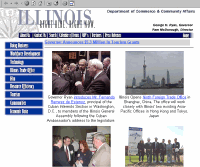 Nonetheless, IDRC's Florida bash provided a lot of new knowledge. But we also came away with a renewed appreciation of the eloquence of plain speaking. And that's one reason we like the Illinois Dept. of Commerce and Community Affairs' (DCCA) Web site (www.commerce.state.il.us), which combines strong technology with a straightforward approach.
DCCA doesn't waste your online time by telling you how knowledgeable and great it is. It knows what it's trying to do for corporate users, and it goes out and does it.

A Focus on 'I Want'
You get that businesslike drift right off by clicking on the "Doing Business" bar, located atop the stacked options on the home page's left-hand side. That takes you to a set of sentences that are supremely effective in their succinctness.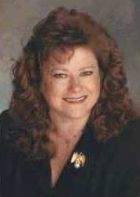 Among them:
"I want to start of expand my business."
"I want to find a location for my business in Illinois."
"I want financial assistance for my business."
"I want help locating and training workers."
A click on the pertinent question takes you directly to the content aimed at meeting your needs.
---
RIGHT: Pam McDonough is DCCA's director.
---

Data-Rich 'Community Profiles'
And there's a wealth of strong content on DCCA's site.
Clicking on the "Communities" bar, for example, takes you to "Community Profiles," with communities divided into northern, central and southern regions.
A click on any region brings up a regional map. A click on any country on the map brings up that county's community profiles - and there are tons of them. The site, for example, lists more than 80 different community profiles for Cook County.
Significantly, those profiles employ a standardized data format (which may have been the most urgent need expressed at IDRC's Florida confab). That standardization allows users to make meaningful comparisons. Each profile provides information under the categories of "Economic Development Amenities," "Transportation," "Utilities," "Health Facilities," "Education Facilities," "Employment" (including major existing employers, wage rates and area union activity), "Community Facilities," and "Tax Structure."
Most communities we viewed during our test drive had the full complement of data. We did, however, find some profiles that didn't have some information, particularly for wage rates.

A Searchable Available Buildings/Sites Database
DCCA's site also has a strong interactive aspect in its database of available buildings and sites (also part of the "Communities Profiles" click-off).
Users can specify a host of parameters in searching the database. Some of the search options include not only location, but also site and building sizes, distances to air, interstate and rail links, number of truck docks, power source, crane availability, and sprinkler installations.
Appropriately, the DCCA site delivers its data with notable lack of visual frou-frou. The focus is on information, not frills.
Generally, the site navigates smoothly. You may, however, find yourself a tad frustrated when the "hierarchical menus" are loading for some of the pages. But if this site's info is what you're looking for, the quality of the data - and its friendliness to corporate users -- makes it worth the wait.
This, in short, is a site that doesn't have to resort to e-gobbledygook to make some foggily perceived point. Instead, its very usefulness is the point. And that, after all, is what the whole Internet Age needs to be about.
Editor's note: Focused on e-business and real estate, Site Selection's January 2001 issue will feature an analysis of top state Web sites, as well as a recap of IDRC's Florida World Congress.
No actual "e's" were harmed or injured in any way during the writing of this report.