Smartgrowth.Org: Tons of Info on a Thorny Issue Whose Time Seems to Have Come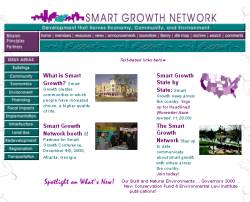 By JACK LYNE • Site Selection Executive Editor of Interactive Publishing
Let's be up-front here. To a substantial slice of the real estate industry, growth management of any sort remains anathema. "Smart growth," however, seems an idea whose time has come. Twenty-eight U.S. governors, for example, mentioned growth-management issues in their 2000 State of the State addresses; 11 of them directly endorsed smart growth.
That explains the significance of the Web site for the Smart Growth Network (SGN at www.smartgrowth.org).
Yes, the site has an agenda. SGN is "a growing coalition of developers, planners, government officials, lending institutions, community development organizations, architects, environmentalists and community activists . . . [who] hope to encourage more environmentally and fiscally responsible land use, growth and development," as smarthgrowth.org puts it. To most of the developed world, however, that's anything but a wacky agenda. Its increasingly mainstream position is emphasized, in fact, by some familiar names on SGN's list of "partner organizations," including the International City/County Management Assn., the National Assn. of Counties and the Urban Land Institute.
Agenda concerns aside, the SGN site provides a ton of information. In particular, it's a rich data repository for anyone who wants to keep a finger on growth management's ever-quickening pulse.

State-by-State News Summaries
That strength of that data repository reflects one of the site's major pluses: its ability to gather and skillfully summarize growth-management developments and issues. SGN, for example, offers "Smart Growth State by State." That feature is under the "News" click-off and consists of end-of-the-month updates on growth issues in all 50 states.
The October installment, for instance, has 10 summaries for California, where some of the fiercest growth-control battles are unfolding. All, as you might imagine, have significant real estate ramifications. The summaries are well done, and all link to longer articles from the mainstream press.
(Be forewarned, however, that the links don't lead directly to the articles, only to the sources that printed them. To find an article, you'll have to search the source's site - and hope that the content hasn't gone into a for-fee archive.)

Deep Archival Resources
The SGN site's "Archives" section is also a rich source for users seeking earlier information. (Some parts of the site's archives were still under construction as of this writing.) The "Smart Growth Press" archive, for example, has more than 1,225 summaries of news articles from 1998-99. The site also has an "International Notes Archive," but its content is considerably less meaty than for the United States. And for true-believer research hounds, there are even two lengthy online bibliographies.
The site also has a "Building News" section (also under the "News" click-off). The content therein contains some examples germane to the private sector. Much of the Building News content, however, is focused on either the public sector or on research findings (not that there's anything wrong with that -- ultimately, it's all part of the same pie).

Defining Growth, Smart and Dumb
The site has a paid section for members, with membership benefits including networking and a newsletter. Everything described in this review, however, is available to all users. (Full disclosure: This reviewer is a member of practically nothing save the human race.) Even with its gold mine of online information, the site navigates smoothly.
SGN, practically by definition seems to be navigating toward trying to resolve one major growth-management issue. That is, it's unlikely that many of us can yet pinpoint exactly what smart growth really means in practice.
We've learned, though, the perils of what, in retrospect, seems like "dumb growth" - overburdened infrastructure that strangles business operations, for example, and labor pools marooned too far away from many jobs.
And those hard lessons, it seems, account for why smartgrowth.org exists.