Comro.com: Death of an Online Contender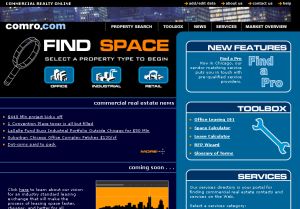 By JACK LYNE • Site Selection Executive Editor of Interactive Publishing
For Comro.com (www.comro.com), this holiday season isn't about the five shopping days left until Christmas. It's about the 12 days left . . . period.
On Dec. 31st, Comro.com will shake off this mortal fiber-optic coil. Once considered one of online real estate's most promising ventures, the Chicago-based real estate information service is pulling the plug, it announced late last week.
Comro notified its clients in mid-November "so it won't come to a sudden end for them," said founder and COO Kevin Travers.
"Comro's adoption has been slower than we would've wanted," Travers explained.

One of Industry's 'Most
Promising Sites,' Said Fortune.Com
The news had added sting for the folks at Comro.com, coming as it does in a season in which gaiety is practically demanded.
The site's looming demise also throws a veritable forearm shiver of a reality check to the collective chin of online real estate. Comro, after all, was no half-baked idea thrown willy-nilly into cyberspace. Nor was it an enterprise that coulda been a contender. Comro was a contender.
This corner picked Comro for our Feb. 14 "Editor's Web Pick." We're weren't alone in our positive assessment.
Fortune.com's "Best of the Web B2B Guide" in July named Comro one of "the most promising national online commercial real estate Web sites." Comro was one of only five U.S. commercial real estate sites that received Fortune.com's "most promising" designation.

What Does This Tell Us?
Comro's signoff doesn't offer definitive answers as to where online real estate is headed. Things are way too unpredictable now for definitive answers.
Comro's passing does, though, seem to buttress the notion that the field is over-saturated, with too many siloed players vying for the same slice of the pie.
A further shakeout is virtually inevitable. For one thing, as Travers noted in announcing Comro's end, many large owners of office properties are forming their own online arms. For the effected parts of the market, that essentially eliminates the need for fee-based third-party online information services.
Consolidation may also further thin cyberspace's real estate ranks. But that's not a given. With many sites adopting a sharp focus on highly defined market niches, meaningful consolidation is unlikely, a number of high-profile observers contend.

Site Did Much Right
Perhaps some of the major lessons from Comro's closing lie in what the site seemed to do right. Comro's pluses included:
Having in-house real estate expertise: Chairman and CEO Robert Spoerri was the former CEO of Jones Lang LaSalle Americas and served as president of LaSalle Partners before its 1999 merger with Jones Lang Wootton.
Being an early mover: Comro got into the game back in 1997, coming online as "Chicago Office Bulletin."
Having a well-heeled backer with a real estate bloodline: Security Capital Group (www.securitycapital.com), a Sante Fe, N.M.-based international real estate research, investment and operating management company, bought Comro in 1998. Comro soon began ambitiously expanding, appreciably upping staffing and opening new offices in Atlanta, Dallas, Los Angeles and New York. In February 2000, the company reported 10fold increases in listings and visits over a six-month span.
Securing some high-profile clients: Companies with Comro-listed properties included the John Buck Co., CB Richard Ellis, Great Lakes REIT, Jones Lang LaSalle, Prime Group Realty Trust, ProLogis and the RREEF Funds.

Too Late for Late Movers?
All that, though, wasn't enough to create a client base big enough to make Comro a long-term go. Perhaps Comro's demise sounds its most clear cautionary note to those only now trying to get in on the online real estate action. Granted, first movers don't always win. But when an online real estate player of Comro's ilk goes down, it may signal that the expiration date for late movers has transpired.
"We're what's next in commercial real estate," went a Comro slogan.
That didn't happen. Nonetheless, it was a quality site, which isn't a remotely easy thing to create.
Hail and farewell, Comro.com.