Map.Net: XML-Driven Search Engine
Innovative, But How Useful?
By JACK LYNE • Site Selection Executive Editor of Interactive Publishing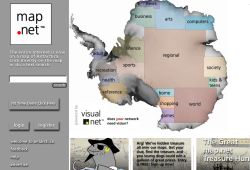 A

NTARCTICA - Apropos of the season, we'd hoped to report this week on the aftermath at the North Pole. Instead, we're at the South Pole, searching for Web sites.
Actually, we're on an online map of Antarctica that is the heart of map.net (www.map.net). Launched last month, map.net provides a look at part of the cyberspace future, particularly for search engines.
What sets map.net apart is that it presents Web sites visually - depicted as mapped buildings, no less.


Web Sites as Buildings,
Helicopter Tours Available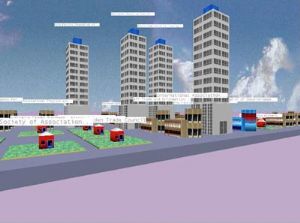 Here's how it works. Map.net divides Web sites into categories that it groups in color-coded "neighborhoods" on an outline map of Antarctica. Neighborhoods include "business (yes, there's a real estate click-off), world, sports, regional, society, arts, games, computers, health, home, news, adult, recreation, reference, science," and "shopping."
The Antarctica map, though, is only the iceberg's tip. As you drill down, site categories are mapped as cities. Each individual site is represented as a color-coded building. (The site considers brown-colored buildings most important, houses least important, and office buildings in the mid-range.)
The site's use of XML (extensible markup language) enables users to view the information in 2-D or 3-D. With the 3-D option, you can even take a helicopter-like "flight" through chosen neighborhoods.
Map.net, in short, works much like a video game. And that's exactly the idea, according to Tim Bray, president of Vancouver, British Columbia-based Antarcti.ca, the company behind map.net. "People have gotten used to seeing the Net through the tiny, unsatisfying lens of search engines," explained Bray - who, significantly, is also the co-inventor of XML.
"While the engines are getting smarter, nobody would describe Web navigation as either efficient or fun," Bray continued. "Antarcti.ca offers a public Web site that gives people a view of the whole Net and lets them use it in a way that is consistent with the everyday world they live in."
---
A 3-D view (above): The shorter brown buildings represent Web sites
that are actually more important than the taller facilities, says map.net.
---

Substantial Caveats Include:
Save and Close Files Before 3-D Use!
Map.net's visuals are a long, long way from search engines' text-only present. That said, though, the site comes with substantial caveats.
The first could be crucial for users: Save and close anything you need before launching the 3-D feature. To see the 3-D, you have to download map.net's "Visual Net" software. Then you'll have to reboot for the 3-D effects to work.
That brings us to caveat two. That is, we're not entirely certain you'll want to use this site if you're looking for real estate-related information. Map.net's a bit thin there (more about that anon). Instead, its glimpse into the future seems its prime virtue.
But the future came ver-r-r-y slowly during our test drive. Almost every part of map.net ran at a snail's pace, particularly the visuals. And the 3-D effects? While they're plenty cool, they were also excruciatingly sluggish during our test. You'll likely need a rig with tons of juice to get map.net to jump.

Spotty Real Estate Info:
No IDRC, No NACORE
Added to those time-eater tendencies is the spottiness of the site's real estate-related info. In the real estate organizations section, for example, we found neither the International Development Research Council (IDRC) or NACORE International (www.nacore.com), widely considered the thoroughbreds of corporate real estate associations. On the other hand, the site did map BOMA International (www.boma.org), the Institute of Real Estate Management (www.irem.org) and the Society of Industrial and Office Realtors (www.sior.com).
Odd, we thought. So we searched for IDRC and NACORE with the site's text-only option. Nada. Zip. That said, map.net plainly states that it's not mapping its own information. It's mapping Netscape/AOL's "Open Directory Project" (ODP at www.dmoz.org) - which, we should note, is entirely done by volunteers.
Bray, in fact, made no bones in saying that map.net is "a showcase site." What Antarcti.ca is trying to demonstrate with map.net is how it would set up customers' intranets or extranets. That's a perfectly sound business idea. Whether you'll want to use it for real-world searches, though, is quite another thing. Personally, we're sticking with old favorites like dogpile.com and google.com, which reward specific search parameters with oodles of information.
(Interesting, we searched with the parameters "the International Development Research Council" on Google - which has integrated its search technology with the ODP directory. Google, nonetheless, yielded 1,920 results. Go figure.)

XML Ahead
XML, however, will soon make a huge online mark. Bill Gates, for example, used part of his last month's Comdex keynote to tout the XML capabilities of Office 10, scheduled to hit the market in 2001.
The XML features, Gates explained, will enable Office 10 to tie words or data to information residing on the Internet. "Smart Tags," for example, will automatically link designated words to intranet- or Internet-based information.
"Microsoft and the industry should really build their future around XML," said Gates. Map.net may be what the Web future will look like.
LOOKING FOR MORE? BROWSE THE "WEB PICK" ARCHIVE
---
PLEASE VISIT OUR SPONSOR • CLICK ABOVE
©2001 Conway Data, Inc. All rights reserved. Data is from many sources and is not warranted to be accurate or current.