RealEstate.Com: A Cautionary Online Tale
By JACK LYNE • Site Selection Executive Editor of Interactive Publishing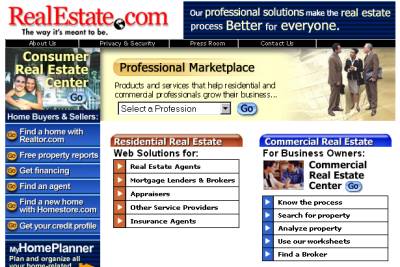 Every Web site tells a story. The story behind Atlanta-based RealEstate.com isn't pretty. A few days before Christmas, for example, RealEstate.com stiffed employees for their scheduled final paychecks.
One reason: the US$200,000 a year that RealEstate.com founder Alan Daniels had already burned up in leasing a luxury skybox in Philips Arena.
Another reason: RealEstate.com's posh digs, described by a onetime employee as "three and a half floors of some of the most expensive real estate in town -- without the cash to hire employees to fill it."
Now RealEstate.com's story has reached apparent endgame. Access efforts are greeted with the online message: "There was no response." New owner J.P. Carey (www.jpcarey.com) - an investment banking/asset management firm among the many burned RealEstate.com investors -- pulled the site's plug in late December.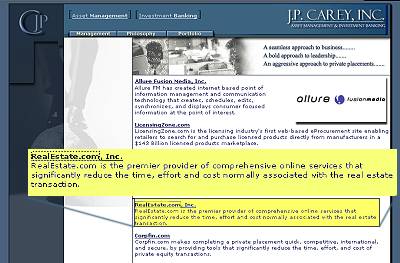 A Cautionary Tale in Dot-Com Real Estate
In retrospect, RealEstate.com stands as a cautionary tale in dot-com real estate. Aimed at the residential market, RealEstate.com fell victim to the host of players crowding its niche, plus its own indecisive, ever-shifting focus. Add to that the huge sums expended to sate Alan Daniels' taste for the lavish.
Enabling that extravagance was the onetime knee-jerk ardor that investors had for anything remotely dot-com. RealEstate.com burned through $60 million of venture capital and $10 million in old-fashioned unpaid debt. And many RealEstate.com investors weren't technological neophytes. One, for example, was Microsoft cofounder Paul Allen's Vulcan Ventures (www.paulallen.com).
Maybe investors perceived a payoff looming with every shift in the RealEstate.com business model. If that's the case, they saw a slew of looming payoffs.
RealEstate.com began as an online tool that analyzed property values on the basis of the assets' addresses. Then came a hodgepodge of other offerings that spanned B2C, B2B and many points in between. There were property listings, online tools for lenders and agents, Web-page construction, reverse mortgage auctions, and a strategic agreement to provide real estate content on Lycos Network (www.lycos.com/network).
A long-ballyhooed IPO never materialized. Neither did a planned sale to homestore.com (www.homestore.com).

Real Estate Amateur Hour?
All the while, the expense meter ran in overdrive. According to reports in The Atlanta Journal-Constitution (www.accessatlanta.com), Daniels ran the headquarters in a fashion that most savvy real estate players would consider quintessential amateur hour.
Flowers, for instance, were delivered - daily - to headquarters. And that headquarters featured such trophy-building excesses as marble-topped floors and solid-wood desks. Limos and lavish parties were virtual constants. Daniels not only had an assistant; the assistant had a secretary.
Some of those excesses have been detailed online at a site that, to be delicate, we'll call freakedcompany.com (www.f*****company.com), which chronicles business casualties. (Be forewarned: While often hilarious, the site is definitely not for the faint of heart or the easily offended.)
Said one freakedcompany.com posting, "I don't think most people have ever questioned the smarts or resourcefulness of any of the employees at the company, those let go or those who are still there. But a close look at the folks running the company would give anyone pause."

Web Posting: 'No Severance for You'
Freakedcompany.com postings also chronicle the growing unease within RealEstate.com. Responding to rumors of impending collapse, a November post noted, "Plenty of us left. There are about 80 employees remaining, staying the course and seeing it through. (There is a fine line bordering loyalty and insanity!)."
That post drew a caustic response a day later: "Staying what course? . . . There won't be any severance for you. Got that from EMT."
The latter posting proved true. RealEstate.com employees didn't even receive final paychecks, much less severance pay. (Daniels, on the other hand, sold his RealEstate.com stake for $3 million.)

Sand Hill Capital in for $10 Million
Logic would suggest that RealEstate.com is permanently toast.
But maybe not. J.P. Carey invested $2.5 million back in the site's imagined heyday. Carey may try to salvage that outlay by reinventing RealEstate.com.
At least it has the opportunity. Not so for Sand Hill Capital (www.sandhillcapital.com), which sold RealEstate.com to J.P. Carey. "They know something that traditional banks don't," The Wall Street Journal once wrote of Menlo, Calif.-based Sand Hill, which supplies bridge loans to startups. What Sand Hill knew about RealEstate.com was that it loaned the company $10 million last year. In December, Sand Hill foreclosed. Once as high as 150, staffing dropped drastically. Only a skeleton staff was retained, to keep the Web site running and to provide a semblance of communication with the outside world.
Hoping to partially recoup its investment, Sand Hill planned to fund the Web site for another year. That plan was junked when Carey offered to buy RealEstate.com's remaining assets. Where do those assets go now? Well, RealEstate.com is still listed in the Carey Web site's portfolio. There's even a link to RealEstate.com. All you get for your click, though, is, "There was no response."
Investors and former employees understand.
LOOKING FOR MORE? BROWSE THE "WEB PICK" ARCHIVE
---
PLEASE VISIT OUR SPONSOR • CLICK ABOVE
©2001 Conway Data, Inc. All rights reserved. Data is from many sources and is not warranted to be accurate or current.