It's tough these days finding anything in online real estate that's still a bona fide first. Rupron.com (
www.rupron.com
), however, seems to fit that bill.
An acronym for "Russian Property Online," Rupron bills itself as "the first Internet-based information services system serving the community of businesses involved in Russian real estate."
Rupron seems that, and it fills the role admirably. The site has high-quality content and commendable navigability. Though a relative cyberspace newcomer, Rupron has already bulked up its online offerings to include a solid real estate journal, a properties database, a job market, and discussion boards.
And there's a definite need for such a site. Despite the nation's economic tailspin, parts of Russia's real estate market are showing strong signs of coming back. Consider that both Colliers International (
www.colliers.com
) and GVA Sawyer (
www.gvasawyer.com
) are Rupron.com advertisers. (The site, incidentally, has both English- and Russian-language versions; the language option is on the home page's upper left-hand side.)
Unhand That Power Cord, Sen. McCarthy
Rupron's overall slant, for those with lingering Cold War wounds, is decidedly free-market. Consider, for example, the article "Dancing in the Factories, Trading in the Outskirts," a St. Petersburg market review from
Property Review
, the online journal (which features excellent English translations). The piece says in part, "Any potential commercial tenant has two choices: to go to an agency and rent from a private landlord, or to go to the Committee of the Dept. of City Property (KUGI) and rent from the city." The article then details the opinions of several local players; they essentially say that while KUGI may offer low rents, it has few worthwhile properties, and it's the far more bureaucratic option.
In addition to its free-market attitude, Rupron is also almost entirely free. Users only have to register. The only players who pay Rupron are those that already have free property listings, but chose to enhance them with floor plans, photos, hypertext links, etc.
Database Mostly Moscow, But
Rupron Says It Will Go Deeper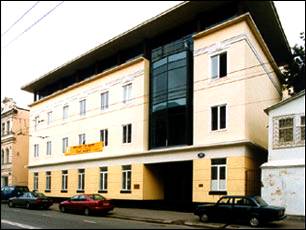 Rupron's searchable properties database is good - at least as far as it goes.
Search variables include: property name, street name, nearest metro, city section, total-area range, rentable-space range and base-rental rate range. As you'd expect, the for-pay listings with "extended listing information" provide the most solid factual punch. Even so, the for-free listings are pretty thorough in and of themselves.
Rupron's database includes offices, warehouses and industrial and retail space, as well as housing, raw land, and properties up for government auction. The online properties' geographic range, however, is largely limited to the Moscow area.
That may soon change. Rupron's home page says, "In the next few weeks . . . we will launch an interactive system linking subscribers directly to the full range of real estate services throughout Russia, as well as a wide array of informational resources."
---
---
Does This Job Require Sex?
Rupron's "Job Market" section allows users to list job openings, post resumes or search for jobs.
We did, however, find it perplexing that "sex" is one of five variables users must provide to search for job vacancies. (In some places, that's tantamount to screaming aloud at a barristers' convention, "Will somebody
please
sue me?")
Even so, Rupron on the whole offers broad-ranging quality that may get even broader. And in light of Russia's stirrings, the site has the potential to be of increasing user value. One onsite report, for example, reports that average rents in Moscow's central business district went up 10 percent last year. Growing numbers like that bode well for ongoing growth in Rupron's value.