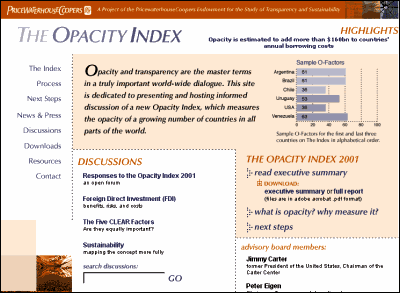 NEW YORK --
The Opacity Index (
www.opacityindex.com
) may well be the kind of Web site that's of burning interest to policy wonks only. But, oh, what a policy wonks' paradise it is - at least if your interests include the interplay between foreign direct investment (FDI) and governmental policymaking.
Newly created by the PricewaterhouseCoopers (
www.pwcglobal.com
) Endowment for the Study of Transparency and Sustainability, the first installment of the Opacity Index has just been released online.
And it's pretty high-powered stuff. Consider that the Opacity Index Advisory Board is made up of Jimmy Carter, the former U.S. president, Frene Noshir Ginwala, speaker of South Africa's parliament, and Peter Eigen, chairman of Transparency International (a global anti-corruption association).
So what's the Opacity Index got to do with real estate and business location?
Quite a bit, at least for any company that sites operations on a global scale. What the index looks at is the degree of opacity or transparency in various nations' business, economic, legal and ethical frameworks. In addition, the index looks at how those frameworks affect the cost of capital, a major FDI-decision determinant.
Lower Opacity Index scores equal greater transparency and lower investment risk.
'Hidden Corporate Taxes'
Sounds simple enough. It isn't, though.
Discussing this site can get complicated in a hurry. You'll find tons of research methodology and charts online. And while that's certainly admirable enough, it can also be off-putting for the non-statistically minded (in other words, most of us).
Better, then, to give you a sense of what part of what the Opacity Index actually says. One research component, for example, concentrates on what the report's authors (a panel of economists and researchers) call "a hidden corporate tax."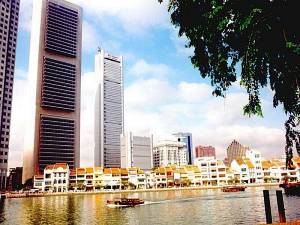 Consider the difference between Singapore, the No. 1 ranked country with an "O-Factor" score of 29.47 (see accompanying chart), and Colombia, the No. 17 ranked country with a score of 60.34. "Looked at from the tax perspective, the impact of reducing Colombia's opacity score to the level of Singapore's would have the same effect on domestic and international investment as a 25 percent cut in corporate tax rates," explained the authors of the 2001 Opacity Index.
"Many developing countries are eager to cut taxes to stimulate investment," commented PricewaterhouseCoopers CEO James Schiro. "Ironically, these data suggest that, by instituting domestic reforms that reduce opacity, developing countries can obtain a significant boost to foreign direct investment without sacrificing tax revenues."
---
---
Much More Coming Online
"Economists already understand that poor transparency in a number of key areas imposes a hidden drag on economic development," Schiro continued. "The Opacity Index enables us to quantify this drag for the first time and identify which mix of best practices in business, economic and regulatory affairs can have the strongest impact on development."
You get the idea, gentle readers. And if the Opacity Index is your cup of statistical tea, loads of further analysis will be coming online.
The first-run 2001 index, you see, included only 35 nations, which were picked to correspond with the World Bank's four "economic tiers" (see chart's "methodological notes"). The study, however, will continually expand to encompass "70 or more [nations] within the next 18 months," explained the authors of the 2001 Opacity Index. And, they added, the index will expand from its current five measures (covering corruption, legal, economic, accounting and regulatory measures).
All of that research will go online at opacityindex.com. In fact, the Opacity Index has been created as a 10-year research project, officials explained.
For all its complexity, then, the Opacity Index is one real estate-related Web site that's going to be around for a while.