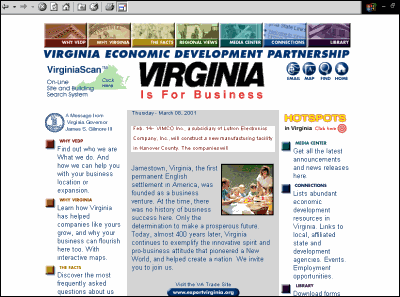 Virginia Site Says Strong Yes to Business-Friendliness
By JACK LYNE • Site Selection Executive Editor of Interactive Publishing


"Yes, Virginia, there are still gobs of real estate-related Web sites that not only exist, but are going strong. Virginia, your little friends are wrong. They have been affected by the skepticism of a skeptical age."

-- With apologies to the famed 1897 editorial in The New York Sun


Not that the casualty-laden ranks of online real estate haven't provided fodder for skepticism. But is the industry's Internet revolution over?
Hardly. Shakeout notwithstanding, it's just getting started. New sites of the ilk of NetStruxr (last week's Web pick), for example, promise to significantly alter the real estate equation. And a gaggle of other industry sites are more quietly truckin' along in providing valuable services.
The Virginia Economic Development Partnership's (VEDP) yesvirginia.org (www.yesvirginia.org) is one of the more solid economic development (ED) entries.
Yesvirginia.org's strongest suit is its robust business-friendly flavor. That reflects 1607's founding of Jamestown, Va., America's first permanent English settlement, established by King James as a business venture, the London Co.

Maps, Maps Maps for
Location, Location, Location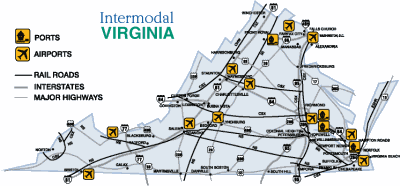 Just as it was in the founding of Jamestown, business expansion is inextricably linked to geography. And that's one area in which yesvirginia.org particularly shines. This is one map-rich site.
The site's "Regional Views" click-off, for example, provides effectively succinct summaries of Virginia's seven economic development regions. A click on the "Regional Map" icon takes users to a color-coded interactive map of those regions. A click on a region brings up a larger regional map; a click on any county in a region brings up a demographic profile.
Not all the demographic profiles are identical. Some profiles, particularly the ones for the more populous counties, provide considerably more data.
For Fairfax County, for example, we found a 10-page PDF file that included detailed area info on the labor pool, major employers, utility and telecom providers, applicable corporate taxes, and infrastructure and educational systems. Significantly, Fairfax County's info also included data for underemployment, a high-priority expansion concern in today's tight U.S. labor market.
Yesvirginia.org's "Interactive Map" section also features a host of useful at-a-glance visuals. At-a-glance maps include Virginia's highway, railroad, intermodal and higher education systems, plus its airports with free trade zones, outdoor parks, and major nearby markets.

'Hotspots' for Fast-Track Projects

Speed an ever more insistent expansion imperative. That makes the "Hotspots" click-off on this site's home page a particularly savvy feature.
The site describes the Hotspots feature this way: "If you need to be up and running quickly, these featured localities make it easier with spacious shell buildings and abundant skilled labor available right now."
Clicking on the HotSpots feature takes you to a list of shell buildings. Each listing includes click-offs for both detailed building descriptions and community profiles.
The site also has an interactive map of the state's shell buildings, which includes not only available facilities, but also those that are under construction or planned. The facilities are color-coded on the onsite map. A click on a similarly colored dot listed below the map brings up detailed building specs.
In addition, yesvirginia.org's "VirginiaScan" feature provides users with a searchable site and building database.

A Useful Online 'Library'

Finally, the online "Library" section again underscores the strong business-friendly focus of the smooth-navigating VEDP site.
That Library section includes a range of PDF files that are both very helpful and very detailed. Files, for example, include a 24-page "Guide to Business Incentives," a 36-page "Guide to Establishing a Business" and a 77-page "Guide to Local Taxes on Business."
In addition, the Library feature includes a "Forms" click-off. Most of the forms are for ED agencies' use, allowing them to submit entries to the site/building and local tax databases, as well as to apply for shell buildings. Some corporate users, though, may find the "Environmental Checklist" form useful.
Granted, the environmental checklist form is pretty basic, including pollutant volumes, concentrations, etc. The ranks of failed expansion strategies, however, are littered with firms that didn't think through such basics. And as the site correctly points out, "Some basic information greatly increases the quality of assistance [that] VEDP can provide as new businesses and industries go through the process of obtaining environmental approvals." That's what good ED sites are all about: increasing the quality of business expansion assistance.

And that's just what yesvirginia.org is all about.

Editor's note: Yesvirginia.org was part of a feature in January 2001's Site Selection that profiled the 10 best U.S. ED Web sites. The entire January feature, "Top of the List: The Best Sites for Site Seekers," is online at siteselection.com.