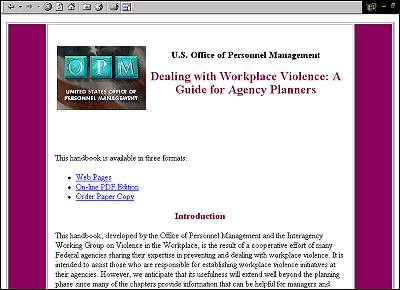 Coping with Workplace Violence: U.S. OPM Site Offers Facilities-Specific Counsel
By JACK LYNE • Site Selection Executive Editor of Interactive Publishing


Sometimes we review a Web site that we wish weren't necessary. That's definitely the case with "Dealing with Workplace Violence" (www.opm.gov/ehs/workplac), an online guide that's part of the U.S. Office of Personnel Management's (OPM) Web site.
The fact remains, though, that violence is a very real workplace concern. While many of us continue to wishfully think "it can't happen here," front-page headlines keep jarring us with cold, contradictory facts:
More than 50 percent of U.S. companies, for example, have experienced some form of workplace violence, according to a recent study conducted by the Society for Human Resource Management (www.shrm.org). Appallingly, some 1.5 million people are assaulted in the U.S. workplace each year, and almost 1,000 are killed, according to the Bureau of Labor Statistics (www.bls.gov).
OPM's workplace-violence guide offers some sound advice on how real estate and facilities managers can help reduce risk. Granted, private-sector users will have to wade through some inter-governmental specifics with little or no applicability. (OPM's manual is, after all, subtitled "A Guide for Agency Planners.")
Nonetheless, the guide provides quite a few useful, facilities-specific guidelines. In addition, it supplies a number of quick-scan checklists that could be used as handouts in preparing employees to deal with threats or actual incidents of workplace violence.
---
---
'Silent Alarms,' 'Natural Barriers'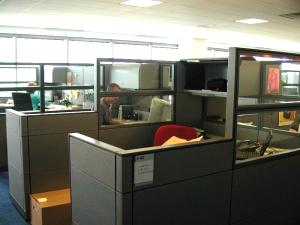 Perhaps the best thing about the nine-page OPM guide is its concise straightforwardness.
The guide's "Physical Security Survey" section, for example, describes the first steps in beginning to establish a plan for a specific facility, including a number of examples for improving security. The Physical Security Survey section also offers a to-the-point list of measures to take in "improving security in frontline offices that serve the public." Those measures include installing under-the-counter "silent, concealed alarms" and "arrang[ing] office furniture and partitions so that frontline employees . . . are surrounded by 'natural barriers' (desks, countertops, partitions)."
Yes, those are simple measures. Yet how many reception and customer service desks have you seen that are located only feed from an entrance but had neither protective feature?
The OPM guide also includes some basic steps to follow to safeguard computer systems from potential malice by former employees.


Handouts That Could Matter

The guide's handouts include one that outlines steps that employees should take in "coping with threats and violence." That handout takes in the gamut of potential situations, from dealing with "an angry or hostile customer or coworker," to "a person shouting, swearing and threatening" to "someone threatening you with a gun, knife or other weapon."
There's also a succinct online checklist for dealing with "telephone threats." Such threats are part the most common form of workplace violence, according to the Society for Human Resource Management survey. Forty-one percent of the companies in that survey reported having received "verbal threats," either over the phone or in the workplace.


Preparation Ups Odds of Resolution

Of course, there's nothing in this guide that really isn't supremely commonsensical. Some forward-thinking companies, in fact, have already taken many or all of these precautions.
Surveys indicate, however, that an alarmingly high number of firms, particularly SMEs, haven't even thought through their workplace-violence coping strategies. For the latter group, OPM's online guide will perhaps at least serve as a starting point for getting a handle on an issue that isn't going away.
"The likelihood of a successful resolution is much greater if you have prepared ahead of time," the OPM advises.
Zero-tolerance policies can be downright silly, as they've amply demonstrated. Workplace violence, though, is one arena in which zero tolerance is the stuff of quintessential sanity.


Storm Alerts: Workplace Violence Warning Signs

While not every person exhibiting these behaviors will resort to violence, experts in the field say these warning signs have been commonly associated with individuals who've committed violent workplace acts:
Sudden irrational beliefs and ideas.
Verbal, nonverbal and/or written threats of intimidation.
Fascination with incidents of workplace violence.
Disregard for other employees' safety.
Fascination with weapons.
Productivity and attendance problems.
Signs of alcohol and drug abuse.
Argumentative behaviors and increased altercations with others.
Chronic signs of depression.
Substantial personal, family and/or financial stress.
Blaming behaviors.
Paranoia.
Feelings of being victimized.
Source: California Office of Prevention and Victims Services