Real Estate Reshuffle Signals End
Demise of Early Online Star -- a Coffee Machine -- Puts Web's Evolution in Perspective
By JACK LYNE • Site Selection Executive Editor of Interactive Publishing


CAMBRIDGE, England -- One of the Internet's first stars is passing away. Catch it while it's hot - the coffee, that is. This supernova of the Internet's infancy, you see, contains coffee.
Let us explain: After being viewed by 2.3 million online visitors since 1993, the Trojan Room coffee machine (www.cl.cam.ac.uk/coffee/coffee.html) -the site that provided the Internet's first live image -- is getting ready to close down its online shop inside the Cambridge University Computer Laboratory (www.cl.cam.ac.uk).
However preposterous it may seem, the Trojan coffee machine site says a lot about how much and how fast the World Wide Web has evolved. This one little machine's cyberspace history even offers a few oblique insights into how online real estate has progressed. A workplace reshuffle, in fact, is what's behind the Trojan Room site's looming demise, scheduled for this summer.
---
---



Like First Real Estate Sites,
Trojan Room Offers Very Little There There

Be forewarned: There's practically nothing to see here. Like many of the real estate industry's first sites, the Trojan Room site is almost totally static. And its graphics and colors are even barer than were real estate's early online movers.
Nonetheless, this coffee machine has actually drawn visitors from other continents. The pilgrims have come to the Computer Lab's Trojan Room to see and photograph what's unwittingly become one of the Web's best-known images.
The coffee machine image is, in fact, the only onsite visual. To see it in (sort-of) action, click on the link at the top of the page for "an up-to-date picture." What you get is a gray-scale image that periodically updates. The drying of paint arguably makes for a more compelling sight; inarguably, it offers a broader color palette.
And yet it's famous worldwide.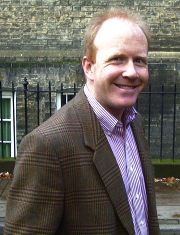 Caffeinated Necessity Mothers Invention

Yes, you're right. How on earth could this happen? It happened because of the World Wide Web's amazing power and its amazing uptake, the same reason behind our connection in this moment.
This site's peculiar history began in 1991, the Dark Ages in Internet time. It was a simple, practical idea spurred by the fact that programmers inside the seven-story Computer Lab were soaking up coffee like hyperactive sponges, according to Quentin Stafford-Fraser, one of the site's inventors.
"There were about 15 of us involved in related research. Being impoverished academics, we only had one coffee filter machine between us, which lived in the corridor just outside the Trojan Room," recalled Stafford-Fraser, now a research scientist at AT&T Laboratories Cambridge (www.uk.research.att.com). "However, being highly dedicated and hard-working academics, we got through a lot of coffee, and when a fresh pot was brewed, it often didn't last long.
"Some members of the 'coffee club' lived in other parts of the building and had to navigate several flights of stairs to get to the coffeepot, a trip which often proved fruitless if the Trojan Room's all-night hackers had got there first," he continued. "This disruption to the progress of research obviously caused us some distress."
An unused video frame-grabber in the Trojan Room, plus programs by Stafford-Fraser and Paul Jardetzky (now a Sun Microsystems research scientist), provided the solution. Suddenly, all lab workstations had an onscreen coffeepot icon, refreshed at the slug-like speed of once every 20 seconds.
"The system only took us a day or so to construct, but was rather more useful than anything else I wrote while working on networks," Stafford-Fraser said.
Less than two years later, the aged frame-grabber gave up the ghost. Since Stafford-Fraser and Jardetzky were getting on with their post-Ph.D. lives, that would've been that, save for other programmers' efforts. They acquired a new frame-grabber, put the image on the Web, and the rest is improbable history -- from necessity to online rage to historical artifact, all in lightning-speed Internet dog years.


Era Ends with Coffee No Better

Real estate's online history, while much more late-from-the-gate, has undergone a somewhat similar evolution. Industry sites that were once interesting oddities have, for many, become integral work-life tools.
No so for the Trojan coffee machine. It will become dispensable this summer, when the lab moves into its new 112,222-sq.-ft. (10,100-sq.-m.) William Gates Building in West Cambridge. (Yes, that Bill Gates.)

Such is the unrelenting march of progress and the transience of fame. Stafford-Fraser, however, remains levelheaded about what his invention accomplished.
"It's undoubtedly the most famous coffeepot in the world," he concluded. "I don't think the coffee's any better, though."