GlobeXplorer.com: Lightning-Fast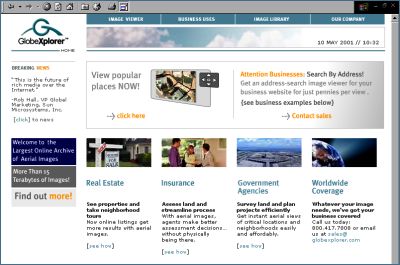 Satellite Images Could Rattle Old-Line Mapping Order
By JACK LYNE • Site Selection Executive Editor of Interactive Publishing


Real estate - the stuff of location, location, location - is by nature map-centric. As easy as it sounds to some amateurs, the quality of the place you pick for your space can make or break the property - whether office, retail, back-office, warehouse/distribution, R&D, headquarters, you name it. That's why a map-less expansion planner is a bit like a ship-less sailor.
Traditional hard-copy maps are great . . . at least as far as they go. The question that Web sites like GlobeXplorer (www.globexplorer.com) are increasingly raising is this: Do they go far enough? GlobeXplorer is one of the more promising entries in the growing ranks of satellite-imagery sites. Like most of those entries, GlobeXplorer is squarely targeting the real estate industry.
Aerial images, of course, are nothing new. Quality satellite images, however, were heretofore available only through hard-copy media. What sites like GlobeXplorer are providing is high-quality online images that can be accessed in seconds. In addition, GlobeXplorer maintains the world's largest commercial archive of satellite images, totaling 12 terabytes. And the images offer one-meter resolution.


Visual Information:
Put Your Own Percentage on It

"Aerial images convey 80 percent more information than drawn maps or simple diagrams," GlobeXplorer.com asserts.
Obviously, that's the type of self-promotion we'd expect. Just as obviously, definitively quantifying such a quantum leap in visual information would seem to fall into the very,

very

deep end of the statistical speculation pool.
Nonetheless, a look at GlobeXplorer.com lends some weight to the site's argument. (Although we'll leave it to individual users to determine their own designated percentage gain in visual information.)


You get part of the picture of the online goods from the "Image Library" section of the redesigned site, which debuted on March 1. You can click on sample maps at the "world/country," "regional," "city," "neighborhood," "street" and "property" levels. The level of detail in the city, neighborhood and street shots is particularly impressive (see examples accompanying this feature). Users, for example, can readily pick out trees, shadows and cars.
There simply

is

a lot more to see here than with traditional maps.
---
---



Cruising the World's Cities from the Skies

You'll find other rich visuals in GlobeXplorer.com's "Image Viewer" section. There, you can select from a host of options that include world cities and U.S. airports, golf courses, and national parks.
The Image Viewer photos are also simply fun. Users can zoom in and out, as well as to pan left and right and up and down. You can pleasantly blow some time here by trying to zero in on some favorite part of a city with which you're familiar. (Helpfully, user options include "re-center." You may need that, as it's quite easy to become disoriented with all the zooms and pans.)
For all GlobeXplorer.com's visual goodies, however, our test drive didn't turn up definitive pricing information. That's because GlobeXplorer.com employs a transaction-based subscription model; users pay an annual fee based on usage. Usage options include adding layers of useful customize information, like demographics, to selected maps. That obviously adds image value - and cost.
It's not hard to see potential industry benefits in GlobeXplorer.com's images. But are those benefits enough to elevate satellite imagery to the rank of a location-strategy essential? The real estate industry's jury is out on that one; and it won't have to come back with a unanimous verdict.

Unquestionably, though, GlobeXplorer's 12-terabyte archive has massive gobs of power behind it. The system is equipped with a total of 36 CPUs, and it's designed to handle up to 3 million hits a day. (Sun Microsystems and MapQuest are the principal technology partners with Walnut Creek, Calif.-based GlobeXplorer.)
Those tons of technological juice are what make GlobeXplorer's online images a seconds-away reality. And they also make such from-the-clouds mapping a viable, very down-to-earth strategic option.