IntelliSpace.net: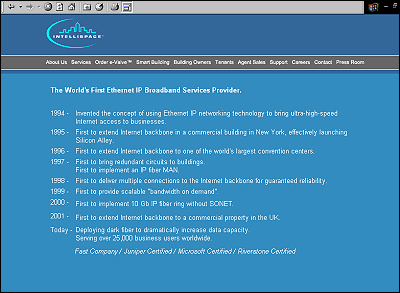 Strong Online Case for
the Joys of Broadband
By JACK LYNE • Site Selection Executive Editor of Interactive Publishing


What a long, strange trip it's been for broadband providers. Like many of their dearly departed dot.bomb brethren, they've gone from the land of no-limits to one of limited-survivors-left. The market tribe has spoken, fatally, for many. IntelliSpace (www.intelliSpace.net), though, is making a strong bid to survive broadband Darwinism, and its Web site is a key element in that strategy.
Web sites are like a company's wardrobe. They may not make the man or woman, but they're awfully important. And first impressions are particularly important to any half-a-prayer broadband player; bandwidth hunger is the water in which they swim or sink.
In that respect, IntelliSpace's Web home serves the company well. This is one poppin' site, all soothing shades of blue, with boxes and graphics floating in and out at the user's behest. Compared to most industry sites, this one's functionality is gazelle-like. And that silky smooth slip-slidin' makes for a strong, online example of the joys of big-pipe bandwidth.
(And, thankfully, there's none of the pointlessly grating, flash-video nonsense here that mars some current industry sites, particularly in their intros, with hyperactive visuals that utterly fail to deliver, much less enhance, the point. IntelliSpace's site grasps a critical bone-level truism vis-à-vis cyberspace real estate: It's the information, stupid!)


What Lies 'neath the Wardrobe?

Predictably, you need some speed to get the maximum pop here. IntelliSpace's flash version requires at least a 56K connection. (If you don't have the 56K, there's an option to view the site's "non-graphic" edition, a stripped-down, small-pipe version with the same basic information.)
The clothes, however, only go so far in making the man or woman. Once you get past the clothes here - the site's flowing visuals -- what's underneath is solid.
For example, you get solid particulars for who, where, when, etc.: The fact, for example, that IntelliSpace has wired 125,000 sq. ft. (11.610 sq. m.) with its 10-gigabit Ethernet network in California, Connecticut, Georgia, Illinois, Massachusetts, New Jersey, New York, New Jersey and Europe and the UK. (It claims to be the first to deliver broadband directly to UK commercial buildings). Major facilities wired, the site explains, include Lincoln Center, the Jacob Javits Convention Center, Radio City and Rockefeller Center.


'Broadband-on-Demand'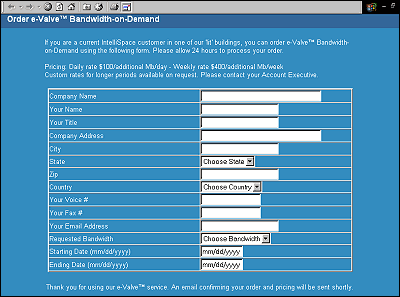 The site also has a "Glossary" option on each page. That's a welcome touch in a field in which impenetrable jargon often tries to pass as knowledge. Or, as the site cheekily explains, "Fiber-optic thingumabobs. Broadband whatchamacallits. Check our glossary for the techno-jargon that only real experts, or real geeks, understand."
Another site feature is the "IntelliSpace 'Live' " section, which includes videos of CNNfn and CEOCast interviews with Chairman (and former President and CEO) Marc Josephson.
But one of the neatest features - the "Order e-Value Bandwidth-on-Demand" section - actually has very little there there, at least for the casual cruiser. Nonetheless, it's a major part of what the company is about. The e-Value option enables current IntelliSpace customers to order broadband for shorter periods. (The daily rate is US$100 per megabyte per day; the weekly rate is $400 per megabyte per day, with "custom rates for longer periods available on request."). The service, which the site says takes "24 hours to process," reflects IntelliSpace's emphasis on managed services, which may well be a key broadband survival strategy.
---
---



New Focus: Wire Only Customers, Not Buildings

This site also reflects other alterations in IntelliSpace's survival strategy. For example, as you can learn from browsing the "In the News" section, the company now cost-effectively wires only customers' offices,

not

entire buildings. Additionally, IntelliSpace now only sells data connections, the most lucrative part of the business. (That changed strategy also reflects the fact that most firms prefer big carriers for long-distance; in fact, many have already inked long-term deals.)
IntelliSpace's altered directions may be making a difference in the brutal broadband shakeout. The Manhattan-based firm raised an initial $60 million in late February, and $60 million more in second-round funding last month (which suggests that some venture capitalists may, rather than totally fleeing the market, be carefully picking their broadband investments spots). But will all this translate into IntelliSpace's endurance? At this point in the cycle, who in their right mind would venture even a firm guess?

One thing, though, is certain. Users' broadband hungers are only going to grow greater. For many of us, a seconds-long wait for a site to load provokes a wince; longer, is Chinese water torture.
With this sleek Web site, plus funding and a more appropriately prudent strategy, IntelliSpace seems to have a solid shot to be among the players left standing. More definitely, this site indicates that the wholesale slaughter of the broadband-provider sector has been greatly exaggerated.