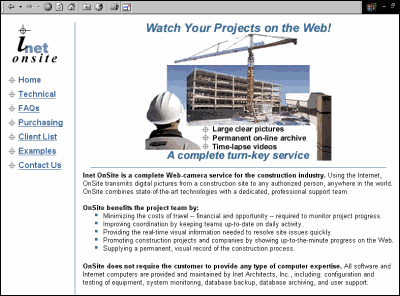 Inet OnSite:
Project Monitoring via Digital Images over the Web
By JACK LYNE • Site Selection Executive Editor of Interactive Publishing


From "The Amazing Netscape Fish Cam" onward, the Web has generously fed one of our most basic human hungers: We like to watch.
The emphasis in cyberspace real estate, however, has, rightfully, been weighted far more toward information, not visuals. A new wave of Web sites, though, may change all that; Inet OnSite (www.inetonsite.com) is one of them.
Inet OnSite's raison d'Ítre is visuals, as exemplified by company's slogan - "Watch Your Projects on the Web." The site's bread and butter is high-resolution digital images of construction sites, snapped by fixed and handheld digital cameras installed at the site. Some deep-pocketed companies have already set up their own systems for visual project monitoring. Inet OnSite, in contrast, provides the whole system and uses the Web for image distribution and storage.
The advantages of ongoing visual project monitoring are myriad. Suppliers (not to mention their attorneys) may lie; pictures don't. Visual records provide factual grist for dispute resolution, as well as supplying a system for monitoring projects and critical-path delays, and detecting workers compensation fraud and after-hours theft and vandalism.
(And, yes, Webcam evidence holds up in court. Las Vegas-based CRS Nevada (www.crsnevada.com), for example, used Webcam images, plus eyewitness testimony, to secure an injunction to prevent union pickets from blocking its trucks.)
Add to those advantages the edge of distributing visuals over the Web. You don't have to be there to still be there to see what's happening with your project.


'Examples' Are Site's Money Shots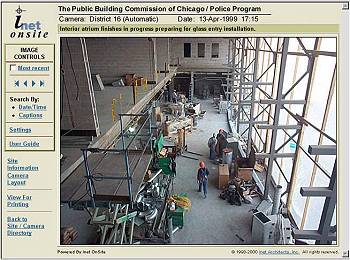 Inet OnSite's cyberspace home does a solid job of describing those potential pluses. The site's money visuals are in the "Examples" section. Those visuals depict Public Building Commission of Chicago (www.pbcchicago.com) projects. As the online pictures demonstrate, users can search project images by date or time or by user-supplied captions. (A caption for one Chicago Public Building Commission sample: "Back on track at the end of the week after the biggest snowstorm in 25 years.")
As the site explains, Inet OnSite provides the whole shooting match - cameras, PCs and support - for its system. There's no need for you to be (or vainly pretend to be) a Web tech geek. (If you have your own JPEG-format digital camera, however, it can be included in the OnSite system as what the site calls "your portable foreman camera.")
Users also get sharp images, as the site's examples demonstrate. Image resolution is 640 x 48 pixels; or users can jack the quality up to 1152 x 864. Users can set their cameras to shoot one shot per second; most users opt to shoot one picture per hour, according to the site. In addition, customers can remotely zoom in their cameras. (The technology, however, hasn't yet been developed to provide pans that don't suffer frequent failures).
There's no need for users to have phat-boy pipes, the site explains. The images move from the project site via customer-provided standard analog phone line. From OnSite's servier, though, pictures travel to viewers via multiple high-speed Internet connections.


An Online Documentation Repository

Once the images hit OnSite's server, users have a project-documentation repository. All ongoing project images reside on OnSite's servers and can be accessed on demand, delivered via high-speed-connection data streaming. Users can also incorporate OnSite's images of their projects as part of their own Web pages.
At the end of a project, customers can opt to secure time-lapse project documentation, either on CD-ROM or videotape.
Is this a system you need? Or do you need

any

Web-based project monitoring system? "The Online Insider," we reiterate, isn't in the business of recommending products, a task best left to

Consumer Reports

.
For the record, though, here are OnSite's damages. Installing a single-camera system runs about US$2,400; each additional camera costs $822.75. Charges for storing data are $400 a month.


Lawyers on Fish Cam?

Created by Arlington, Mass.-based Inet Architects, Inet OnSite is part of a Web wave that's almost certainly evolutionary. Streaming video over the Web has severe limits at this point: fuzzy images that jerkily unfold in a tiny box, virtually defying meticulous scrutiny.

But high-quality Web video will come - and perhaps sooner than any of us imagine. In the meantime, services like Inet OnSite's certainly have their allure: For example, would you rather listen to a lawyer's prattling, or instead slap down conclusive visual proof on the table.
Just to dream, such a feat might even transform the lawyer into an on-camera subject on The Amazing Netscape Fish Cam. Probably not. But it's a not-unattractive notion, don't you think?