Fm-Europe.com: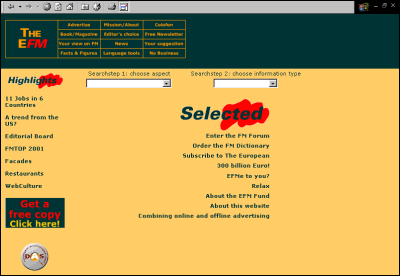 Search Engine a Promising Tool for European Facility Managers
By JACK LYNE • Site Selection Executive Editor of Interactive Publishing


Facility management is a tough job. And it gets a lot tougher when you're managing facilities in a region that's a rich crazy quilt of workplace laws and norms - particularly for U.S. expatriates attempting that cultural high-wire act. (As the enduring international joke goes: "What do you call someone who speaks more than one language? Multilingual. What do you call someone who speaks only one language? An American.").
Such is the complex world of the European facility manager.
That brings us to fm-europe.com (www.fm-europe.com), which is specifically aimed at European facility managers. The site is relatively new; as its "Mission/About" section explains, fm-europe.com only completed its "first phase . . . on 1 Jan. 2001." (Well, actually, Mission/About section refers out-of-datedly to "[onsite] functions [that] are available as of 1 Sept. 2000." We'll ignore that for the moment, though, and move on . . . )


A Euro-Centric Search Function

What all of us seem endlessly looking for these days is

sources

of good information. Just

show

us where it is.
That ties in directly with fm-europe.com's search function, perhaps the site's coolest feature. That search function leaves a lot of do-it-yourself to users. But that's not at all a bad thing; moreover, it's probably the only honest way to present a multi-faceted subject for a multi-faceted world region.
Here's how fm-europe.com's search engine works: Users can search "according to facility aspects, countries and types of information." (Those facility aspects, for the record, are: "Real Estate," Maintenance," "Energy," "Catering," "Cleaning," "Security," "Physical Mail," "Internal Relocation," "Transport of Staff," "Services," "Document Management," "Knowledge Management," "Office Automation," "Telecommunication & Data Communication," "Furniture," "Administration," and "Organisation." Most workplace strategy-related information is in the latter category.)
Where those searches take you is to more information sources. For example, we chose "real estate" as our aspect and "Internet" as our information type. Then we chose "European" (as opposed to a specific country) as our category. Six Web sites popped up. Some, like Build-online.com, were Europe-specific; others, like PikeNet, had a more global focus.
That may not seem like a lot to find. That is, unless you've attempted the soul- and time-devouring process of searching the entire Internet for European real estate information - which can quickly turn into your own little personal black hole.
In addition to "European," users have 18 European countries as category options. But don't expect every search to pop up online sources for all 18 countries; in fact, judging from our test drive, sometimes you'll get nothing at all. The value of what

does

come up is that the fm-europe.com search engine has pretty well (but certainly not always) limited its parameters to Europe-specific information sources.


'Facts and Figures' and 'No Business'

Other fm-europe.com sections include:

• "Facts and Figures": Drawn from various sources, this section has some pretty solid stuff. A sampling of categories includes "costs per workplace," "Italian benchmarking figures" and "part-time labour and term." Most of the charts you'll find, however, include information that's at least several years old; and they're pretty bare-bones in terms of explanatory data. Still, the facts, however dated, generally look useful.

• Job Bank: This actually isn't a section; it's simply on every page's left-hand side. During our test drive, 11 jobs in six nations were listed. Respondents are directed to "send a blank e-mail" to the job-search agency, with "your phone number or e-mail address and the country of preference on the subject-line."

• "Your View on FM": This may sound like a potentially useful information-sharing forum; it's not. It only inquires about users' thoughts "on the future of facility management," and says, "We will publish your view on the Web site."

• "No Business": Your boss would probably hate this section; we like it. It's a group of totally unrelated Web sites, including ones centered on weddings, photos, festivals, Paris and "Forgotten Jewish Swiss Accounts." As the site explains, "Based on government regulation we strongly urge you to visit this page every two hours. It will bring you some relaxing, humorous and mind-boggling moments. Call it a 'stress releaser' if you want."


It's Helpful, But It's Not the Inside Dope


So how much stress will fm-europe.com relieve for European facility managers?
Bottom line: There's really no substitute to getting first-hand inside dope from pros in real estate, that bastion of never-ending networking.
Sure, real estate is a global game. But the guts of making the individual operations work rest firmly at the local level - and with the knowledge of people who've been there and done that. Probably no Web site can fill that piece of the puzzle. Fm-europe.com, though, does offer some online help, particularly through its strong search engine.