BuildOnline.com: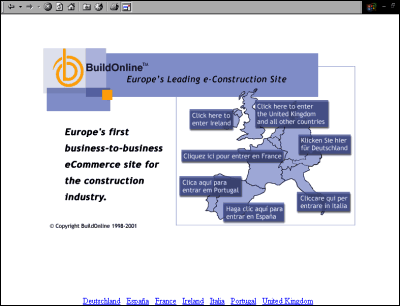 Shaping Up as a European
B2B Survivor
By JACK LYNE • Site Selection Executive Editor of Interactive Publishing


Online project construction: Anyone cocksure enough to predict the final shakeout for that slice of real estate cyberspace would seem to be auditioning for an ill-advised role crossing Nostradamus with Job.
That reservation noted, BuildOnline (www.build-online.com) looks to be shaping up as a European survivor. But it won't be easy. European online construction is crammed. More than 100 players jam the field -- a virtual spawning ground for digital Darwinism. Many - most, likely - will eventually be carried off; only a handful will likely survive.
BuildOnline.com takes aim at one of the construction industry's thorniest problems: its pronounced fragmentation. And Europe's rich cultural diversity gives that fragmentation an extra lift. A recent UBS Warburg study, for example, reported that Europe's seven largest contractors account for only 5 percent of total European production. And that's in a European construction industry that accounts for 10 percent of the average European nation's GDP.
Wisely, BuildOnline at once acknowledges and gets around Europe's cultural diversity. The site is divided into customized versions for six nations: France, Germany, Ireland (where the Dublin-based site was founded in 1998), Italy, Spain and the UK. Each "home site" uses the nation's native tongue.
Once you enter a national site, though, boundaries fade. Simultaneously, the potentially massive efficiencies of online B2B begin to emerge.
The site's four key areas reflect integral parts of the construction process:
ProjectsOnline, for online team collaboration;
SuppliersOnline, for online information and specification details;
TenderOnline, for online estimating and tendering; and
TradeOnline, for online buying and selling of materials.
Strong Demos and Case Studies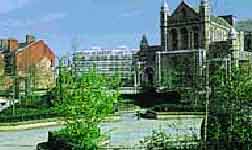 How does it work?
BuildOnline.com does a good job of explaining that in the "demo" sections accompanying each of the four main areas. The detailed demos run smoothly, complemented by brief but effective explanations.
How it works vs. what it means, however, will obviously vary for each particular product. BuildOnline.com makes strong claims for e-construction's benefits for the European market: a 15 percent reduction in project completion times and a 23 percent cut in costs.


If claims were horses, of course, online beggars would ride. BuildOnline.com, though, does a solid job of illustrating what its offerings

could

mean. That illustration is in the four main sections' "case studies" (which rapidly download in Adobe Acrobat). They're both meaty and smartly brief, running only a page in length.
One study, for example, details how Dublin-based Waingap Contracts used TradeOnline to issue an RFQ for scaffolding for a Central London refurbishment project. Waingap reports that it awarded the work in two weeks, half its offline norm.
Another study centers on Laganside Corp.'s use of ProjectsOnline in the developing Belfast's Cathedral Quarter. Says Paschal Mahoney of Mahoney Architecture, one of the collaborating firms, "For the first time, all the different parties in a project can be brought together online . . . avoid[ing] unnecessary delays in the exchange of drawings and documentation."


Where the Money Is

Who can play here, and where's the money?
"All members of the construction community can access and use BuildOnline services," the site explains. "Designers, specifiers, general contractors and subcontractors . . . are currently the primary users of [our] project collaboration services," it adds.
Unlike some similar sites, BuildOnline.com doesn't take a percentage of each online transaction. Where it makes its daily bread is in licensing its four-pronged software suite, including "provid[ing] training and advice in transferring to Web-based processes." By licensing technology, sites like BuildOnline.com enable SMEs to obtain outsourced R&D expertise, making them far bigger players than many could otherwise afford.
Also auguring well for BuildOnline's survival is its sizable corporate war chest. Earlier this year, the site obtained third-round funding of $13.8 million. That sharply contrasts with competitors like Jackhamma.com, a British construction site that folded in May after investor interest dried up.


Is This the Right Model?

Is this the right model for European B2B survival?
Some think so. Jupiter Research (www.jup.com), for example, named BuildOnline "one of the 10 most likely B2Bs in Europe to succeed."
Other European competitors, however, have adopted different models. Eu-supply.com
(www.eu-supply.com), for example, focuses on procurement, while thebuilding-site.com (www.thebuilding-site.com) has gone after the largely overlooked residential construction sub-sector. (And then there are the European real estate B2Bs seemingly born with "Born to Be Bought Up" tattooed on their foreheads.) What

hasn't

emerged in

all

of B2B real estate is the one-stop-online-shop model that many envisioned. That in part reflects our old friend fragmentation. Few companies have one person overseeing

every

aspect of project construction. Somewhere down the line, though, some B2B player will concoct the formula to service the

entire

supply chain, from project conception to completion.


Has Idea's Time Come?

Online one-stop shops, though, are not where we are now. Where BuildOnline.com is, though - speeding up and smoothing out construction and property processes - seems a solid spot.
The market will rule, of course. BuildOnline is projecting a profit by 2002. In all likelihood, marketplace realities will

demand

that.
But there's another market demand here: B2B construction - indeed, B2B real estate - is an idea whose time has come. Its potential pluses fairly scream - particularly in a sector in which time is everything and razor-thin margins are the norm.

That, though, doesn't mean that first movers like BuildOnline.com will automatically reap the benefits. Late movers, however, likely face a grimmer fate, one described in A Goldman Sachs' B2B e-commerce "Investment Report."
"To take advantage [of B2B e-commerce's] efficiency gains, companies will have to start adapting both their cultures and their systems," the report said. "Those who wait for mature models to develop are likely to get left behind, as such changes take around a year to implement fully. By [adapting] a year after the first company has adapted, other companies are effectively two years behind."
And that report was released more than a year ago.