Vectiv's SRES Challenges Internal Systems
for Site Location and Portfolio Management
By JACK LYNE • Site Selection Executive Editor of Interactive Publishing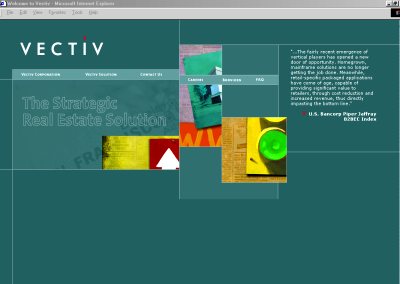 The application services provider (ASP) model is one of the most promising avenues that the Internet has opened for upping the efficiencies of site procurement and portfolio management. Berkley, Calif.-based Vectiv Corp.'s (www.vective.com) Strategic Real Estate Solution (SRES) hews to the ASP genre. Yet Vectiv's offering, which was commercially launched on May 18, features some distinctive twists that are unlike some of the industry's other ASP providers.
Perhaps most significantly, the SRES system - profiled in the site's "Vectiv Solution" section - isn't aimed at small and mid-sized firms. In that, SRES's strategy defies the conventional wisdom that holds that small and mid-sized enterprises are the sectors most likely to profit from ASP models. Instead, SRES is squarely aimed at large companies - the Fortune 500 ilk with the financial clout to create their own extranets for site procurement and portfolio management. That's a formidable and potentially very lucrative market. Some of SRES's target clientele make hundreds of decisions each year in retail site location and management.
Vectiv's Web site, however, delivers a strong argument for the efficacy of outsourcing the often-foreboding processes of developing and maintaining systems for site location and portfolio management.


20 Wide-Ranging Data Sources

One of the SRES system's most striking aspects is its broad range of data sources. Vectiv has more than 20 licensed suppliers of data, which the company sources, updates and maintains. Vectiv officials say that the company pays more than US$1 million annually to license and maintain that data.
A sampling of the system's data sources includes Claritas (demographics, lifestyles, business information); DataQuick (real property and ownership information); MapInfo (demographics, traffic, roadway infrastructure); National Research Bureau (shopping centers); VistaInfo (environmental and underwriting information); and U.S. Geological Survey (topographical information). A full list of data sources can be found in the site's "Data" section. SRES users, however, aren't necessarily limited to the data sources listed online. Vectiv "continuously searches for new sources of data to add value for . . . clients," the site explains.


'Behind-the-Scenes' Technology

Such a broad range of data, of course, could produce an unwieldy, if not altogether unusable, informational morass.
SRES, however, smoothly fuses that data through its use of advanced spatial database technology. SRES has only one version of its software running. Behind that software are all the data sources. It's what the site calls "behind-the-scenes-technology." (For a good graphic depiction of the system's "data layering," see the site's "Data" section.)
Assisting in that integration are Vectiv's "integration and technology partners," which include AnySite Technologies (GIS mapping software); Fujitsu Software (iFlow workflow module); Oracle (Oracle 8i, Oracle Spatial); and Sun Microsystems (servers).
Significantly, SRES runs according to clients' rules. The "Enterprise Rules Bank," for example, stores clients' key business and site criteria, which underpin all SRES functions; in essence, they customize the system.
That means that SRES can automatically screen, sort and route site opportunities to appropriate location team members. Client firms can also use SRES's "site dossier" function to automatically rank site opportunities that enter the system; the rankings are generated using data and information resources synthesized from the client's business rules and analytical practices. Helping the right information go to the right players is SRES's client-controlled "membership system." That system enables the software to know precisely which information -- including proprietary information - each member user can or can't access.


Accenture Link Adds Name-Recognition Punch

Vectiv has an extra market edge in the name-recognition clout derived from its relationship with Accenture (formerly Andersen Consulting). In addition to being a venture investor, Accenture received cash and a minority equity stake in Vectiv in return for agreeing to assist with product development and provide ongoing consulting services.
This site does an exhaustive job of explaining all the things SRES can do - and there are a lot of them. Listing them all would make for a good running start on a novella. In fact, this user occasionally longed for more online visual depictions of how the system functions. Then again, this sort of high-end technology may defy quick-scan visuals. Likewise, how each potential client might use it will likely be company-specific.
Pricing, too, is company-specific. SRES's prices are "a function of the value we bring to each enterprise," according to Vectiv President and CEO Frank Rockwood. After the monthly fee is fixed, though, Vectiv charges no usage fees, transaction fees or other variable fees, according to company officials.


Whether Internal or Third Party, Systems Will Spread

So are systems like SRES a better option than internally developed platforms? The likely answer there is also highly company-specific.
Internal systems obviously offer a high degree of control and customization. Some retail big leaguers - with McDonalds being the most-cited example - have reportedly already developed their own crackerjack internal systems.
Outsourcing, on the other hand, obviously cuts system investment and data maintenance costs. The outsourcing option may also eliminate the prospect of some critical piece of internal expertise walking out the door.
Whoever builds them, though, such Web-based systems for site location and procurement and portfolio management offer too much of an advantage to be ignored.
Accenture, for example, conducted a study of SRES's potential effect on growth and profitability, using a hypothetical retailer with 1,000 existing stores, $5 billion in annual revenue and planned growth of 100 new stores annually. That study found that SRES could provide a $90 million contribution to profitability over a five-year period by improving the performance profile of new and repositioned locations. In addition, Accenture's study found that the system would yield an additional $90 million in profit over the same five years by reducing the cycle times for new transactions; in effect, the system produced a 20 percent increase in the corporate growth rate,
Yes, we can quibble here over the existing relationship between Vectiv and Accenture. But what's far less open to quibbling is whether benefits of such magnitude don't mean that a lot of firms will embrace such systems - whether internal or third party. And soon.