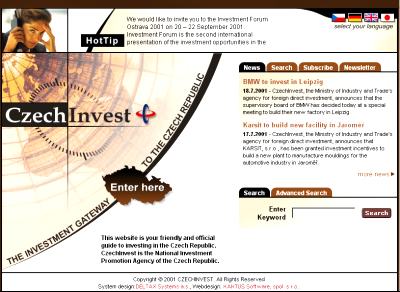 It's amazing what you can learn from reading - particularly when you're a writer who's sweating bullets as an approaching deadline thunders in like some furious wild boar. This particularly welcome pearl of wisdom came our way from the July 2001 issue of our own
Site Selection
. In that issue's profile of "Europe's Top Sites for Corporate Site-Seekers," Julia Cox wrote, "(
www.czechinvest.org
) quite simply . . . provides a model that other development agencies would do well to adopt." Cox, a director and cofounder of well regarded Oxford Intelligence (
www.ipaworld.com
), certainly knew whereof she wrote. (For the complete feature on top European Web sites, click here.)
Well Laid-Out, Smooth and Up to Date
Our interest piqued, we test-drove czechinvest.org, created by the Czech Republic's National Investment Promotion Agency. What we found was an online gem, and here's why:
An Extremely Smooth Ride:
The first thing that struck this user was how smoothly czechinvest.org runs. Even though it contains a massive information lode, this cyber creation purrs along with the seamless precision of a Mercedes or a BMW, two European models of physical excellence.
Clear Layout and Navigation:
Once you click "enter here" on the site's home page, you hit the heart of the site.
Czechinvest.org is organized into nine subject areas that run on the side of each page: "Reasons to Invest," "Investment Incentives," "Czechinvest Services," "Online Databases," "Foreign Direct Investment in the CR," "Key Manufacturing Sectors," "Key Service Sectors," "Regions of the Czech Republic" and "Links to Other Sites."
In addition, the top of each page on czechinvest.org displays five other useful click-offs: "News," "Search Site," "Sitemap," "Homepage" and "Contact Us." With those 14 categories constantly displayed, users will have to go a ways to get lost here.
Up-to-Date Info:
This site also gets high marks for its informational currency. Rolin, Czech Republic, for example, was a finalist for the BMW project profiled in this week's "Blockbuster Deal." Even though the automaker ultimately picked an east German site, Czechinvest had its official reaction up and running on this site's "News" section on the same day that BMW made its announcement.
Multilingual Strengths:
Czechinvest.org's multilingual capabilities outstrip many industry sites, with Czechoslovakian, English, German and Japanese options.
Deep Databases, All-Business Style
Some of czechinvest.org's other appealing aspects appear as you navigate through the site's nine major sections.
Online Databases:
This section contains some valuable, voluminous resources for potential site seekers, including:
"Czech Suppliers," which presents brief profiles of more than 900 suppliers;
"Educational Facilities," which lists more than 1,600 educational arms, including colleges and universities, vocational and technical schools, and secondary and grammar schools. User-defined parameters include searching by key word, by type of school, by field of study or by regions.
"Industrial Properties," which contained 180 sites during this week's test drive. While one might wish for more voluminous data, we did like this section's "Fast Move" option. Once users perform a properties search, they can click the "Fast Move" tab. That pares down the list to those properties that Czechinvest considers having the best potential to quickly accommodate expanding firms.
Reasons to Invest:
This section typifies one of czechinvest.org's biggest strengths: It immediately gets down to business and never wavers. No flowery boosterism or fawning over the governmental powers that be.
This section's "Cost Driver Analysis," for example, moves directly into wage-level comparisons with regional rivals Hungary and Poland. This section also contains a solid FAQs section. Smartly, the FAQs are laid out with the same section headings found in czechinvest.org's Cost Driver section, facilitating user cross-referencing.
FDI by Nation of Origin
There's a lot more to like here, including the "Foreign Direct Investment in the CR" section. That section includes an independent study of the 1,200-plus foreign firms that have invested in the nation; usefully, the "Major Investors" option breaks down some of the biggest names into British, German, Japanese and U.S. firms. This section also provides "Case Studies and Testimonials." A click on that option takes you to a list of prominent players, broken down by industry. A click on any company takes you directly to a testimonial and an overview of the company's Czech operation.
This site's "Regions of the Czech Republic" section also provides a very cool map. A click on any of the nation's 14 regions visually pops out that area, which immediately morphs into a regional overview.
Finally, we like the "Download" option. It allows users to quickly copy much of czechinvest.org's best information.
Considering this site's wealth of information, we're betting that its download button gets significant usage.