Through its long history as a major Baltic port, Copenhagen has attracted and welcomed legions of foreign voyagers. Copenhagen Capacity (
www.copcap.dk
), the Web site for the Greater Copenhagen Investment Agency, does an admirable job of continuing that tradition.
The site is sharply focused on providing the kind of practical, factual information that expanding companies can use in location decision-making.
The site's "Compare Copenhagen" section, for instance, allows users to compare Denmark with 10 other nations. Nine of them are Eastern European countries; the other is the United States.
Data Not Jerry-Rigged
The Compare Copenhagen allows
lots
of comparisons. For each comparison, users can pick as many as 10 nations and as many as 25 location factors. Among those 25 factors are hard-nosed concerns such as corporate taxation, manufacturing labor costs, labor availability, prime office rents and labor flexibility.
We test drove the Compare Copenhagen feature, comparing Denmark on six factors with Sweden, the UK and the United States. The site computed the comparisons very smoothly, rapidly presenting a screen filled with neat, easily comprehendible bar charts.
Significantly, this site function hasn't been jerry-rigged to automatically pop up Denmark at the top of every comparative list. In manufacturing labor costs, for example, Denmark finished fourth in our four-nation comparison.
Such play-no-favorites results reflect the data sources used in the online comparisons. They're of high quality, including
The Competitiveness Yearbook
, Ernst & Young,
The Global Competitiveness Report
and Oncor.
But not everything is perfect here. Full comparative data sets, for example, aren't available for all listed nations, particularly the USA. And while the comparative location factors are certainly valid, they mean much more on a far more microcosmic level than the nationwide views presented here.
Even so, the Compare Copenhagen function at least gives expanding firms a general comparative framework to consider. And it plays no favorites.
'Investor's Guide': A Generous Plenty of Detail
High marks also go to Copenhagen Capacity's "Investor's Guide" section. This part of the site provides a generous amount of detail for many of the most relevant issues involved in setting up a business in a new market.
The Investor's Guide, for example, has click-offs that take users to the particulars of the greater Copenhagen labor market, residency and work permits, the greater Copenhagen property market, and Danish venture-capital availability and sources. Another useful click-off presents the ins and outs of establishing a business in Denmark.
Each click-off in the Investor's Guide leads to a brief description of the subject. From there, users who want the full informational Monty can download PDF files. To get the downloads, though, you have to register with the site.
The people behind Copenhagen Capacity, however, are savvy enough to realize that demonstrating an interest in an area does
not
mean that prospects want to be bombarded with mailings and phone calls. Accordingly, the registration form's bottom right-hand side has click-offs for either "Please contact me" or "Please do not contact me."
In addition, you only have to register once for downloads. After that, the site remembers that you've forked over the informational goods and downloads automatically. The site's "Publications" section contains other downloads of the agency's brochures, reports and fact sheets.
If downloading presents a problem for a user, all of the site's downloadable files can also be ordered online as hard copy delivered via snail mail.
'Industry Information': Less is More
The site's "Industry Information" section also wisely takes a less-is-more approach. Rather than hunting for prospects with a sawed-off (and notoriously inaccurate) shotgun, the site hones in on "certain industries" in which "Copenhagen has comparative advantages" - the biotech; food; hotel; IT, telecom and wireless; and maritime sectors. There's a click-off for each, which leads to a description of the industry's presence in the area.
In like fashion, the Industry Information section has click-offs for "certain business functions" in which "Copenhagen has comparative advantages" - call centers, distribution facilities, headquarters and shared service centers.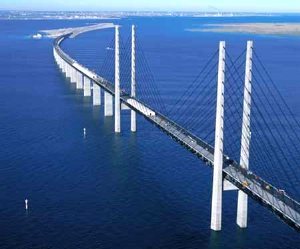 Bridges in Cyberspace
There are a host of other things to like on this site, including its fine-but-functional design, its smooth user interface and its very effective search function.
And if you get lost, Copenhagen Capacity has a very detailed site map, available as an icon on the top-right hand side of every online page.
Chances are, though, you won't get lost. This site has been well thought out and well executed, rigorously keeping the corporate perspective as its focus.
Like the recently opened Oresund Bridge that connects Denmark and Sweden's "Medico Valley," Copenhagen Capacity promises to serve the same function in cyberspace: building a bridge for expanding companies.

Editor's note: For more on "Europe's Top Sites for Corporate Site-Seekers,"
see the feature from Site Selection's July 2001 issue.