Infrastructure is very, very big business. Major construction projects annually account for worldwide capital expenditures estimated at US$9 trillion.
That massive market is the target niche of Infrastructureworld.com (
www.infrastructureworld.com
). As the site's home page explains, Infrastructureworld.com is "designed for government sponsors, project developers, service providers and professionals in electric power; energy; telecommunications and information technology; water; transportation; engineering, procurement and construction; equipment; logistics; finance; insurance and risk management; trading; law; accounting; and tax."
That's a mouthful of a target audience. More importantly, that audience encompasses the panoply of players responsible for mega-infrastructure projects like the "Chunnel," the $21 billion, 32-mile (51-km.) tunnel beneath the English Channel that links England and France. Those are the kind of construction industry behemoths that can transform the business location landscape. Web-enabling projects of that scale is a very tall order. Consider that a $200 million construction project can generate an estimated 150,000 documents - legal contracts, technical drawings, requests for information and purchase orders.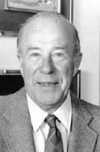 Infrastructureworld.com, however, brings some heavy artillery to the cyberspace table. The South San Francisco-based operation has a board of advisors chaired by George Schultz, president of Bechtel before serving as President Reagan's secretary of state. And InfrastructureWorld.com's chairman and chief executive is Cordell Hull, former Bechtel chief financial officer.
The Bechtel link runs deeper still. Bechtel last year invested $10 million for a 47 percent stake in Infrastructureworld.com.
That tight connection may raise some red flags. Bechtel, however, has pledged to gradually dilute its minority stake to no more than 20 percent. And InfrastructureWorld.com maintains that it's a "neutral" business-to-business portal.
1,356 Projects Online
The site certainly seems neutral, playing no favorites. And that's about the only way to play for any portal trying to make a significant difference in a global infrastructure market that's often highly fragmented and inefficient.
In an oversimplified nutshell, InfrastructureWorld.com provides an online avenue for organizations to announce their need for, or intent to build, large infrastructure projects. Interested firms can find out what's involved, or they can tap a series of links to online exchanges to buy project materials.
InfrastructureWorld.com has a huge storehouse of online project announcements; we found 1,356 during our test drive this week. (To access the iwKnowledge Center's list, click on "Project Alerts" in the home page's upper right-hand side.)
Other sites, such as Citadon (
www.citadon.com
), offer some of the same elements you'll find here. Citadon, in fact, seems a bit farther along. InfrastructureWorld.com, for example, is still rolling out beta test versions of parts of its product suite.
During our site visit, the site featured a beta version of its iwFramework offering. It demonstrates how user groups can streamline workflow management through online use of secure messaging, data storage and retrieval, and document-viewing and mark-up.
(User advisory: Don't use the beta version as a primary system. As the site clearly cautions, "The beta product should not be used to replace current procedures. . . . Beta users [should] use the iwBeta product in parallel with their existing business processes, [since] objects like user accounts, messages, pavilion customization, etc. may not successfully migrate the final version of iwFramework.")
Voluminous Links Boost Portal Value
Portal value is one area in which InfrastructureWorld.com shines. The site boasts voluminous links, grouped in its iwKnowledge section. Users can access the links as guests, or they can register. Either way, there's no charge.
The site's online riches include the likes of links to 5,605 chambers of commerce, 4,869 consultancies and 4,380 utility companies. The volume, in fact, can overwhelm. To save time, use the search options to narrow your focus.
The free "Country Profiles" in iwKnowledge also offer value. We found 2,615 profiles during our test drive. Many are on developing nations and provide the kind of meaty information essential in investment decision-making. This section also offers free access to strong country and industry surveys from
Financial Times'
ft.com
.
With such deep free resources, it's not surprising that some users say the site has cut time for some research by 75 percent.
Including Smaller Players, Curbing Corruption
InfrastructureWorld.com obviously isn't yet a finished product. But its goal - to be a global portal linking the infrastructure world's now scattered spheres of development, finance and construction - has major potential.
"InfrastructureWorld.com combines the Web's ability to archive, integrate, connect and disseminate information with powerful project management tools that can dramatically reduce development time and lifecycle costs," said Declan Duff, managing director of International Finance Corp. (IFC), the World Bank subsidiary that invested $10 million in InfrastructureWorld.com's first-round financing.
Another of the site's potential benefits lies in its inclusion of small and medium-size firms often lacking the informational resources to contend in the global economy. "We would put them into the same league as the big players," said Sujoy Bose, senior investment officer with the IFC's Infrastructure Dept.
The site could also curb the favoritism and corruption that often taint major infrastructure projects, particularly in developing nations. Site options include flagging cases in which the most competitive bid isn't chosen, alerting project managers and auditors.
Kobe, Japan, Mayor Kazutoshi Sasayama took a different tack. Eager to avoid a highly unionized local construction industry often criticized as corrupt, Sasayama set up an adjunct site on InfrastructureWorld.com, the "iKobe portal." That opened bidding worldwide for new city projects, including a new airport and a medical park.
And that's the idea here.