A yo-yo turn of events at the end of August evoked Yogi Berra's immortal line, "It's déjà vu all over again": Autodesk brought Buzzsaw.com (
www.buzzsaw.com
) back under its corporate umbrella. And it was only in November 1999 that Autodesk had spun off the new Web-based venture it spawned, saying Buzzsaw.com was more likely to flourish as a standalone.
Yet Autodesk forked over US$15 million in cash for the 60 percent of Buzzsaw that it
had
owned less than two years ago. Curiosity piqued, we decided to have a look at Buzzsaw, which specializes in project hosting, CAD document distribution and online bid management.
Our reasoning reworked George Mallory's Everest-scaling logic: because it was
still
there. That alone is dot-com distinction. Between 1997 and 2000, 400-plus dot-coms were launched to tackle the myriad inefficiencies of the $3.9 trillion global construction industry. Most are long gone. More prosperous rivals gobbled up some; most simply melted into real estate's ever-expanding Land of the Dead Links.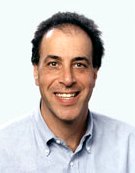 Buzzsaw, though, is very much here. It reportedly has 125,000-plus players - owners, developers, architects, engineers, contractors, reprographers and facility managers - managing projects through its site. On average, users create a new on-site project every 20 minutes, according to Buzzsaw executives.
The site has also snagged $90 million-plus in capital, plus some big-league customers. Its clientele includes Bank of America; Degenkolb Engineers; Swinerton Builders; DPR Construction; Dow Corning; Ellerbe Becket; HWA/Gensler; WorkPlace USA.; CenterAmerica Property Trust.; NBBJ Architects; Toys "R" Us, Skidmore Owings & Merrill and Walt Disney Co.
Our test drive demonstrated why Buzzsaw.com still has buzz. The site has very snazzy features and smooth functionality. That reflects once-and-current parent Autodesk, whose flagship AutoCAD product has dominated the architecture/construction-design software market.
Easy-to-Use, Savvy Features
We signed up for the free one-month trial. Listing all of this site's solid features would run the length of Gary Condit's little black book. We found the meat of the site, though, in the three offerings under the "Services" tab:
"ProjectPoint," which is for storing and sharing drawings and documents in a secure online location;
"Construction Manager," for creating and tracking RFIs, change requests, submittals, etc.; and
"Plan and Specs," for viewing documents and placing online orders for reprographers to print and deliver documents.
We immediately liked the site's tree views and folders, which are very like Windows Explorer.
Creating project folders is very simple, with sample folders to guide you. Like Explorer, the site offers multiple ways to do the same thing. Drawings, for example, can be posted through three options: using online wizards; dropping desktop files onto ProjectPoint (or vice versa) or posting directly from AutoCAD.
The system accepts wide-ranging formats. Newly released ProjectPoint 2.1 allows users to view and markup more than 200 different file formats. Another thing we like is this site's awareness of the countless, constantly unfolding changes on any project.
The system's document-version-tracking feature, for example, allows users to see most-recent document versions, plus their entire history and older, earlier versions. And the lock-file feature helps minimize overlapping changes when multiple team members have update approval. Buzzsaw averts that pitfall by giving all team members an online heads-up on impending changes. The system will also e-mail the entire team notification of any changes in a document, including a direct link to its latest version.
Other handy features include a search function that will locate files across the entire site or within individual projects. You can search by file name, author, date, or words or phrases within files. The site also offers weekly online training, as well as training at users' sites.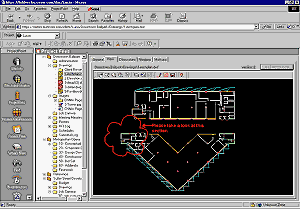 Why the Reacquisition?
In sum, there's a lot to like about Buzzsaw. But, you say, if it's so nifty, why did Autodesk feel the need to reassume control?
Money, honey. Buzzsaw reported a net 2000 loss of $50.9 million on revenues of $5.4 million. In mid-May this year, it laid off 70 employees, a third its work force, including its CFO. Perhaps there's a partial parallel here to the bricks-to-clicks brigade's general dominance over pure-play dot-coms. In somewhat similar fashion, Buzzsaw in Autodesk gains an established parent that's well-known and well-heeled, with $936.3 million in 2000 sales.
Then there are Autodesk's 4 million-plus customers - a potential gold mine for cross marketing. And Autodesk has displayed significant skills in moving beyond its core engineering/architecture market. Primarily using acquisitions, it's boosted its presence in new markets that include tools for creating digital content, GIS mapping, interactive games and Web design.
Add to that Autodesk's reputation for hard-nosed cost control. It's weathered the downturn better than most software players; even with a sales shortfall, most analysts project that it will hit 2001 earnings targets.
Said Carol Autodesk Chairman and CEO Bartz, "The Buzzsaw acquisition signifies Autodesk's commitment to identifying the complementary technology and products to help extend its existing business to new markets." In a recent conference call with analysts, Bartz said Buzzsaw will soon be "revenue neutral" and wouldn't affect Autodesk's earnings.

Coming: Aggressive Internal Cost Cuts?
Matching revenues with expenses, however, won't be easy. Expect some relentless internal cost-cutting, the key in Autodesk's hitting its earnings targets, according to CFO Steve Cakebread. And don't rule out pricing changes. Buzzsaw phased out its free extranet service in March. It now employs a tiered subscription model, charging a monthly fee based on the number of concurrent projects, the projects' size in megabytes, and the number of documents requiring digital storage.
As for future pricing, Buzzsaw.com contains this open-ended explanation: "While we continue to evaluate pricing as always, we do not anticipate any changes in pricing related to the merger. Autodesk will fully honor the terms of all subscription agreements in place at the time the acquisition is complete. After that point, Autodesk will determine pricing for Buzzsaw.com's services."
As for Buzzsaw's online structure, the "RFQ Manager" service was the only major cutback we noticed. It's "been discontinued to enable Buzzsaw to focus its customer efforts on collaboration and commercial printing solutions for the building industry," the site explains. Perhaps the best outcome for the industry would be a continuation of Buzzsaw's quality, with cost cuts unfolding behind the scenes.
Is that enough to make it a long-term winner in a sector that's traditionally under-spent on IT? That's anyone's guess. We can only cite more sage advice from Yogi: "When you come to the fork in the road, take it."