"Saddened by the loss of all, particularly the four people I knew. My prayers and thoughts go out. I can help anyone in need of short-term facilities. Even if you all you need is a single 10 x 10 office for a day, I will help you."

"NEON Communications has 24,000 sq. ft. of raw space available for temporary use at 32 Avenue of the Americas in NYC. Not looking for compensation, just looking to help."

-- Two sample postings on IDRC's Special Message Board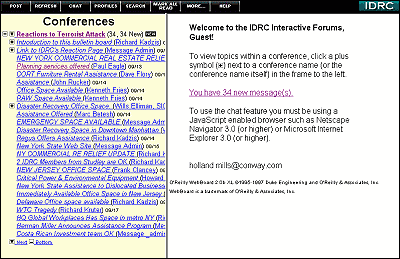 Sept. 11's terrorist attacks left gaping holes in the lives of thousands of families. For many, the Internet has been a balm, helping in learning the fate of loved ones and in the sharing and easing of pain.
Similarly, the Internet been a major weapon in helping displaced businesses get back up and running - one of the strongest messages that business can send in response to Sept. 11's attacks.
Spearheaded by some lionhearted, unselfish efforts from the real estate community, that relocation effort has utilized two of the Internet's greatest strengths - its fast, efficient information dispersal and its instantaneous people-connecting capabilities.
Online Help Pours in on IDRC's Message Board
The Net's strengths are sorely needed, for the effort is laboring against staggering dislocation. More than 650 tenant organizations and perhaps 50,000 workers have been displaced, CoStar Group (
www.costargroup.com
) estimated. The prime office space rendered uninhabitable in New York has the dimensions of a small city. Grubb & Ellis (
www.grubb-ellis.com
) estimated that the attacks destroyed 15.5 million sq. ft. (1.4 million sq. m.) of prime office. Falling debris, building collapses and fires have damaged another 12 million sq. ft. (1.1 million sq. m.). The combined 27.5 million sq. ft. (2.5 million sq. m.) constitutes some 20 percent of the downtown Manhattan office market.
Some of the most active workplace-recovery efforts have unfolded on the Web home of the International Development Research Council (IDRC), the world's preeminent corporate real estate association.
Staff members at IDRC's Atlanta headquarters quickly went online with a Special Message Board. Messages have poured in. They are about providing space and hope, not about reaping profit.
Nortel Networks, for example, posted a message on the IDRC site announcing that the company "has a surplus of furniture within its immediate grasp. We have 100 Ethospace stations that are available Oct. 1. . . . We are in the middle consolidation efforts and would very much like to be able to contribute to the cause."
Then there's Herman Miller's (
www.hermanmiller.com
) IDRC board message, which announces "a special program to simplify the process and reduce costs in support of the operational recovery of businesses and organizations. . . . We have packaged a select set of products (e.g., workstations, filing, seating, desks, tables) that will ship within 10 business days from receipt of order. Delivery and installation services as well as leasing are included if necessary."
Philadelphia Story: 2 Million Sq. Ft.
IDRC's message board has also included a link to the successful space initiative spearheaded by Philadelphia-based PECO Energy (
www.peco.com/home.html
). With a mass Sept. 14 e-mail, PECO began rounding up temporary, donated space in the Greater Philadelphia region for use by New York City's displaced companies and their employees.
By the end of the day on Sept. 14, PECO had identified 700,000 sq. ft. (63,000 sq. m.) of space. By Wednesday, Sept. 18, the Philadelphia region's donated square footage totaled more than 2 million sq. ft. (180,000 sq. m.).
"We had a tremendous outpouring from our developers and brokers, as well as our corporate citizens," said Greg Byrnes, PECO Energy director of economic and business development. Philadelphia Mayor John Street will present PECO's list of donated available space to New York Mayor Rudolph Giuliani.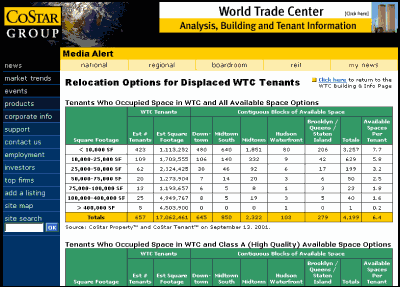 CoStar Creates 'Alternative Space Listings'
CoStar Group (
www.costar.com
) has been another prime online player in assisting dislocated firms.
CoStar has been contacting New York's brokerage firms to pinpoint available office space, adding the results in continuous updates to the company's online property database, company officials explained. CoStar has also set up a special site section - "World Trade Center Disaster: Alternative Space Listings" - to connect firms that need space with brokers and owners that have immediately available square footage.
The company has made its database accessible through the state's Empire State Development (ESD at www.nylovesbiz.com), Web site, which "demonstrates the true spirit of American unity and assistance," said ESD Chairman Charles Gargano.
Said Gov. George Pataki, "As part of our continuing commitment to helping businesses that were displaced or otherwise directly impacted by the attack, we have arranged access to this valuable database. We are deeply grateful for CoStar Group's generous offer to let New York companies capitalize on its resources, including detailed information on more than 90 percent of the office space currently available in the metropolitan area."
Added CoStar CEO Andrew Florance, "There are hundreds of New York businesses displaced that want and need new facilities. We are grateful to have the opportunity to donate our information resources to help them connect with New York's commercial real estate community and the thousands of alternative facilities available in New York City."

Silicon Alley Responds
High-tech firms in New York's "Silicon Alley," which sits only two miles (3.2 km.) from the attack sites, have also stepped forward online. Many of those companies had unused space after being hit hard by the dot-com downturn.
Ken Seiff, CEO of online retailer
BlueFly.com
, began Silicon Alley's effort with an e-mail sent to Jason Calacanis, editor of
Silicon Alley Reporter
. Seiff told Calacanis that BlueFly.com had an entire floor of space - 9,000 sq. ft. (810 sq. m.) - that it had been trying to lease. Now, BlueFly wanted to offer the space to dislocated businesses.
Calacanis forwarded the e-mail, plus an offer for free desk space at
Silicon Alley Reporter
's offices, to 100,000-plus subscribers to a group of newsletters including VentureReporter.net and
Silicon Alley Reporter
. Things snowballed from there.
Within two days, more than 50 Silicon Alley firms had contacted the daily newsletter with free space offers. The newsletter's staff is compiling a database of available space for small and mid-sized firms, and it's assisting displaced firms in finding free temporary space, equipment, and phone and Internet access.
"This attack was designed to not only attack us on psychological and physical level, but also on an economic level," Calacanis said. "We hope that by helping companies get back on their feet we can do our part to return our country to some level of normalcy."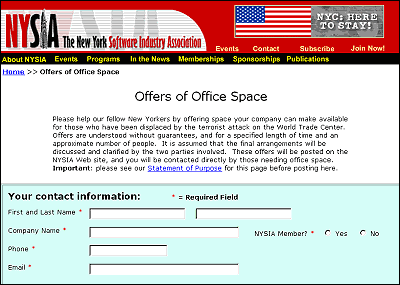 In addition, the New York Software Industry Assn. (
www.nysia.org
) has pitched in, creating a database on its Web site of companies that want space and companies that are donating it.
Old-Fashioned Shelter
And that's only the tip of the iceberg in the splendid online effort to aid displaced firms.
Some of the shelter provided in the disaster's wake, however, has come through far less high-tech avenues.
Bloomingdale's flagship Manhattan store, for example, stayed open after the Sept. 11 explosions. The store served few customers, as it expected. But it provided a refuge for employees stranded by the public transportation shutdown.
"As long as they had to be here, we were going to be here," said Bloomingdale's spokeswoman Anne Keating.