W
hen 70% of the U.S. Navy's fleet of warships are manufactured by a single company in Mississippi, it's safe to say that the nation's defense depends on Mississippi workers.
That is exactly the case, as Huntington Ingalls in Pascagoula is the company that makes those warships, and the Navy would literally be defenseless without them.
Located on about 800 acres of land along the Pascagoula River, Ingalls ranks as the biggest manufacturing employer in all of Mississippi and one of the largest employers along the Gulf Coast. These 11,500 workers are a major contributor to the economic growth of Mississippi, Alabama, Florida and Louisiana.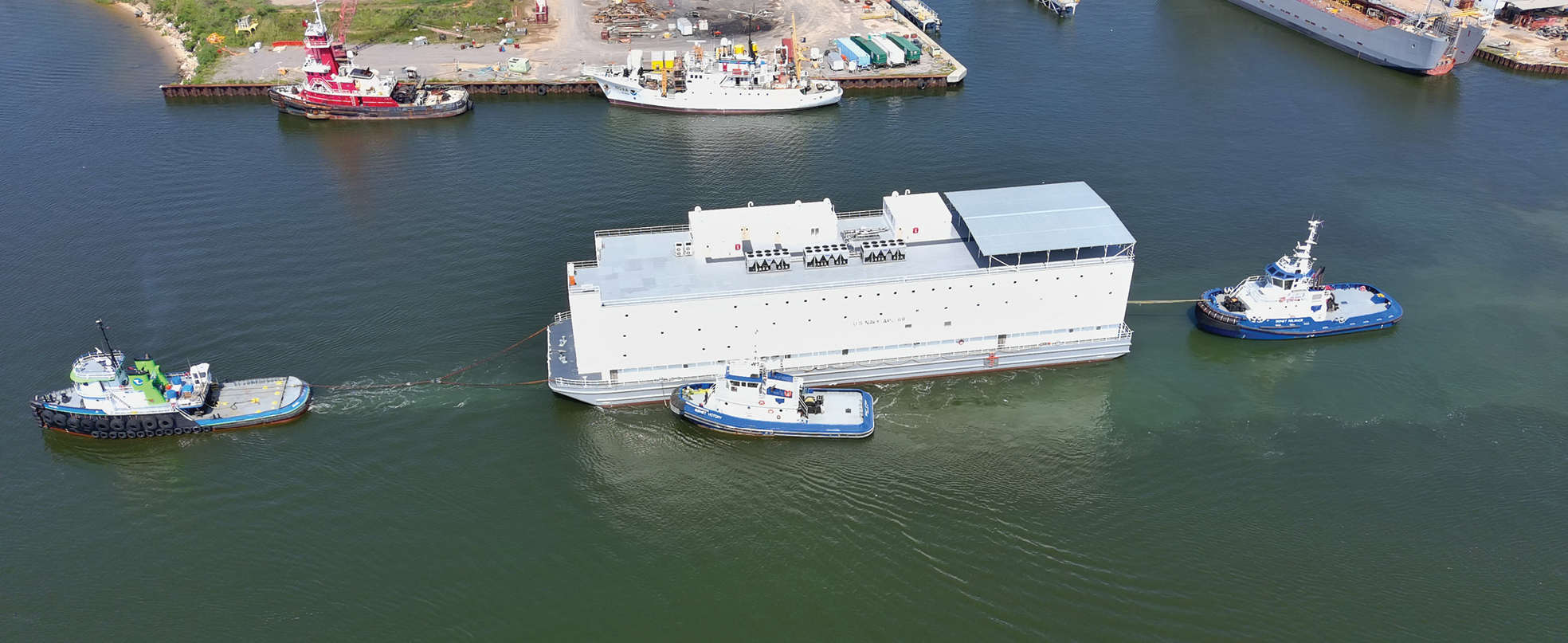 Ingalls produces virtually every class of surface warship used by the Navy, from guided missile destroyers and landing platform docks to large deck amphibious assault ships and Coast Guard national security cutters.
In June of last year, Ingalls was awarded a $936 million U.S. Navy contract to build a destroyer that's equipped to launch guided missiles. This came just three years after Ingalls landed a $5.1 billion defense contract to construct six Arleigh Burke-class destroyers.
But that's not the only shipbuilding taking place in Pascagoula. At nearby Halter Marine, advanced manufacturing workers are busy making the next-generation Coast Guard Polar Security Cutter. Halter won the contract to produce the cutter in May of 2019. The $746 million contract is for the design and construction of the vessel formerly known as the heavy polar icebreaker. The contract includes options that, if exercised, would bring the value of the deal to $1.94 billion. First ship delivery is set to occur in 2024, second in 2025, and third and final delivery in early 2027.
Due to its expanding workload, Halter announced earlier this year that it planned to double its workforce over the next three to four years. The expansion will also necessitate the acquisition of more space, the company said.
Halter spokesperson Mark Scott told local news outlets that the growth means 850 new jobs for the region. Some will be in traditional shipbuilding trades, but others will be professional support positions. Many of these new workers will move to a new office on Delmas Avenue in downtown Pascagoula, Scott noted.

Shipbuilding along the Mississippi Gulf Coast dates back to the early part of the 20th century, when large shipyards were opened to build liberty ships during World War I. The Ingalls Shipbuilding Corp., on the east bank of the Pascagoula River, was founded in 1938 by Robert Ingersoll Ingalls Sr. of Birmingham, Alabama, to produce eight all-purpose warships that would ultimately be used to help Allies fight and win World War II.
In 2011, a merger with the Northrop Grumman Corp. prompted a name change to Huntington Ingalls Industries. Today, Mississippi has more than 15 ports that provide access for shipbuilders to the Gulf of Mexico. The Port of Pascagoula ranks as one of the 20 largest shipping ports in the U.S.
Many factors combine to make the Magnolia State the perfect magnet for shipbuilders. A strong workforce, a plethora of financial incentives, and a robust transportation infrastructure rank among the most important factors. Access to the Gulf, the Mississippi River and the Tennessee-Tombigbee Waterway give shipbuilders ready-made deep-water access.
In addition to Ingalls and Halter, other notable shipbuilders in the state include U.S. Marine Inc., Trinity Yachts, Gulf Ship, Signet Maritime, New South Marine Builders, Signal International and Rolls-Royce.
Gulf Ship embarked on a $7 million expansion two years ago to create 200 jobs and facilitate a new contract for world-class tugboats. Also in 2020, Rolls-Royce announced plans to expand its facility in Pascagoula, where it makes propellers for Navy warships. The U.S. Department of Defense kicked in $22 million for that project.
Halter Marine Christens New Berthing Barge
Pascagoula's Halter Marine christened a new berthing barge for the U.S. Navy on May 8 when it conducted the sail away of the APL (Auxiliary Personnel Lighter) 69.
DOD business has been keeping workers at Halter Marine busy for many years, and right now that business shows no signs of slowing, says Mark Scott, director of government affairs for Halter Marine. In a recent interview, he explained how his company keeps on growing in southern Mississippi.
Has Halter Marine had to expand its workforce over the past year to service any of the new federal government contracts?
SCOTT: We have expanded our workforce and con-tinue to do so. In fact, we have lots of open jobs. Since 2019, we've grown our workforce by over 350 ship-builders, and based on the work we currently have, we will double our workforce in the next three to four years.
Do you expect to add to your staff over the course of the next two years?
SCOTT: Yes, we are expanding our workforce. We are adding apprentices to our registered apprenticeship programs. We currently have over 40 apprentices and have plans to add to that number this year and next year. Also, our recruiters engage with high schools, community colleges and universities across the Gulf South region.
How has the global supply chain bottleneck impacted the demand for ships that sail the high seas?
SCOTT: In today's global economic environment, so much is imported and exported by ship, it's hard to imagine that the demand for ships will do anything but grow.
Do you expect to expand your facilities anytime soon? If so, where and when?
SCOTT: We do expect to expand our facilities. With a need to double our workforce, it is inevitable that we will increase our footprint in Jackson County. We're taking a strategic approach and working with community stakeholders. We are making an unprecedented investment into our shipyard including infrastructure, buildings and machinery.
How do you like doing business in Mississippi?
SCOTT: Halter Marine was founded in 1956 and has operated in Mississippi for most of the time. We take great pride in Pascagoula, Jackson County and Mississippi. Yes, we like doing business in Mississippi very much.
What do you like best about the workforce that is available to you in Southern Mississippi?
SCOTT: The people of south Mississippi and throughout our entire region are hard-working and dedicated. This region has a long history of successful shipbuilding, and in many cases multiple generations have built ships here. Our public sector partners at South Mississippi Planning and Development District and Mississippi Gulf Coast Community College do an excellent job of putting programs in place that help create a pipeline of capable new workers. However, to continue to be successful, the pool of potential workers simply must grow. Halter Marine is working with multiple stakeholders to help confront this challenge.
What is the timetable for delivering the vessels that have been ordered under the new federal contracts?
SCOTT: Our next delivery is APL 4 (Norfolk) scheduled for Q3 2022. Proudly built for the U.S. Navy, this Crew Berthing Barge will accommodate over 600 personnel and provide a comfortable and efficient place for our service men and women to live and work.