From coastal beaches to mountain tops, high-desert views to deep forests, Oregon offers a little bit of everything. With abundant natural resources, diverse communities and an ideal central location in the Pacific Northwest, Oregon offers ample benefits to businesses.  
The following is an overview of Oregon's six unique regions, highlighting their assets for business, quality of life and more. 
Coastal Oregon Region
From Astoria to Gold Beach, Oregon's coastal region is a sight to behold. The region's innovative business climate serves as a hub for the aerospace, marine, manufacturing, tourism, forestry and agricultural industries. 
Oregon's North Coast, the point at which the Columbia River meets the Pacific Ocean, is marked by historic lighthouses and shipwrecks, eclectic towns and some of the best fishing and farming in the world. 
For more than a century, the region has been home to the Tillamook County Creamery Association. The Tillamook brand of premier dairy products can be found on store shelves across the country.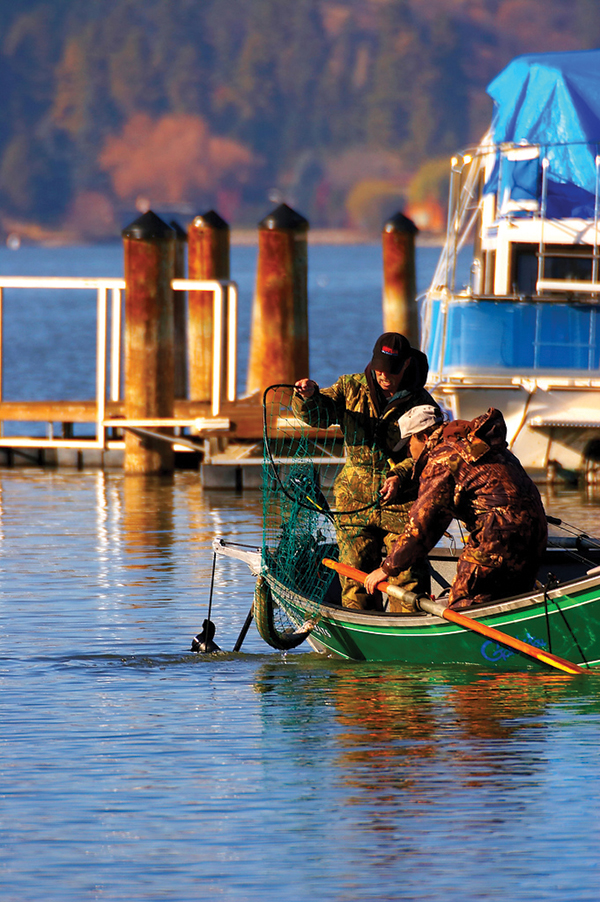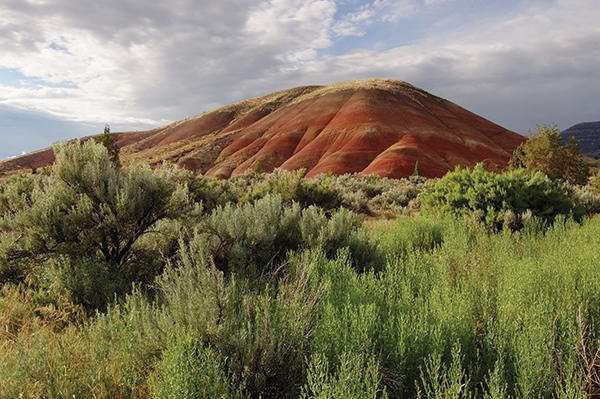 Pelican Marina, Klamath Lake on the coast
Painted HIlls in central Oregon
 
Oregon's South Coast boasts several advantages for logistics-reliant operations, including the Port of Coos Bay and its deep-draft terminals and Coos Bay Rail Line Class II service, and the Southwest Oregon Regional Airport in North Bend. In September, the Port of Coos Bay announced plans to construct a multimodal container facility that would move over one million forty-foot containers annually in and outbound through the Port of Coos Bay via the Coos Bay Rail Line. 
Willamette Valley and Portland Metro Region
Oregon's urban center is backdropped by stunning natural scenery in the Portland metro area and the surrounding Willamette Valley. This region includes the three largest cities in the state, Portland, Salem and Eugene. 
Portland is home to a diverse base of industries, including clean technology, computers and electronics, software, media, metals, athletic and health sciences. Portland also serves as base camp for global outdoor companies, including Nike, Adidas North America, Columbia Sportswear Company and more.
The Intel Ronler Acres campus in Hillsboro represents the tech giant's largest concentration of facilities and talent in the world, just 10 miles west of Portland, an annual state economic impact that reaches $19.3 billion annually. Intel's Hillsboro campus is home to some of the most advanced R&D in the world and has attracted more than 30 suppliers to the region, creating a thriving semiconductor industry and supply chain in the region. 
The Willamette Valley region encompasses a 150-mile stretch from Portland to Eugene. The region is the state's No. 1 producer of agricultural products and provides access to domestic and international markets via Interstate 5, Portland International Airport and several other international ports. Amazon recently announced plans to expand its operations in Canby with a new 517,000 sq. ft. facility to open in 2023. 
Protected by the state's western coastal mountain range and the Cascades to the east, the Willamette River runs through the valley feeding a high concentration of vineyards and wineries. The region is recognized as one of the premier wine-producing areas in the world, consistently earning high marks for its cool-climate varieties, including Pinot Gris, Chardonnay and Pinot Blanc. 
Columbia Gorge Region 
The Columbia River Gorge region offers an abundance of natural assets and an ideal location in the Pacific Northwest. 
Hood River is known as the windsurfing capital of the world and is a haven for all kinds of outdoor recreational activities, including hiking, mountain biking. The area also offers several breweries, wineries and farm-to-table restaurants to recharge and recover after an outdoor adventure. pFriem Family Brewers got its start in Hood River back in 2012 and has since become a household name in the Pacific Northwest beer scene with its primary markets in Oregon, Washington and Northern Idaho.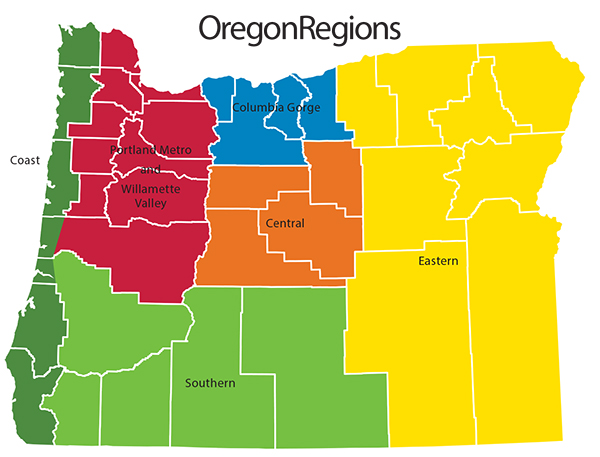 These natural assets have established the region as a hub for renewable energy production, with solar, wind, biomass, fuel, geothermal and hydropower.   
Google continues to invest in Oregon's Gorge region, where the tech giant operates a data center in The Dalles and has invested $1.8 billion in the city since first arriving in 2006. In November, Google announced plans to build two new data centers in the city, signaling its commitment to the region. Google cited The Dalles' combination of energy infrastructure, developable land and available workforce as being key factors in its site selection decision. 
Central Oregon Region
Central Oregon is sandwiched between the mighty Cascade Mountains to the west and the high desert and Ochoco Mountains to the east. The larger region is part of the Deschutes River Basin. Nature lovers flock to the city of Bend, which ranks highly among outdoor publications, including being a Top Ski Town, Top Bike Town and a Top Trail Town.
Additionally, Bend ranked No. 16 among U.S. metro areas for high-tech startup density by The Kauffman Foundation.  
Since opening in 2016, the Oregon State University-Cascades campus in Bend has become a top-tier research university with a reputation for innovation. The campus enrolls approximately 5,000 students annually and is important to the region's diversifying economy as it helps prepare the workforce to work in high-tech fields, including bioscience, health care and outdoor products. 
In Redmond, several companies have recently expanded, including BASX Solutions, a manufacturer of data center cooling and high-tech systems. Headquartered in Redmond since 2014, BASX Solutions is an industry leader in the design and manufacturing of high-efficiency data center cooling solutions, cleanroom systems, custom HVAC solutions and modular products. 
Southern Oregon Region
Southern Oregon, also known as the Rogue Valley, is well-known and well-loved for its "wild and scenic" Rouge River, flowing from Crater Lake to the Pacific Ocean. The region is particularly suited to a variety of outdoor recreational activities, including biking, hiking, water sports and stargazing. The region includes several thriving cities, including Medford, Ashland and Klamath Falls, among others.  
As a hub for the state's legacy industries, forestry and agriculture, these abundant natural resources have given rise to a thriving tourism sector in the region. Additionally, the region's location places it within a half-day drive to major Northwest markets, including San Francisco, Portland and more. 
The region is a hub for higher education with Southern Oregon University in Ashland, Rogue Community College in Grants Pass, and the Oregon Institute of Technology in Klamath Falls. Some of the region's largest industries include advanced manufacturing, clean technology, high-tech, natural resources and tourism. The region has been selected for a diverse range of expansions and locations in recent years, including the $750-million Swan Lake Energy Storage Project northeast of Klamath Falls. 
Eastern Oregon Region
Eastern Oregon and the Columbia Basin offer beautiful natural surroundings, a strong, diversified economy and an exceptionally high quality of life. The region is home to the cities of Hermiston, Ontario, Pendleton, Fossil, Baker City, La Grande, Mitchell and Burns.
Hermiston is the region's largest city and has attracted investment from global corporations like Amazon, which located a data center in the city to support its growth in the Pacific Northwest.  
The region is home to a diverse range of industries, including forestry, agriculture, mining operations and recreation sectors. It has also become an innovative hub for the emerging Unmanned Aircraft Systems (UAS) industry. In Pendleton, a new $15 million industrial park at the Eastern Oregon Regional Airport has been dedicated to the industry. The Pendleton UAS Range (PUR) is designed to facilitate a wide variety of testing needs through logistical coordination. For OEMs in the aerial mobility space, the UAS range at Pendleton offers the infrastructure needed to conduct a complete developmental and certification flight test campaign. The range also has the ability to supply chase aircraft for extended range operation as well as a mobile operations center. Moreover, the airport is strategically located to maximize operational efficiency for OEMs. 
In the high desert of Oregon, the area regularly experiences VFR conditions and has plenty of open airspace to conduct flight tests without interference from local traffic.