W
hen the largest privately held manufacturer and distributor of medical supplies selects your community for a major facility investment, it's safe to say that your city has arrived.
While the small town of Wilmer in Dallas County, Texas, did not need Medline's stamp of endorsement to place the 5,000-resident municipality on the map, a lot more people know about Wilmer now.
Part of the Dallas-Fort Worth-Arlington MSA, Wilmer is rapidly making a name for itself as the sweet spot for Fortune 500 end-users. From Ace Hardware and Makita to Yokohama, Procter & Gamble and Whirlpool, Wilmer has become the go-to business destination for major brands wanting to get goods to market quickly.
Being located right off Interstate 45 just 16 miles southeast of Dallas helps. Dmitry Dhukan, vice president of real estate, facilities, security and supply chain optimization for Medline Industries Inc., says the $20-billion firm based in Northfield, Illinois, chose Wilmer for a host of reasons.
"We had a 280,000-sq.-ft. facility in Dallas and business was great, but we needed to grow," says Dhukan. "This regional facility serves half the state. Medline supplies 90% of the hospitals in Texas. When we do a site search, we look at where our current and future customers are. We self-perform our own transportation, and we focus on a 300-mile radius around each distribution center. From our DCs in Houston and DFW, we can serve the entire state."
With the new plant in Wilmer, Medline now operates 45 DCs around the country, part of a portfolio of 170 properties and over 43 million sq. ft. of space.
A key consideration, Dhukan notes, is resiliency. "If something happened to our Houston location and we suddenly had to supply all of Texas' hospitals from North Texas, we can do that from our new DC in Wilmer. Our trucks avoid having to get on Interstates 20 and 35. They can get right on I-45 and drive straight down to Houston without trouble."
When your company has been in business for 56 years and grown to more than 28,000 employees with offices in 20 countries, you know that speed is of the essence. "If I am in Wilmer, I can avoid all the major congestion issues and be directly on I-45 within minutes," says Dhukan. "That is really the rationale to maintain maximum resiliency."
Dhukan says Medline also considered the local labor market, land availability, cost of real estate, and the ability to work with a local developer ready to move quickly. After looking at about 60 sites, "we found a great location at a wonderful price," he says. "With great labor, good housing supply and a bright future in Wilmer, the decision was easy. It became one of the best red-carpet treatments we've ever received."
"With great labor, good housing supply and a bright future in Wilmer, the decision was easy. It became one of the best red-carpet treatments we've ever received."
— Dmitry Dhukan, Vice President, Medline Industries Inc.
Mayor Sheila Petta says that's how they treat all newcomers in Wilmer. "We are a little country town. We want to grow, but we want to keep a little bit of our country," she says. "We are not even a spot on the map, but I hope to make us a little spot. I love my city, and I will do everything I can for it."
Petta says one of Wilmer's biggest advantages is its room to grow. "We are a city of 9 square miles, but we can expand to 20 square miles," she notes. "Everything we do is to help our city grow. Robbie Hale Homes came in and built some new houses here; and they would like to build some more. Lennar Homes is in the process of starting to build 353 houses here. And these are affordable homes. Our starting home price is $200,000, so the average working adult and family can afford to own a house here."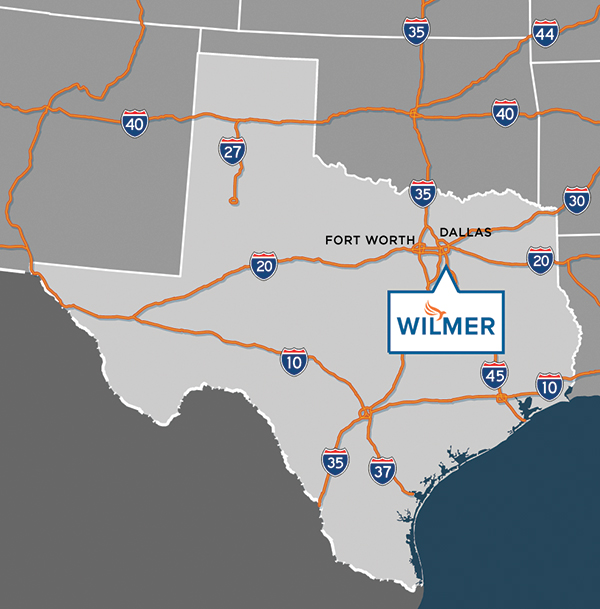 Selling points for Wilmer include the fact that it offers the lowest tax rate in Dallas County, and yet it ranks No. 1 in the county in tax revenue. "We have Union Pacific Railroad in Wilmer," the mayor says. "We are close to the Metroplex and close to Love Field. Despite being close to the big city, my city offers a family-friendly environment."
Others concur. In recent years, the city has received sizable expansion investments from Ace Hardware, Makita and Amazon. Proximity to bustling suburbs like Lancaster, DeSoto, Cedar Hill, Duncanville, Red Oak, Palmer and Ennis is a factor that pulls more growth to Wilmer.
"We are unknown, but I would like to change that," the mayor adds. "We are willing to work with companies and developers, and we are always trying to come up with things for the community to be involved in."
Lately, that means plans for a new city hall, police station and public works building. "I am never going to give up on my city," Petta says. There's no doubt she means it.
---
This Investment Profile was prepared under the auspices of the City of Wilmer and Wilmer EDC. For more information, contact the Wilmer Economic Development Corp. at 972-441-6373. On the web, go to www.wilmeredc.com.