PHARMACEUTICAL INDUSTRY REVIEW
Inoculation Locations
Keeps Triangle Healthy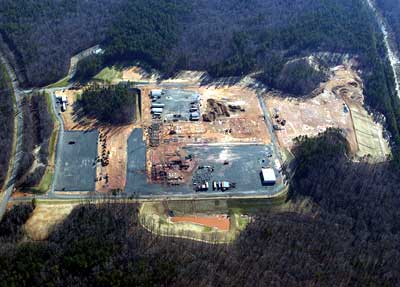 North Carolina, a pharmaceutical industry mecca, snared the largest prize of the year, a $300-million vaccine manufacturing plant now rising from the ground in Durham. Merck, headquartered in Whitehouse Station, N.J., is building its first vaccine manufacturing facility outside of its vaccine division headquarters in West Point, Pa. The new Durham complex will include four buildings with 272,000 sq. ft. (25,300 sq. m.) of office and manufacturing space.
Merck anticipates the facility to be operational by 2008, with employees earning an average annual salary of $55,000. Merck will eventually employ 150 to 200 at the plant, which will manufacture vaccines for measles, mumps, rubella and chicken pox.
North Carolina injected plenty of incentive dollars into the equation to lure the vaccine plant. This includes the first award from the state's Site Infrastructure Development Program (SIDP). Merck will have up to $24 million to improve the 256-acre (104-hectare) site.
When Merck first began planning to boost its U.S. vaccine manufacturing capacity, one of the first determinations was that the site of the company's current vaccine production operations in West Point did not have sufficient space for a major expansion.
"The site in West Point is pretty densely built, so we determined the need to go off site," says John Wagner, Merck's senior director of vaccines and sterile operations. "We don't build plants that often, so we did a strategic analysis, teaming up with a group of consultants."