MAY 2005


KENTUCKY SPOTLIGHT
Zappos Finds Kentucky
a Nice Fit for Expansion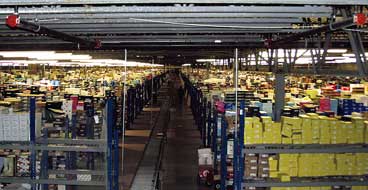 Zappos embraces customer service like few companies. Depending largely on word-of-mouth advertising, the Web-based retailer likes to surprise its first-time customers with super-quick delivery. While promising delivery within four or five days, it often accomplishes it in one or two days.
Facilitating that quick delivery is the central location of the company's distribution center in Shepherdsville, Ky., just south of Louisville. A key factor in the company's decision to locate in Kentucky in 2002 was proximity to United Parcel Service's air hub at Louisville International Airport, 12 miles (19.3 km.) north.
The fast-moving firm has quickly outgrown its 280,000-sq.-ft. (26,000-sq.-m.) facility and now plans a mammoth 786,000-sq.-ft. (73,000-sq.-m.) distribution center across the street from its current location.
Tony Hseih, Zappos' CEO, says Zappos came to Shepherdsville and is expanding there because it relies heavily on getting goods to customers in rapid fashion. Zappos also considered sites in Indiana, Tennessee and Ohio for the latest expansion. The highly automated new facility, which will employ about 230, will open in 2006.
"It allows a lot of things on the shipping side," Hsieh says. "We're just 15 minutes from the UPS hub. Our goal is to provide the best online shopping experience, and we're building the company around customer service."
Hseih says Zappos projects sales to reach $300 million this year, a fast rise for a firm founded in 1999. Zappos is now broadening its offerings beyond shoes to include bags and other products, an evolution Hseih likens to Amazon.com, which grew from books to a variety of products.