Not Just Another Ethanol Player
In a January 2006 interview with
Site Selection
, Steve Wagner, vice president, energy process systems, for Colorado-based design, engineering and consulting firm Merrick & Company said that proximity to populace is the biggest issue in siting ethanol plants, and cited the case of a northeastern Colorado project that had gone from outright support to outright hostility from residents over several years, goaded by encroaching housing. That has definitely not been the case in the northeastern Colorado town of Yuma, where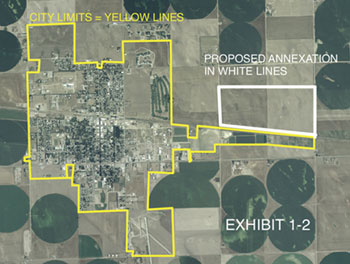 PLAIN TO SEE: The $120-million Panda Energy ethanol plant in the northeastern plains town of Yuma, Colo., is one of three the Texas-based company is pursuing, along with plants in Haskell County, Kan. (in the southwestern corner of the state) and Hereford, Texas, on that state's western plains.
Dallas-based
Panda Development Group
's Panda Energy division is planning to begin construction some time this summer on a $120-million, 100-million-gallon ethanol production facility that will employ up to 65 people.
The project comes about almost simultaneously with two other Panda ethanol projects of similar capacities and investment amounts: one in Hereford, Texas, in the state's western plains, that is already in phase one construction, and the other in Haskell County, Kan., in the southwest corner of the state, which like the Colorado project will see a late-summer start once financing is finalized.
Todd Carter, president of Panda Development Group, tells
Site Selection
that the company is trying to coordinate as many aspects as possible of the three separate projects as their overlapping schedules unfold. In Yuma, all the coordinates seemed to line up.
"We looked at several sites, but were particularly interested in the Yuma site because it had the infrastructure, a cattle feed yard, access to grain, and a strong community that supported the project."
That community effort was led by Andrea Anderson, the lead economic developer for Yuma County Economic Development Corp., whose efforts Carter praises along with those of Mayor Robert J. Harper and County Chairman Dean Wingfield.
Carter says the good vibrations began as soon as company officials started talking to the community in 2005.
"It's very important as you work into a community to have that support from the very beginning," says Carter. Equally important, he says, is a company that follows through on its commitments: "It's important to state what you're going to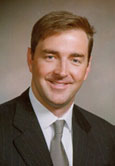 Todd Carter, president of Panda Development Group
do and adhere to those principles," he says.
One of the reasons Yuma may have been so prepared and positive was its past bridesmaid experience with another ethanol plant. In that sense, while the community is certainly providing an incentive package for the project, community leaders were equally incented to make sure this time it became a done deal.
Panda is drawing on its past relationships for other power projects to finance the ethanol projects, in the process bringing certain unnamed banks into the ethanol space for the first time.
Asked if the level of ethanol plant activity was making it challenging to stand out, Carter says the size and scale of Panda's plants and the company's aim to be the low-cost producer will take care of business. Besides, he says, "there's room for plenty of players in the ethanol industry. My feeling is we need to build as many ethanol plants as possible to wean ourselves off of foreign oil. We'd rather support the American farmer than foreign oil, and you're seeing a wave of that sentiment among the people of this country."
In the aforementioned interview, Steve Wagner scoffed at the federal goal of 7.5 billion gallons of ethanol, saying 20 billion is more like it, and maybe even as much as 50 billion gallons. Carter says he shares that sentiment.
"It depends what the powers that be want going forward," he says. "Do you want an emphasis on ethanol? It's not going to be just switchgrass, it's going to utilize corn and milo. There are a lot of acres not in production for corn that can easily be put into production. Drought-resistant corn is changing the way farming has been done, and I think this country can produce a lot of corn that can be made into fuel. What I love about ethanol is our fuel grows every year, and with the continued efficiency in the ethanol market, it makes sense to build as many ethanol plants as you can."