Fidelity Keeps the Faith
Northern Kentucky reeled in $445 million in new capital investments and 2,997 new jobs in 2005, spread across a diverse industry mix that includes distribution, headquarters, R&D and services. Among the 2005 projects in that last category was Louisville- based health insurer
Humana
's decision to expand by 1,113 employees at sites in Louisville and in the northern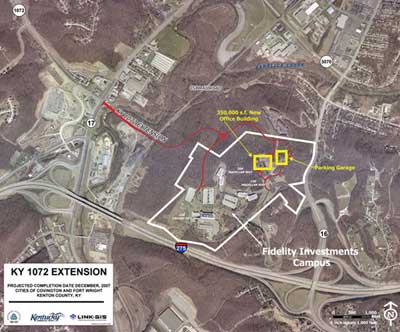 The $120-million investment by Fidelity Investments is just one of many projects helping Northern Kentucky gain prominence as an economic force in the Greater Cincinnati metro area.
Kentucky city of Newport.
The region is hanging on to 2,900 jobs and welcoming many more at
Fidelity Investments
' campus in Covington, where the mutual fund and 401(k) plan provider will invest $120 million in a consolidated shared services operation.
The new building will comprise 350,000 sq. ft. (32,515 sq. m.), and is the fourth on the 188- acre (76- hectare) campus since 1994. One of the keys to Covington winning out over Salt Lake City for this project was a nine- year planning process among the city, Kenton County, Fort Wright, the Commonwealth of Kentucky and Northern Kentucky Tri-ED that finally resulted in a new $17.5- million access road to the Fidelity campus.
The cost of the road will be primarily borne by the Commonwealth. But the road was not the only unique attribute of the package that sealed the deal.
"In addition to the Highland Pike Extension, a Kentucky Jobs Development Act (KJDA) tax credit and a Kentucky Enterprise Initiative Act sales tax rebate package, with a combined worth of $10 million, assisted in landing this prized expansion," say Tri-ED officials.
"The job growth incentives and the infrastructure improvements the state has committed to today helped solidify our decision to expand our operations in Covington," said Fidelity Midwest Region General Manager Kevin Canafax in June 2005.
Currently, Fidelity has three buildings on the campus totaling approximately 780,000 sq. ft. (72,462 sq. m.). Once complete – which could be as early as the end of 2007 – the new campus will host the consolidation of the company's Midwest operations, involving the movement of some 1,500 employees to the campus, representing $75 million in salaries.
Approximately 925 will be relocated from offices in Blue Ash, Ohio, where Fidelity has been ramping up hiring in anticipation of the short move to the new facility. The company's total Midwest operations employ 3,600.
In addition to its Boston headquarters and the Covington, Salt Lake City and Smithfield sites, Fidelity operates regional sites in Jersey City, N.J.; Marlboro, Mass.; Merrimack, N.H.; New York, N.Y.; Raleigh, N.C.; and Westlake, Texas.
That road to the top of the hill in Covington won't have value only for Fidelity. It also opens up more than 250 available acres (101 hectares) wrapped around the hill for development. A handful of property owners are evaluating options that range from high-end condos to industrial uses.