High Performance Coatings, which employs nanotechnology in its products and has markets that include NASCAR, is ramping up operations at its new East Coast facility near Greensboro.
anotechnology – not exactly an industrial sector unto itself, but a science spread across many industries – is gaining considerable traction in North Carolina these days. The state is 9th in a
Small Times
magazine ranking of states pursuing the sector. In a gambit to push further up that scale, the state recently unveiled "A Roadmap for Nanotechnology in North Carolina's 21st Century."
Auto racing, specifically NASCAR, on the other hand is one of the state's more venerable industries. The recognized birthplace of the sport garnered a much-sought-after plum earlier this year when the NASCAR Hall of Fame announced it would locate in Charlotte.
The new industry is now meeting the old in the state in the form of a Utah-based firm whose products are based on nanotechnology and whose customers include NASCAR teams. High Performance Coatings, a subsidiary of
nCoat Inc.
, began operations in September in the small town of Whitsett at a facility formerly occupied by a textile machinery company. HPC uses nanotechnology to make surface treatment materials for a diverse group of industries, including automotive, aerospace and medical. Of course, North Carolina is a logical place to locate if a company wants to serve the racing industry.
HPC's ultimate decision to alight in Guilford County came down to several factors, but the process that put the state in the running began at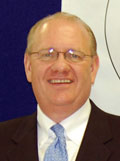 Paul Clayson is chairman and CEO of nCoat Inc., parent company of HPC.
the Performance Racing Industry trade show last December in Orlando when Paul Clayson, nCoat's chairman and CEO, was approached by an economic developer.
"I went to a trade show, PRI, and a fellow came up to me in our booth and introduced himself as being from the North Carolina Department of Commerce, asked what we were doing and said he had heard we were looking for a new place to locate a plant and asked for an opportunity to show us their economic development packages. I went to their booth and they were impressive, so I put our research team on it. Our president, Terry Holm, decided to visit North Carolina. At that time, we had narrowed it to a couple of buildings in Virginia, but from that point, we made a decision to locate there [Guilford County] within two to four weeks."
Earlier, HPC's fast-growing business had dictated a search for an expansion location. That process, conducted internally, sent company officials on a broad search, scouring sites in the Washington, D.C., area, Ohio and Michigan before Clayson's timely encounter at the PRI show.
"We were comparing tax structures, labor and all the key things that would have a major impact on our business, and up until then we had considered North Carolina, but had not gone there," Clayson recalls. "North Carolina fits the geography for our target businesses of professional motor sports, diesel trucks, automobile manufacturers and automobile parts manufacturers. These industries all circle the area."
North Carolina's new nanotech initiative is another plus, Clayson says. That effort focuses on boosting nanotech education as well as creating an annual symposium on the subject. It includes creation of a Web site,
www.ncnanotechnology.com
, which includes information on more than 40 N.C. companies involved in the sector.
"As we began to work with the state, we could see what the nanotechnology initiative would entail," Clayson says. "Their commitment has grown, particularly in the manufacturing end. They very quickly put us in touch with the materials science group at North Carolina A&T in Greensboro and other key areas of materials science in the state."