HQs All Over
Newport News also has seen a recent $30- million North American headquarters investment by
Wolseley
, the U.K.- based supplier of plumbing and heating products and building materials,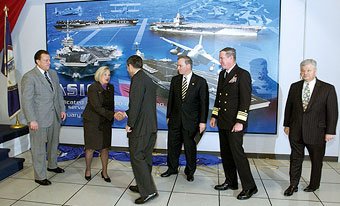 Northrop Grumman Newport News President Mike Petters (third from left) shakes hands with Rep. Thelma Drake (R- Va.) after unveiling a mural dedicating the Aviation Ship Integration Center (ASIC) to "the men and women who serve America." Also participating in the dedication are (left to right): Brian Persons, executive director, Program Executive Office, aircraft carriers; Rep. Randy Forbes (R- Va.); Vice Adm. Mark P. Fitzgerald, commander second feet, commander striking fleet Atlantic; and Joe Frank, mayor, City of Newport News.
Photo by Chris Oxley.
which picked Virginia over North Carolina for the investment. Non- woven textile maker
McAirlaid
's is investing $85 million in a 160- employee manufacturing plant and headquarters in Franklin County, in the Roanoke Valley, which won out over Kentucky in May 2006.
MeadWestvaco
, though it's encountered significant legal obstacles from local industrial development officials in Buena Vista, Va., with its $20- million distribution center along I- 81, is nonetheless pleased with its new headquarters in Richmond, where 600 employees started arriving in July, some from their previous headquarters in Connecticut.
"I want to thank all of the employees of MeadWestvaco who have made the opening of our new Richmond, Virginia headquarters successful," said John A. Luke, Jr., MeadWestvaco's chairman and CEO as he reported on company financials in August. "Our new location makes our company more productive and it fosters an atmosphere of collaboration and creativity to help move our company forward."
But by far the deepest and widest corporate presence in Virginia belongs to
Northrop Grumman
, which employs nearly 32,000 people in the Commonwealth. The past few years have seen the California- based defense, technology and shipbuilding firm invest hundreds of millions of dollars in Virginia projects ranging from IT systems facilities in Chesterfield County and Russell county to shipyard expansion in Newport News.
"Northrop Grumman has more employees in Virginia than in any other state," says Gus Gulmert, manager of corporate and international communications, with four sector headquarters in the state. The aircraft carrier complex in Newport News gets most of the attention, and just christened another craft in October. But the company's IT presence, headquartered in McLean and long a part of the company's northern Virginia footprint, is now bringing high- tech jobs and infrastructure to other parts of the state, in part through a unique 10- year, $2- billion contract just finalized in July with the Commonwealth itself, extending the same types of services it had already offered through local government contracts in Stafford and Richmond counties. The IT sector recently opened a building in Richmond and another in the southwest Virginia town of Lebanon in Russell County. The $34.6- million, 167,000- sq.- ft. (15,514- sq.- m.) Richmond Enterprise Solutions Center at Meadowville Technology Park will employ 631, while the $22.8- million, 130,000- sq.- ft. (12,077- sq.- m.) help and data center in Lebanon will employ 433.
Those IT facility projects follow the company's late 2004 investment in 85,000 sq. ft. (7,897 sq. m.) in the northern Virginia community of Chantilly. Meanwhile, the IT and shipbuilding clusters came together via the company's February 2006 opening of its new 11,400- sq.- ft. (1,059- sq.- m.), two- lab Aviation Ship Integration Center (ASIC) in Newport News. The research facility was established in partnership with the U.S. Navy to conduct modeling, simulation, research, development and in- depth analysis for CVN 21- class aircraft carriers and other aviation- capable ships. It is representative of a modeling and simulation cluster in Hampton Roads that because of its defense industry alliances is second only to Orlando's, including the Lockheed Martin Center for Innovation and the 650,000 sq. ft. (60,385 sq. m.) of buildings occupied by the U.S. Joint Forces Command in Suffolk.
Southwest Virginia, the other site seeing new IT investment from Northrop Grumman, is a corner of the state that has not benefited from that sector in the past. But high costs in oversaturated tech markets are driving the move. Some call it "farmshoring": corporate investment in rural U.S. locations instead of overseas locations, frequently driven by government procurement rules restricting project activity to the U.S.
The region is also one of two markets nationwide where the National Association of Manufacturers this fall launched its "Dream It. Do It." campaign. Lebanon is also the site of a 300- job technology investment from fellow government contractor CGI- AMS, announced in October 2005.
Those two areas are not the only ones benefiting from combined corporate/ government projects. In Clifton Forge, along I- 64 in western Virginia's Alleghany Highlands, transportation technology firm
TransCore
is investing $1.4 million and creating 60 jobs at a customer service facility that will serve the state DOT's Smart Tag electronic tolling system. Some saw the project as an example of the power of regional economic development, as the project was Clifton Forge's first since just joining the Roanoke Valley Economic Development Partnership.