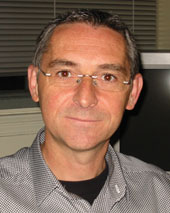 Jean- Pierre Faucher
early 1,000 of North America's most talented video game creators will convene this November in Montréal at the third annual Montréal International Games Summit, or MIGS. Speakers include some of the biggest names in the games industry. Observers regard it as the games show in Canada. This rapidly growing event is just one indication of how the games industry and the digital sector as a whole are scoring big in the province.
"The main reason the industry is growing is the creativity companies find here," says Jean- Pierre Faucher, partnership development manager of Montréal- based Alliance numÈriQC – Digital Alliance – a trade association for the games industry, the e- learning industry and Internet applications and services companies. The association also organizes MIGS. Alliance numÈriQC represents about 800 firms.
Faucher says Québec's provincial refundable tax credit for production of multimedia titles is another major draw, helping companies lower production costs. Companies can receive credits for up to 37.5 percent of their labor costs.
It also helps that Montréal is a bilingual melting pot, an urban center with a robust nightlife, and a nexus of top universities continually producing graduates skilled in multimedia disciplines.
Electronic Arts, or EA as it is more commonly known, opened a studio in Montréal in 2004 and has plans to employ several hundred over the next several years.