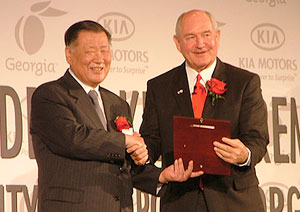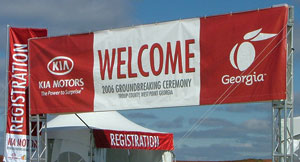 Kia Motors Chairman & CEO Mong Koo Chung traveled from South Korea to West Point, Ga., on Oct. 20 to take part in the groundbreaking ceremony of the planned $1 billion automotive assembly plant in Troup County near the Alabama border. Georgia Gov. Sonny Perdue and a host of state and local officials welcomed the entire senior executive team of Kia to the rural community just off Interstate 85 about an hour's drive southwest of Atlanta. "If we're acting like this is a big deal, it is," Perdue said as he welcomed the international investment in the same year that Georgia learned it would lose both its Ford plant and its General Motors plant in Atlanta to facility shutdowns. Perdue called the Kia plant "the biggest economic development project in Georgia history." To put the deal together, the state first had to buy nearly 2,000 acres from 30 different landowners in West Point. Perdue said the state secured purchase options from every landowner within two months. "Many decided to sell their family land that they had owned all their lives so that the community could benefit," the governor told nearly 1,000 people attending the ceremony.

– Ron Starner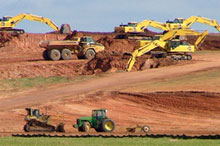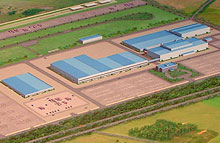 Georgia Project Roundup
•
Suzukaku
, a Japanese steel manufacturer, plans to open a new facility in Haralson County, on the Alabama border west of Atlanta, creating nearly 50 new jobs over the next five years. The initial $10- million investment will include 21 hires. The company will supply parts for motor- sport manufacturers in Georgia. Project leader Yoshiyuki Yamamoto cites a
supply of qualified workers
and
access to its markets
as the main location criteria.
/
• Italian textile company
Gruppo Bonazzi
's Aquafil USA unit has opened a new synthetic yarn manufacturing facility in Cartersville
to supply commercial- carpet manufacturers in and around Dalton, Ga.
, in the northwest corner of the state.
/
•
Medac
, an anesthesia- billing services provider, is investing $2 million in Lincolnton, across Russell Lake from South Carolina. The company is expanding with a new, 20,000- sq.- ft. (1,860- sq.- m.) building and 300 new hires over the next three years.
/
Medac President John Memar says that rather than outsource jobs overseas,
his company is cutting costs in other areas to keep the jobs in Georgia in place
. He credit's Georgia's Dept. of Economic Development for help it provided in locating the Lincoln County site and the state's overall support in the expansion.
/
•
National Beef
is adding 110 jobs to its Moultrie facility, bringing the payroll there to 575 employees, as part of a $4.5 million capital investment. The facility supplies several Wal- Mart distribution centers and more than 500 Supercenters in six southeastern states. Terry Wilkerson, National Beef's executive vice president for strategic business development, points to
Georgia's pro- business environment
and
a work force with dedicated local employees
as factors behind the decision to expand in Moultrie.
/
•
Gulfstream
announced in March 2006 that it would add 1,100 jobs to its Savannah headquarters as part of a $300- million, seven- year expansion. A new, 570,000- sq.- ft. (53,000- sq.- m.) Gulfstream Savannah Service Center is being constructed on a 76.6- acre (31- hectare) site at the Savannah/Hilton Head International Airport. The business- jet manufacturer's existing service center is being converted into a manufacturing facility, and a new, 222,000- sq.- ft. (20,600- sq.- m.) manufacturing facility is being constructed adjacent to it. Gulfstream President Bryan Moss says the expansion is designed to meet growing demand for its aircraft and services, and that
the company's roots are "deeply embedded in Georgia and Savannah."