ichigan Gov. Jennifer Granholm says one of the first questions she's asked by companies considering siting facilities in her state is about Michigan's tax structure. As she begins her second four- year term, Granholm hopes a new tax policy, if approved by state lawmakers, will be a key cog in the state's drive to offset its hard- hit manufacturing sector.
"Our goal is to have a business tax that we can advertise across the country as being the lowest rate in the nation," Granholm tells
Site Selection
. "Our current tax structure doesn't work so well and is set to expire at the end of 2007, so we have to put a replacement in place that is pro- business."
The tax proposal, up for consideration during the Michigan Legislature's December lame duck session, would have 77 percent of businesses paying less taxes and will give the state's businesses a US$150- million tax cut. Granholm says the plan will result in Michigan having taxes on gross receipts, assets and business income that rank among the lowest in the nation. She hopes the new plan will help lure more projects like
Google
's 1,000- job sales and operations center planned for Ann Arbor.
The new tax plan will build on Michigan's 21st Century Job Fund, a $2- billion public- private program aimed at diversifying the state's economy by developing technologies in life sciences, alternative energy, advanced manufacturing and homeland security and defense. This program relies on entrepreneurship, an area the state recently received high marks in from The Small Business & Entrepreneurship Council, which ranked Michigan the 10th most entrepreneur- friendly state.
"We had 500 applications for the first round of funding of $100 million," Granholm says. "There's been an enormous amount of interest. We're proud of our automobile heritage, but we have a very large concentration in automotives and when it's struggling, our whole economy is struggling.
"Our goal is to have a business tax that we can advertise across the country as being the lowest rate in the nation."
This is a very aggressive effort to diversify our economy. A huge chunk of the first round of funding went to businesses growing around Ann Arbor. That's why we were able to attract Google, because of the technology- based sector there."
Granholm cites Asterand in Detroit as one of the Michigan's most recent life science success stories. The company, cited as the state's Technology Company of the year in 2005, is a leading supplier of high quality human tissue and tissue- based services to drug discovery companies.
"In advanced manufacturing, we're taking advantage of our expertise in mass production," she says. "We attracted the Global Engine [Manufacturing] Alliance plant to Dundee. Labor is only three percent of the costs there and it's a unionized plant. There are so many robots in production there that they are only hiring college graduates who know how to program robots."

Renewable Fuels Gets Major Push
Granholm is pushing the state to become a leader in renewable fuels. In November, she convened the first meeting of the 24- member Michigan Renewable Fuels Commission. She believes the state can become a leader in this sector, building on its rich auto and agriculture heritage and its major research universities.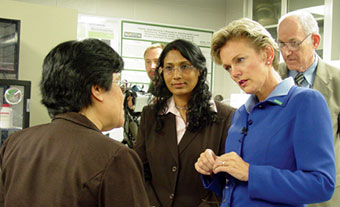 Gov. Granholm visits Michigan State University to highlight Michigan's 21st Century Job Fund program.
She has signed a series of bills to support alternative energy. That has helped spur at least 10 ethanol and biodiesel plants that are now either online or under construction.
Two of those plants are being developed by
NextGen Energy
, a Southfield, Mich., firm that plans 50- million gallon plants in Watervliet, in the state's southwest corner, and in McBain, in the state's central north.
"Alternative energies such as biofuels or fuel cells build on our automotive strengths," Granholm says. "We're pursuing all areas aggressively, including wind and solar."
United Solar Ovonic
is one of the state's biggest recent successes. It announced a second $120- million plant in September to produce its high- tech thin- film photovoltaics. The new plant in Greenville will be identical to the first $136- million plant, now under construction and set to open in 2007.
Technology transfer is a big part of the 21st Century program with the state's major research universities of Michigan State, University of Michigan and Wayne State University playing big roles. These three institutions announced in November the creation of the University Research Corridor, an alliance aimed at transforming, strengthening and diversifying the state's economy. The three universities collectively bring more than $1.3 billion in federal research grants into Michigan annually.
In the homeland security and defense area, Granholm says operations such as the U.S. Army Tank- Automotive & Armaments Command (TACOM) in Warren and General Dynamics Land Systems in Sterling Heights give the state a strong base for future development.
Another technology company to choose Michigan recently is Germany- based
Söhnergroup
, which will move its North American headquarters and operations of GRW Technologies to Kentwood from Winchester, Va. The company selected Michigan over Mexico.
The company, which designs and manufactures electronic components and systems for the automotive, medical device, communications and electronics industries, is expected to hire 50 and move 10 employees from Germany and its current operations in Winchester during the first quarter of 2007. It expects to grow its work force to as many as 150 employees by the end of 2008.
GRW Technologies, a manufacturer of precision injection moldings, in relocating its operations to Kentwood will transfer assets valued at $3 million and invest approximately $1.7 million to lease and equip a 42,000- sq.- ft. (3,902- sq.- m.) facility, with an option for an additional 57,000 sq. ft. (5,295 sq. m.) GRW plans to invest an additional $8 million in the next three years, depending on new business the company is currently targeting.
Granholm says Michigan's manufacturing- centric work force gives the state an edge in attracting firms in all of these sectors.