or readers outside the Gulf Coast region,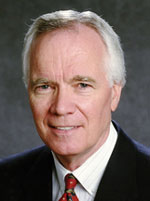 Dr. Loren Scott
finding accurate information about hurricane recovery efforts – other than those under way in New Orleans – can be problematic. Seventeen months after Katrina and Rita came ashore in Texas, Louisiana and Mississippi, the region is open for business, and has been for some time. Helping chart the progress of recovery efforts in these states is Dr. Loren Scott, Professor Emeritus, Economics, at Louisiana State University and president of Loren C. Scott & Associates, Baton Rouge, La.
Scott has just completed the third of four reports sponsored by Capital One N.A. that detail the economic health of affected MSAs according to 13 key indicators. (The fourth installment of the report will come out in late February, after the Department of Labor issues its year- end employment numbers.) The latest edition, "Advancing in the Aftermath III: Tracking the Recovery from Katrina and Rita," concentrates on several Louisiana MSAs and Gulfport- Biloxi and Pascagoula in Mississippi. The focus here is on the Mississippi MSAs. Gulfport- Biloxi and Pascagoula are nearby geographically, but their economic circumstances are fairly unique.
"The primary reason I am optimistic about Gulfport- Biloxi is the passage of House Bill 45, which allows the casinos to rebuild onshore," says Scott. "The casinos have responded very quickly to that in terms of rebuilding bigger and better – and in many cases moving towards a resort- style casino as opposed to a barge- style casino." About a dozen of the more labor- intensive facilities had come online by press time, and several others were on the drawing board.
Another reason to be optimistic about Gulfport is Edison Chouest Shipyards' interest in opening a new shipyard there.
"Manufacturing has never been very big in Gulfort- Biloxi, but if you combine the large casino industry with the marginal improvement in manufacturing there, I feel pretty good about that area," says Scott.