Pascagoula Bounces Back
In Pascagoula, the local economy depends to a large extent on how well Northrop Grumman's Ingalls Shipyard is doing, because it is the dominant economic force in the area.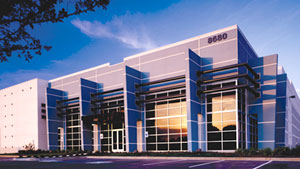 Imation Corp. opened its 364,000- sq.- ft. (33,800- sq.- m.) distribution center in Southaven, Miss., on the Tennessee state line near Memphis, in August 2006. Imation is a leading producer of data storage products; it completed its acquisition of Memorex in May 2006. The DC, located in industrial developer IDI's Stateline Business Park, consolidates former Memorex distribution centers in Winchester, Va., Ontario, Calif., and Collierville, Tenn., as well as a former Imation center in Kansas City, Mo.
Scott's analysis shows that 13,000 of Pascagoula's 16,500 manufacturing jobs prior to Katrina were associated with the shipyard. The storm caused about $1 billion in damage to machinery and other assets. Employment at the facility is back to about 12,000, but lack of employee housing remains a problem. The good news for the Ingalls shipyard is a recent $2.5- billion contract from the Navy for two additional amphibious assault ships.
Meanwhile, Chevron's storm- damaged refinery in Pascagoula "came back relatively quickly," says Scott. On November 13th, Chevron began the process of expanding the refinery by filing an environmental permit application with the state's Department of Environmental Quality for the construction of a gasoline production unit and other units that could boost gasoline production at the refinery by 15 percent, or 750,000 gallons per day. An upgrade to the facility's fluid catalytic cracking unit was nearing completion in November, which will boost gasoline production another 10 percent.