aul James, project manager for airbag manufacturer
Autoliv Inc.
in Promontory, Utah, had heard the statistics. Every year, Autoliv's products save more than 15,000 lives and prevent 10 times as many severe injuries.
He just didn't think that one day his own son would become one of those numbers. And yet that's exactly what happened on March 17, 2006, when young Ryan James was behind the wheel of an Oldsmobile Alero that skidded off the road and directly into a power pole.
"As the doctor released him after a few hours of observation, he said that this would have been a different outcome if he hadn't had airbags in his car," Paul James noted in an account of this incident on the Autoliv Web site. "They probably saved his life. I checked to see if Autoliv made the airbags and found that we do. I have worked for Autoliv for 23 years and have always thought that we were protecting and saving the other guys. I had never been personally involved with anyone that has been saved — until now."
James said he is "grateful to my fellow associates that took the pride and time to manufacture a quality product that saved my son's life. Not only did the seatbelts and airbags save his life, but they allowed him to attend the Mountain Crest High School Junior Prom on Saturday night."
James and his colleagues at the six Autoliv plants in Utah represent the kind of employees that Joe Christensen wants. As the plant manager for the Autoliv North America Service Parts Facility in Ogden, Christensen says that one factor, more than any other, fuels his company's growth in North America and worldwide: Utah's highly skilled work force.
"We focus on continuous improvement and upgrading our core manufacturing processes," Christensen says. "We are continually improving our productivity and our work flow. One of our facilities here recently produced its 100 millionth module. We have an R&D center in Ogden that has been nominated for the Pace Award. A lot of the innovation and experience in producing new products and applications come out of this work force."
Christensen tells
Site Selection
that the "diversity of language skills" throughout Utah makes the state a natural fit for a manufacturer that supplies factories all over the world. "In Utah, we have access to employees who speak Japanese, Korean, Mandarin, Spanish and other languages. They have helped us grow in the Asian market. The language base of Utah actually helps us quite a bit. We have people who have lived in foreign countries and they have spoken foreign languages. A high LDS [Latter Day Saints] population who have served in foreign missions lives here in Utah. After they served their time abroad doing missionary work, they came back to school and continued their education and training."
Autoliv employs 4,000 workers in Northern Utah. The company's plants are in Brigham City, Ogden, Tremonton and Promontory.
Logistics 'Make or Break You'
Christensen says Utah provides Autoliv with an excellent logistics support base, enabling the company to supply automotive plants on both coasts and in Asia.
West Liberty Foods LLC recently broke ground on a new food- processing plant in Tremonton. The complex will consist of a 93,000- sq.- ft. (8,640- sq.- m.) fabrication facility and a 74,000- sq.- ft. (6,875- sq.- m.) slice facility. More than 500 new jobs are being created.
"In this business, logistics can make or break you," he said. "Autoliv uses just- in- time systems. We have pull systems that connect the plants in Utah. We use cross- docks that connect us to the East Coast, and cross- docks that function as a link between Mexico, the U.S. and Canada. Logistics is huge in helping us stay connected to our suppliers and customers."
Christensen notes that "some think Utah is a hindrance in being located so far from the East Coast, but increasingly we are seeing more pressure to source more from China. When we source and send products to Korea, we are in a better position because we are closer to the West Coast."
Christensen says his firm will supply products to the Hyundai plant in Montgomery, Ala., and the planned Kia plant in West Point, Ga., with a dedicated truck shipment to a warehouse two miles (3.2 km.) from the Hyundai plant.
"The Kia plant will allow us to make more frequent deliveries by combining shipments to Hyundai and Kia," he says. "We are looking to locate a cross- dock in Kentucky. We may bring the Hyundai- Kia loop into that cross- dock. We also have a station in Brownsville, Texas. Essentially, what we do is use an offsite warehouse to sequence product into the plant. To have a plant adjacent to every car plant is not feasible. Offsite sequencing has become a common practice in our industry."
Offsite sequencing enables Autoliv to ramp up its production lines in Utah without having to build new plants in the east. The last major facility expansion for Autoliv occurred in 2001, when the firm built a new plant in Tremonton. That plant now has 600 workers and covers 60,000 sq. ft. (5,574 sq. m.).
By improving its lean manufacturing process, Autoliv manages to increase production and add to its employee base. The firm's Utah plants regularly win awards for being the most productive and most efficient plants in the automotive supplier sector.
"We are gaining market share," Christensen says of the Stockholm- based company that last year had more than US$6.2 billion in global sales. "We have a very strong relationship with the Hyundai- Kia group, and we plan to increase that. If demand increases, we would expand. Through improvements at our facilities, we went from 30 lines to over 100 lines at a single facility recently in Northern Utah. Today, we have the largest market share globally of any airbag and auto safety manufacturer."
Autoliv employs 38,900 workers in 80 plants in more than 30 countries. The company operates 20 crash test tracks and 12 technical centers. About 54 percent of the firm's labor force works in Europe, 26 percent in North America, 9 percent in Japan, and 11 percent in the rest of the world.
When asked what he would tell executives considering Utah for a plant location, Christensen says, "My recommendation would be that they consider it, based upon all the advantages of doing business here. Utah is a right- to- work state, so you don't have the problems of union negotiations. The universities and technical schools are very involved in the business community. They are trying to understand the needs of businesses. Also, there is a lot of high- tech and computer manufacturing expertise here in Utah, and the concept of understanding lean manufacturing processes is very high."
Jeff Edwards, vice president of the Economic Development Corp. of Utah, says that Christensen's story is not unique. "Ogden has a strong manufacturing economy," says Edwards, adding that the city also has positioned itself as a major hub for the outdoor products industry.
Amer Sports
recently decided to locate its North American corporate headquarters in Ogden. One big draw: the company's top executives and R&D staff can "field test" their products any day of the week.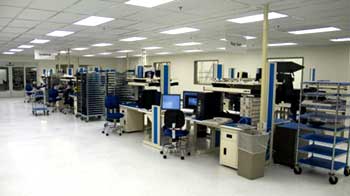 Varian Medical Systems recently opened its new $10- million, 70,000- sq.- ft. (6,503- sq.- m.) facility for the production of flat- panel, digital X- ray image detectors in Salt Lake City. Up to 250 high- tech jobs are being created by this expansion.
Influx of High- Tech Capital
Corporate expansions are setting a record pace in Utah, says Edwards.
IM Flash Technologies
is building a $3- billion flash memory plant in Lehi;
Allegheny Technologies Inc.
is building a $325- million titanium sponge plant in Rowley;
Adam Aircraft
is building a 96,000- sq.- ft. (8,918- sq.- m.) manufacturing plant in Ogden; and
Nucor Corp.
is building a $27- million metal- building plant in Brigham City.
Hot industrial markets in Utah include St. George, Salt Lake City, Ogden, Brigham City, Cash Valley, Cedar City, Tooele and Tremonton. A big attraction is cheap energy. Electricity can be purchased by large industrial consumers for 4 to 5 cents per kilowatt hour, compared to 12 to 14 cents in California.
High- tech firms drive a lot of Utah's job growth, says Teresa McKnight, formerly the interim director of the Utah State University Innovation Campus in North Logan, launched 20 years ago to facilitate tech transfer and R&D. "Today, we have close to 50 companies on campus with 2,103 jobs," she says. "The median income is $65,000 a year, and that's substantial for Cache Valley."
Utah State puts more experiments on the Space Shuttle than any other university in the world, thanks to the presence of NASA's Space Dynamics Laboratory. The campus is a national leader in the emerging field of personalized medicine, which combines research in genealogy and genetics.
In other life sciences developments,
Cephalon
announced it will build a $100- million, 195,000- sq.- ft. (18,116- sq.- m.) pharmaceutical factory in Salt Lake City that will employ 500.
Fresenius Medical Care
will invest $80 million in a 170,000- sq.- ft. (15,793- sq.- m.), 270- worker manufacturing plant in Ogden.
Like the work at Autoliv, these new jobs are all about saving lives.