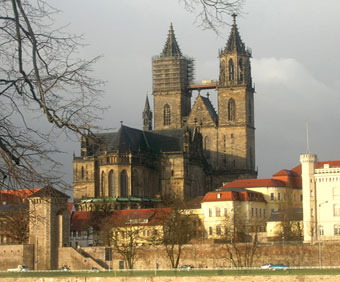 The present Magdeburg Cathedral on the River Elbe dates to the 13th century – the original one was built in the 10th century.
Old Meets New
Newcomers to the medieval city will soon find a glaring contrast of old and new. The city's skyline is marked not by new office towers, but by the 13th century Cathedral of Sts. Maurice and Catherine – the tallest Gothic cathedral in eastern Germany – and the 11th century Unser Lieben Frauen (Our Beloved Lady) Monastery, which today serves as a museum of modern art and concert hall.
But the same part of town is home to the Green Citadel, a residential and retail development designed by the late Austrian artist and architect Friedensreich Hundertwasser. Completed in 2005, the pink- clad project loosely resembles a castle (see photo on previous page) and is noted for having no straight lines – because none exist in nature, the architect pointed out. The building brings nature indoors in various ways (balconies are designed to accommodate trees, for example). Residents with a view of the nearby River Elbe would appreciate the designer's intentions all the more.
But more pertinent examples of new development in this part of Saxony- Anhalt are industrial, not residential. And many of these can be found in the Sülzetal area, about 10 km. (6 miles) southwest of Magdeburg. New investors in the region are unanimous in their experience of projects being fast- tracked relative to other sites they have worked on;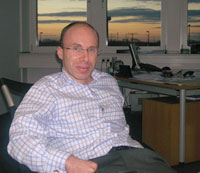 Nice- Pak Deutschland's German operation in the Magdeburg suburb of Osterweddingen was built in just seven months, according to Dr. Clemens Monir, general manager.
some point to projects coming online in months, not years, enabling them to reap more operational efficiency than they had envisioned going into the project.
"Only two months after we met the [local development officials] here in 2003, we started construction, and from that point until the factory went online was only seven months," says Dr. Clemens Monir, general manager of
Nice- Pak Deutschland GmbH
, which makes cleaning and hygiene wipes for businesses and home use. "It was a fast- moving project, which is not normal in Germany. In some areas, you might wait for the paperwork to be done in seven months, while this project was all done in seven months – paperwork plus construction."
Nice- Pak's 8,000- sq.- m. (86,000- sq.- ft.) production, office and warehouse facility in Osterweddingen – one of several towns in the Sülzetal district – is the company's second in Europe. It operates another in Flint, North Wales, but the new location will better suit the company's growth on the Continent. Additional warehouse space will be added later in 2007, which will double the operation's footprint.
"We had to build a new facility in order to grow, but we also wanted to be closer to emerging markets where moist wipes are concerned," says Monir. During the site search, Nice- Pak management decided to look east at locations near the new European markets, says Monir, and eastern Germany was selected. "More east than that was deemed too risky at that stage. Some might say today that it is still too risky there, especially with respect to underlying rules at work when you want to do business there. It isn't always straightforward."