ristol-Myers Squibb
's new biologics manufacturing facility currently going up in Devens, Mass., is on schedule – to the exact day, in fact.
"When we got approval from our board of directors, we scheduled having the foundation in the ground on March 16 and lo and behold, we got it in on March 16," says Paul McKenzie, vice president and general manager for the BMS Devens operations.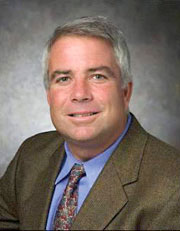 Paul McKenzie is vice president and general manager of Bristol- Myers Squibb's Devens, Mass., operations, now under construction.
"Everyone has worked together to meet that major milestone. We expect the first steel erection in May, so we're on target with all our activities. Having the foundation in the ground was a tremendous uplift for our team."
BMS completed the 89- acre (36- hectare) land purchase from MassDevelopment in February, the same month it finalized agreements related to the facility's utility infrastructure, including wastewater treatment and use of electricity, water and natural gas. McKenzie expects the facility to be operationally complete in 2009, and BMS will submit the site for regulatory approval in 2010. BMS is investing $750 million (up from an initially planned $660 million) in the facility, which is modular in design to accommodate possible future expansion.
McKenzie says hiring is well under way as the operation ramps up to a staff of approximately 350. Hiring is progressing at a rate of about five per month for the fully automated facility. As of April 5, 42 people were on board, he says, adding that hiring is about a 50- 50 mix of internal and external people. These include key skilled professionals such as engineers, microbiologists, quality control experts and senior production personnel.
"It's a nice, reasonable ramp- up rate," McKenzie says. "We're getting the right skill sets to move the project forward and indoctrinate everyone to the philosophy of the plant."
Products to be manufactured at Devens include Orencia, a biologic compound used to treat rheumatoid arthritis. McKenzie says a reaction he received to a recent talk he gave at the Austin, Texas, headquarters of Emerson Process Management, a strategic partner for process controls on the Devens project, drives home the importance of the project.
"A woman in the back of the room, a process engineer, takes Orencia, and she told everyone in the room what Orencia means to her," McKenzie says. "That set the tone for everyone in the room about what our mission is at BMS. It illustrates what our project means and is quite a fun thing for the team when someone says 'I can play tennis now and I wasn't playing tennis before.' "
McKenzie says the three key factors in the BMS site decision last year hold true today. These include proximity to the life- sciences- enriched Boston area, site suitability and Devens' quality of life.
"All of those things jumped out when we made the decision, and they have all panned out today," he says. "There was a lot of interest about BMS bringing a plant like this to the Boston area, and that advantage has proven out because it has been an easy job to attract talent. Site suitability has proven out. There's good access and it's a good lay- down area and has proven to be a very construction- friendly site. Everyone has been absolutely thrilled by the quality of life available in a very small radius from the plant. We're attracting people ranging from those who are interested in a more rural setting to those interested in Cambridge, and that's all within a 25- mile [40- km.] radius."
The Devens site, formerly the Fort Devens military base, has also been on the short list of British drug firm
Shire Pharmaceuticals
. Shire, which employs 3,000 worldwide, including about 500 in the Cambridge, Mass., area, is seeking a location to consolidate its Cambridge operations, which are currently in four locations. Shire acquired Cambridge- based biotech firm Transkaryotic Therapies (TKT) in 2005 and space quickly became an issue, says Shire's U.S. spokesman Matt Cabrey. He says Shire seeks to consolidate the manufacturing, laboratory and administration functions in Cambridge into one campus.
That campus, a planned $220- million investment, will eventually employ 1,000 as the company's business grows over the next five years, he says. Shire is looking at both existing buildings and new construction for the manufacturing facility, which will complement the existing manufacturing in Cambridge. This business unit manufactures two enzyme replacement therapies.
"We began looking for alternative locations, not only in Massachusetts, but also in North Carolina, South Carolina and in states where Shire has a presence – Maryland, Pennsylvania and Kentucky," Cabrey says. "We're hoping to have a site selected in the next six to nine months."
Cabrey says Shire is currently in conversations with Massachusetts and North Carolina about a potential site. He says Devens is one of the sites in Massachusetts being considered for the campus, which will grow.
"Devens is on the radar screen, and it's safe to say we haven't written it off, but it's important to note we are looking at other locations as well," Cabrey says.
AstraZeneca is spending $100 million to expand its R&D center near Boston.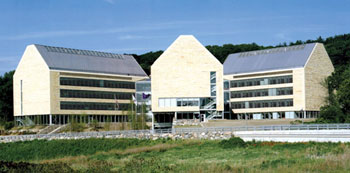 "We're clearly looking at developing a state- of- the- art manufacturing facility."
Elsewhere around New England, various life science sectors are in expansion mode.
AstraZeneca
is investing $100 million to expand its R&D center near Boston and create 100 scientific jobs. They will join more than 400 employees already at the site. Construction of the 132,000- sq.- ft. (12,260- m.) expansion in Waltham began during the first quarter and completion is scheduled by mid 2009. The addition will bring the facility up to 382,000 sq. ft. (35,500 sq. m.). Researchers at the facility focus on new treatments for infectious disease and cancer.
Alexion Pharmaceuticals
purchased a former Dow manufacturing facility in Smithfield, R.I., and is refitting it to produce its treatment for a genetic blood disorder. Alexion expects to begin operations at the 55,000- sq.- ft. (5,100- sq.- m.) facility in 2008 and will employ approximately 80.
"For the past 10 years, Rhode Island has built an expertise in biopharmaceutical manufacturing, which is one of the reasons this site was particularly appealing to us," said David Keiser, Alexion's president and COO.
Amgen
opened its $26- million lab in West Greenwich, R.I., in late 2006. About 80 researchers work at the new facility, which focuses on developing new manufacturing processes for Embrel, the company's rheumatoid arthritis drug.
The Jackson Laboratory in Bar Harbor, Maine, was founded in 1929 and is the world's largest mammalian research institution. Research centers on the genetic basis of cancers and other diseases. It is also the world's source for more than 3,000 genetically defined mice and is home of the Mouse Genome Database. The lab achieved a first last fall with the first spin- out company in its 78- year history.
Bar Harbor Biotechnology
will specialize in helping scientists develop genetic profiles of biological tissue.

Fresh Tomatoes From Maine
Maine might not be the first state one thinks of in terms of tomato production, but a new facility there is major supplier to the New England Market.
Backyard Farms
invested more than $20 million in what is now the state's largest building – a 25- acre (10- hectare) glass greenhouse in Madison in the state's center.
Paul Sellew, a Connecticut native who grew up on a family farm, is the company's CEO. He says Madison was chosen for land, labor and energy availability. Backyard built its massive greenhouse in 2006 and began shipping tomatoes earlier this year.
\
"I'm in the food business, and we grow produce in high- tech greenhouses," Sellew says.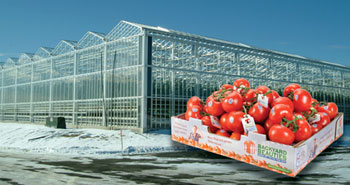 The 25- acre (10- hectare) Backyard Farms greenhouse in Madison, Maine, is now the state's largest building, and contains 240,000 tomato plants.
"We need large, flat areas of ground, plenty of labor and energy. Our building is one of the world's most modern and technologically advanced greenhouse operations. We are all about locally grown food. We service the New England market, and New England had long been dependent on California, Europe, Canada, Mexico and the Middle East for its tomatoes, but taste had been sacrificed because we weren't getting vine- ripened products."
Backyard Farms, formerly known as United States Functional Foods, employs about 90 and markets its tomatoes under the brand Backyard Beauties. It has 240,000 tomato plants in its massive greenhouse. The greenhouse sits on a 325- acre (132- hectare) site, so there is plenty of room for expansion, Sellew says. Plans call for growing an array of other vegetables.
The State of Maine designated the site with a Pine Tree Zone certification last June, making the company eligible for tax incentives and other benefits.
Another sweet New England project is in the works in Stratham, N.H., where
Lindt USA
, a subsidiary of Lindt & Sprugli, is expanding manufacturing and distribution operations to serve the fast- growing U.S. market. Lindt's North American sales topped $500 million in 2006.
The expansion, set for completion in the fall, will add 300,000 sq. ft. (28,000 sq. m.) and will add approximately 200 employees to the facility's current work force of 800.
Lindt plans to expand its Lindor truffle line and add production capacity for its candy bars.