t was not the first and most obvious choice."
With those words,
Qbase
Chairman and CEO Bill Pardue provides a clue into what may be Ohio's best shot at competing globally for emerging technology companies and the jobs they create.
By choosing Dayton and Springfield, Ohio, over competing locations in the Washington, D.C., region for the Qbase headquarters and software development operations, Pardue and his executive team cast a strong vote in favor of Ohio's hidden but talented base of high- tech labor.
Even though most of the database management company's clients are located in or around the nation's capital, Qbase selected southwestern Ohio because it gives the company the best chance to succeed long- term, Pardue says.
Less than 18 months after establishing its North American headquarters in Dayton, Qbase is investing US$7 million in a new facility for its health- care informatics operation in the Nextedge Applied Research & Technology Park in Springfield. More than 40 people averaging $90,000 a year in salary will work at the complex – one of three new 55,000- sq.- ft. (5,110- sq.- m.) buildings in Nextedge – by the end of this year, Pardue says.
"The most important site selection factor is the fantastic talent base here," says Pardue, a former top executive at LexisNexis in Ohio. "First and most important, the quality and quantity of technologists in information technology here are not well known. The story is not out there. There is a great Midwest work ethic here with integrity and values."
A wholly owned subsidiary of Qbase LLC in the United Kingdom, the Dayton- based Qbase expects to reach $5.6 million in sales of data management and analysis services by December. Pardue formerly was president and CEO of the U.S. Corporate & Federal Markets division of LexisNexis.
Qbase first chose the Dayton Region in late 2005 after visiting numerous potential sites outside of Ohio. Pardue was one of seven former LexisNexis executives who launched the new American- based venture for Qbase.

Qbase will invest $7 million in a new health- care informatics operation in Springfield, Ohio.
"We knew we could build proprietary software that would help people find answers to their questions," he says. "We identified two regions as attractive: Washington, D.C., and Ohio. Ohio was in the mix because five of us lived in Ohio. But more important to us was the work force in Ohio in information technology and the infrastructure that supports IT here. There is a long history of innovation here. NCR, LexisNexis and other high- tech firms were founded and prospered right here in the Dayton region because of the critical mass of technologists and innovators."
Pardue credits the Dayton Development Coalition and Congressman David Hobson (R- Springfield) with closing the deal. "The coalition was important because it provides programs to entrepreneurs, introductions and access to venture capitalists," notes Pardue. "We met with Congressman Hobson in October of 2005 and had lunch in his office in the Rayburn Office Building.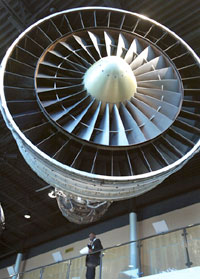 GE Aviation, headquartered in the Cincinnati- area community of Evendale, in 2006 celebrated the 35th anniversary of its engine partnership with Airbus. The GE division remains one of Cincinnati's leading employers.
We had baloney sandwiches on white bread and Fritos. He talked about the advantage of doing business in Ohio. He didn't promise us anything at all, but he said Ohio loves entrepreneurs and would help us succeed. That, combined with the coalition, decided the day."
Pardue mentions other local assets as being critically important to his firm's success: state- administered Third Frontier funding that provides R&D loans and training grants; access to giant companies like Boeing and Lockheed Martin because of the presence of Wright Patterson Air Force Base; major research schools like Ohio State, Wright State and University of Dayton; and a competitive tax structure for business.

Favorable Tax Climate
"The tax structure has dramatically changed in Ohio over the last six years," he adds. "The legislature has made Ohio a lot more competitive. They have done away with a lot of the taxes on entrepreneurs like myself and lowered taxes on businesses."
Ohio also receives strong endorsement from national site selection consultants who have handled large corporate projects in the Buckeye State.
"Ohio is friendly to manufacturers," says Bob Goforth, principal of Leak and Goforth LLC, which has negotiated some of the biggest high- tech investments in the country over the past five years. "Ohio is perceived by our clients to be one of the most favored Midwest states in terms of ease of operations. Clients like the skilled work force, although non- right- to- work is an issue with some."
Michael Rareshide, executive vice president of Partners National Real Estate Group in Dallas, which has handled some very large and complex high- tech deals, says, "Companies are finding they can get a higher quality employee with less turnover than the national average" in Ohio.
Still, noted Pardue, "the most important thing is the talent pool. The graduate programs here are excellent. Students from six colleges and universities in this area are working at Qbase. We have hired three of them so far. There is a fabulous opportunity to collaborate with colleges and universities on R&D. We are involved right now with programs at both Wright State and Dayton universities. Data mining of neurological disorders is one example of a program on which we are partnering, and the universities here make outstanding partners."
Pardue also credits the Ohio Department of Development with helping Qbase grow from a fledgling startup in late 2005 to a firm that will employ 100 people in southwestern Ohio by the end of this year. Long- term, he sees Qbase "continuing the rapid pace of growth. Having this location is an outstanding base for our work. We will open offices in other states this year, but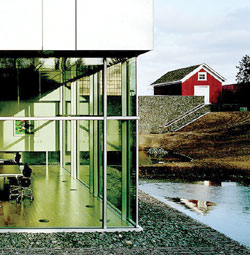 Avetec's headquarters in Springfield will put an "energy- efficient spin on prairie style architecture," inspired by Frank Lloyd Wright's Wescott House nearby.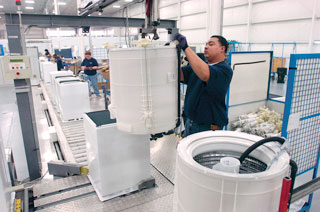 Fisher & Payke Appliances, a manufacturer of high- end washing machines and the motors to run them, expects to create as many as 118 jobs within the next three years with its plant expansion in Clyde, Ohio.
they will be field and service offices. Ohio will remain our base."
Qbase is just one of several high- tech firms making a home in the Dayton- Springfield metro area. Even as Ohio continues to lose manufacturing jobs, particularly in the automotive sector, the state is rapidly gaining momentum in several technology sectors.
A growth magnet for Ohio right now is aviation- aerospace. Just down the street from Qbase is another young, high- growth firm with dreams of making it big in southern Ohio.
While only in its second year,
Avetec
has a $24- million budget and 31 employees working in advanced virtual reality testing. Next year, Avetec will move into its new R&D facility in the Nextedge Park in Springfield. The $10- million, 45,000- sq.- ft. (4,181- sq.- m.) complex will provide virtual reality testing for jet engines.
Melanie Wilt, communications director for Avetec, tells
Site Selection
that "we have the talent here in Springfield to sustain a company of this caliber. The infrastructure here in Springfield makes this a great location to do business in Ohio. We are halfway between Columbus and Dayton. With the Air Force Base here, all of our key customers are nearby; and the technology infrastructure lets us do business with anybody in the world."
That infrastructure includes a 1,600- mile (2,574- km.), all- fiber network that connects every state research campus and is faster than California's, plus the OSCNET, Ohio's super- computer network.
Wilt says the Avetec facility is being funded through a federal Department of Energy grant.
"Congressman Hobson made the deal happen," she adds. "Collaboration is happening at the local level with the city, county and chamber of commerce. Our company is all about collaboration and partnership."
Wilt notes how Springfield is coming full circle. Around 1900, the Champion Reaper was invented in Springfield, completely changing the way crops were harvested and people were fed all over the world.
"That was incredibly forward- thinking for the time and it changed the entire way agriculture happened," she says. "We are on the verge of being a game changer in technology again."

An Energizing Issue
If new Ohio Gov. Ted Strickland has his way (
see sidebar
), Ohio will become a game- changer in another high- tech field: alternative energy.
The Democratic governor
met recently with three large companies that have the potential of bringing up to $6 billion in new coal- to- fuel facilities to Ohio.
One of them is
Baard Energy LLC
, which plans to construct a $4- billion coal- to- liquid fuel (CTL) project in Columbiana County along the Ohio River at Wellsville, about 30 miles (48 km.) south of Youngstown.
On Feb. 28, Baard awarded AMEC Paragon of Houston a contract to provide engineering and project management work on the plant. The project will produce some 35,000 barrels per day of jet and diesel fuel, as well as other liquid products from coal and biomass feedstock.
AMEC Paragon spokesman Richard Rankin tells
Site Selection
that the project will take about two to three years to complete construction. "Feasibility work is currently going to be completed by the end of April," he says. "The project is still highly speculative at this point."
Rankin says Baard selected the site in Wellsville because of its "relative location to the industrial center there and the availability of customer end- users being located close by. Access to the river was also keen in the site selection."
The project is planned on 656 acres (266 hectares) adjacent to the Columbiana County Port Authority's Wellsville Intermodal Facility at Ohio River Mile Post 49. The site sits on Ohio State Route 7 about 40 miles north of Interstate 70.
Across the state in Toledo, a number of companies are turning Northwest Ohio into a prime breeding ground for alternative energy technology.
First Solar
, which recently went public and produces more photovoltaic fuel cells than any other company, expanded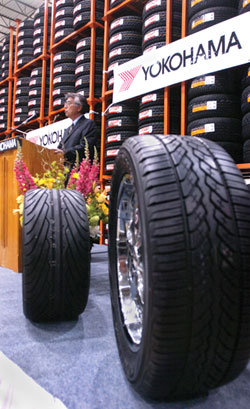 Yokohama Tire Corp. opened a new distribution center in Groveport, Ohio, in May 2006, creating 60 new jobs.
into a $20- million facility and tripled production in two years.
University of Toledo's Dr. Frank Calzonetti won $9 million from Third Frontier to build the
Center for Photovoltaics Innovation and Commercialization
. Last year, the Department of Defense awarded the professor $3.6 million for photovoltaic research.
In nearby Fostoria,
Broin
(now
Poet
)
Companies
announced on March 21 that it plans to build a $130- million ethanol plant. At 65 million gallons of ethanol per year,
Fostoria Ethanol
will consume 21 million bushels of locally grown corn. This will be Poet's 30th ethanol production facility, and the firm is already the nation's largest dry mill ethanol producer.
On March 28, Ohio Lt. Gov. Lee Fisher announced that more than $9 million in grants had been awarded to 13 entities for the advancement of fuel cell research and production in Ohio. The projects are expected to create a total of 617 jobs.
Grants for fuel cell research and development were given to the University of Dayton;
Catacel Corp.
in Garrettsville;
NexTech Materials
in Lewis Center;
American Trim
in Lima;
Rolls- Royce Fuel Cell Systems
in North Canton;
UltraCell of Ohio
in Dayton;
Mound Technical Solutions
in Miamisburg;
Wellman Products Group
in Solon;
Edison Welding Institute
in Columbus;
Velocys Inc.
in Plain City; and
Contained Energy Inc.
in Shaker Heights. Some of the firms received more than one grant.
Three of the 10 largest corporate facility investments announced this year in Ohio have been energy plants, including the two largest: Fostoria Ethanol and
Buckeye Ethanol
, a $150- million project in South Point in Lawrence County.
The third project is a 24,000- sq.- ft. (2,230- sq.- m.) manufacturing plant for
Pacific Fuel Cell Corp.
in Willoughby in Lake County.
Governor Pledges No Tax Hikes, Easier Rules for Business