LBERTA is the most competitive province in an increasingly competitive nation. Toronto, Montreal and Edmonton lead that nation's metro areas in corporate facility development. And the approaches of many a local economic developer are just as innovative as the country's globally praised research infrastructure, not to mention the companies both networks foster.
Those are the conclusions reached as
Site Selection
introduces a new class of Canadian awards and rankings, all based on June 2006-May 2007 project data derived from our proprietary New Plant Database, which counts projects according to specific criteria related to new construction:
The Canadian Competitiveness Award
, awarded to the leading province based on the number of qualifying new facilities and expansions, projects per capita, project capital investment per capita, project job creation per capita, 100-plus-jobs projects per capita and most metros in our total list of …
Top Canadian Metros
, based on a tally of new corporate projects and expansions;
Top Canadian Groups
, recognizing local economic development groups based on total project investment and new jobs, and investment and jobs per capita.

Nothin' But Blue Sky
Imagine a territory nearly the size of Texas, with a similar mix of energy, agriculture and frontier culture but only one-eighth the population.
That, in a nutshell, decribes the economic juggernaut that is Alberta, our pick for Canada's most competitive province. It also describes its chief dilemma: where to obtain and house the workers for the plethora of projects breaking ground from Calgary to Cold Lake and beyond.
Peter Vigue, president of Maine-based industrial module and construction contractor Cianbro,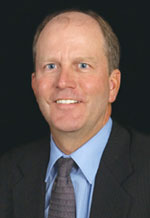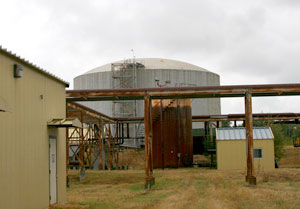 says his firm gets its share of calls from Alberta's oilsands.
"Their biggest problem is they don't have enough people, they have very tight schedules and want to get a lot done," he says. "It's a huge opportunity. We got a call a little over a year ago from a former client of ours, now working out there after being retired and called to service. He said, 'I can put 1,000 of your people to work out here today.' "
Plenty of companies are doing that very thing, led by office-oriented projects in Calgary and more industrial projects in Edmonton and points north, such as Fort McMurray and Cold Lake, where the oilsands are being attacked with gusto.
Halfway between the two metros of Calgary and Edmonton sits Red Deer, where you'll find the headquarters of
Peace River Oil
. The company is pursuing an oilsands bitumen upgrader, diesel refinery and ethanol complex worth some C$2.5 billion (US$2.4 billion) on the site of a former ammonia plant in McLennan in the Peace River Valley, well west of the energy development hot spots of Fort MacMurray (5.5 hours north of Edmonton) and Cold Lake (near the Saskatchewan border).
Colin Hendricks, the company's marketing manager, says it's the right spot to take advantage of both upstream and downstream opportunities.
"The largest and most produced area is the Athabasca region, in and around Fort Mac, and the second largest is east of Edmonton, the Cold Lake deposit," he explains. "The third and least-developed is the Peace River Arch," which is projected to have 130 million barrels of crude in its reserve, 14 million recoverable using current technology. Hendricks says most of the upgraders have tried to set themselves in an area just north of Edmonton, in Ft. Saskatchewan, near refineries such as the Shell refinery.
Shell Canada
's own 2007 capital spending plan called for investing C$4 billion, including a 100-well production area in the Peace River area, a 100,000-barrel-per-day expansion in Athabasca and a smaller startup plant at Cold Lake. On July 30, it filed a regulatory application for a brand new upgrader in Fort Saskatchewan that could process up to 400,000 bpd.
"You're either going head to head with the big boys there, or you play a niche market," says Hendricks, who's been in the oil patch since he was 18. Peace River Oil, with its Blue Sky project, chose the latter course. Hendricks says the area is seeing more and more activity in the sector, but thus far lacks the pipeline capacity to get the diluted bitumen down to Edmonton.
"It made sense to build something in that area – and we have the feedstock in our backyard," he says. That feedstock will come not only from other suppliers but from Peace River Oil's own recently procured 9,000 acres (3,645 hectares), located some (50 km.) northwest of the Blue Sky site.
Hendricks says the site gives the firm both upstream and downstream advantages.
"Most of the upgraders are taking diluted bitumen and upgrading to synthetic crude, then sending it down to U.S. refineries," he says. "We decided to go at it differently, and are trying to convert bitumen, bringing it into our refinery, and going to ultra low sulfur gasoline and diesel. The challenge is to bring refined products to market from there."
The brownfield ammonia plant was a natural location. Hendricks says company president Don Allan and his brother Doug already had links to the plant, which had run for a brief time before being shut down in 1998 due to the prohibitive cost of natural gas. Helping things get going will be a 100,000-barrel ammonia tank converted to store ultra low sulfur diesel. The company has already put pumps on it and is using it as a terminal. In addition, "we have a rail line that is the only rail line in Canada that goes into the Northwest Territories," says Hendricks. "We'll be able to ship up north, or blend with biodiesel and send it to customers."
Putting in a "white line" for refined fuels is the first downstream project for the refinery, which is slated to have its first 50,000 barrel-per-day phase running by 2012 – a date pushed back by two years because of some regulatory hurdles, says Hendricks.
Eventually the refinery will put out 200,000 barrels a day, says Hendricks, and the company will be targeting the West Coast market. With each phase of the complex expected to take 4-5 years, he foresees 20 years of solid work for a large number of construction and engineering tradespeople.

Just Add Water … and Workers
By the fall of 2009, well before the refinery is up and running, Peace River hopes to have the ethanol and biodiesel portion of the complex launched. That will be just before renewable fuels legislation kicks in that requires 5 percent of gas sold to be ethanol and 2 percent to be biodiesel or other renewable fuel. Hendricks says the McLennan location is in "a hotbed of wheat and canola," so the site is a natural for that fuel too. Once the upgrader and refinery are up and running, integration and fuel blending can occur. The 140-million-liters-per-year biofuels plant will be based on a design proposed for a similar plant in Kelowna, B.C., by Kelowna-based Econcept Bio-Energy Corp.
A similarly multipurpose biofuels plant is planned for the town of Innisfail, where
Riverstone Holdings
,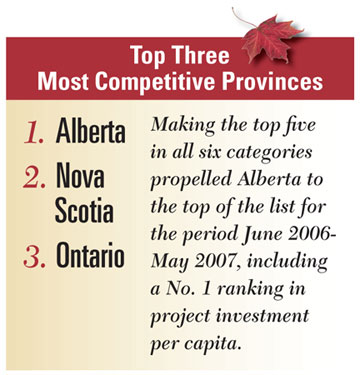 The Carlyle Group
and Florida-based
Dominion Energy Services LLC
will construct a 300-million-gallon-per-year complex equally splitting its production volume among ethanol, canola oil and biodiesel. Commercial production will begin by fall 2008, with 90 new jobs also being created.
"The rail access, close proximity to large quantities of feedstock and a skilled local work force made Innisfail, located a few miles south of Red Deer, Alberta, an ideal location for our newest venture with Dominion Energy," said Stephen Schaefer, managing director of New York-based Riverstone.
"We are well under way with project development and environmental approvals," said Curtis Chandler, president of Dominion Energy. "The Albertan government has been proactive with us in helping to make our goal of building the largest facility of its type in North America an Albertan reality. We have had excellent co-operation from all municipal, county and provincial bodies thus far."
Back up in McLennan, Hendricks says Peace River is in discussions with pipeline construction companies. While the initial focus is on running it from McLennan to Edmonton, the company is also considering pointing a pipeline straight west to the B.C. ports of Prince Rupert or Kitimat. Both are growing ports for industrial development, with the latter seeking to be home to a major LNG terminal.
"Our products would be barged from that point," says Hendricks. "We could then go south to the U.S., or certainly the possibility of going to China or India from there."
China may help the project a lot earlier than that, as it's one of the possible sources of skilled labor for its construction. While the McLennan area welcomes the job creator to what has been a slightly depressed area, Hendricks says sourcing labor from outside will likely be necessary because so many projects are under way in Fort McMurray and north of Edmonton.
"We have talked with some groups in South America and China that were willing to bring people over" for skilled labor positions, he says, citing the similar employment of Chinese nationals by Calgary-based
Canadian Natural Resources Ltd.
at its C$10-billion oilsands project under construction north of Fort McMurray. The province already is home to a significant population of highly skilled industry professionals from Venezuela.
Hendricks says incentives related to renewable fuel production will be coming through, and new grants just came available through a new provincial program. But the real resource challenge for this and other projects going forward may be water.
"When you concentrate a lot of projects in one area, there's going to be a strain on the water system here that will become an issue sooner rather than later," he says. The issue has been a contentious one for some time in southern Alberta, especially at the border, but has not yet been felt in the province's northern half.
"We have more water in the north, but we have more activity in the north too," says Hendricks. "That will be the major concern going forward."
Hendricks also comments on the concomitant growth that is happening in the Calgary-Red Deer-Edmonton corridor.
"Everything in this corridor is growing like crazy because of the influx of people coming into the province, whether they're in the office or manufacturing sector," he says. "Both cities are growing and prices have been escalating, so everything in the corridor is active too. The average price of a house in Calgary is around half a million dollars right now. I lived there for 20 years, and 10 years ago, it was roughly $200,000. So a lot of people are choosing to move to the outskirts."
He says Fort McMurray is another place that never expected the scale of influx it has seen. He says both housing and infrastructure construction is trying hard to keep up. In the 40 years that oilsands development has been taking place, the town's population has grown from 4,000 to 65,000.
"It's difficult when things escalate this quickly," he says, "because it takes a while for the city to catch up with that growth."
The same could be said for the entire province. But no one is complaining too loudly.


Site Selection Online – The magazine of Corporate Real Estate Strategy and Area Economic Development.
©2007 Conway Data, Inc. All rights reserved. SiteNet data is from many sources and not warranted to be accurate or current.