C
argill
,
Archer Daniels Midland
and
Monsanto
were among the top corporate investors in Iowa projects over the past year. All but three of the top 25 projects by capital investment in 2007 were ethanol plants, with other agriculture and food facilities also making a typically strong showing.
Not surprised yet? Beating them all in 2007 was
Google
's US$600-million data center in Council Bluffs, part of the surging Omaha metro area that ranked second among Tier-Two Metros in 2007. Sioux City, part of a three-state metro area, was our Top Tier-Three Metro in 2007. The state boasts a sixth place finish in the
Competitiveness Award rankings
featured elsewhere in this issue (p. 364). In our 10 criteria calculations, Iowa scored in the top five in large job-creation projects per million residents, new corporate facility projects per million residents and new jobs per million residents.

A Gust of Growth
According to the American Wind Energy Association's latest annual rankings, released in April, Iowa ranked first in wind power generation as a percentage of all electricity generation, with 5.5 percent. The state was fourth in cumulative wind power capacity installed as of 2007, with 1,271 megawatts.
As other states such as Washington, Pennsylvania and Arkansas can attest, it helps to back all those statuesque turbines with some industrial development churn in the form of wind turbine blade and tower manufacturing. Iowa is more than holding its own in that category too.
"Iowa is home to five major wind generation manufacturers who have recently decided to locate or expand here because of our quality work force – Acciona, Siemens, Clipper, Hendricks and TPI Composites," said Iowa Governor Chet Culver in the AWEA news release. "Dozens of existing Iowa companies now supply the industry. Together, we're building the 'Silicon Valley of the Midwest' by developing the next generation of renewable energy and technology – and it starts here in Iowa, with wind."
In February,
Siemens Power Generation
announced a $33-million, 287-job expansion of its still-new plant in Fort Madison,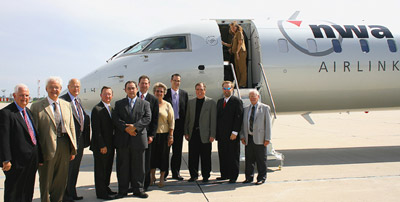 nestled near the Hendricks operation in Keokuk, in the state's southeast corner. In the case of this project and others in the wind category, federal backing is just as important as state and local backing.
"In less than a year since opening, we are already expanding our facility to increase our ability to competitively serve the growing North American market," said Randy Zwirn, head of Siemens Energy Americas. "The extension of the renewable energy production tax credit, which is due to expire at the end of 2008, is now essential to encourage continued investment in the wind energy industry and help us fill the new facility."
The expansion will add 75,000 sq. ft. (6,968 sq. m.) to the company's existing 311,000-sq.-ft. (28,892-sq.-m.) manufacturing facility, a new 125,000-sq.-ft. (11,613-sq.-m.) facility and a rail yard by October 2008. The new jobs filling those facilities will pay an average wage of $17.14 per hour, and bring the company's total Fort Madison payroll to 533.
Led by the Iowa Dept. of Economic Development (IDED) and Fort Madison Mayor Steve Ireland, the economic development team included Fort Madison Economic Development Corp, Fort Madison's Southeast Iowa Regional Racing Commission and Lee County Economic Development Group.
"A recent study projects that, within a 600-mile [966-km.] radius of Iowa, $3.2 billion dollars in wind generation projects will be constructed each year over the next seven years," said IDED Director Mike Tramontina. "That equals $22.4 billion in new economic development potential for the region."
Iowa is in select international company within the Siemens facility network.
In the past three years, the only other new manufacturing plant was in Denmark, looked to as one of the globe's leaders in renewable and wind energy. The company also has expanded two factories there.
The investment by Siemens in its latest southeast Iowa expansion nearly equals the $34 million that
Hendricks Industries
is investing in a 350-worker wind turbine tower plant in Keokuk, the city next door to Fort Madison. (See the
March 2008 issue
of
Site Selection
, p. 286, for more on this project and region.)

Insurance Always There
The Siemens project was among a group of 11 to receive incentive approval from IDED in early March, but it wasn't the biggest in that group as measured by job creation. That honor belonged to
Seabury & Smith
, which will receive a $1-million loan and tax breaks for adding 450 new jobs in Urbandale, part of the Des Moines metro area. Another in that group, from insurance company
W.R. Berkley
, will add another 78 jobs in Urbandale.
In fact, as the chart on p. 460 indicates, the insurance industry so long associated with Des Moines and the state at large is more than holding its own, even as the ethanol industry's capital investment grabbed the public's attention over the past several years. Today, with doubts hovering over the ethanol industry's capacity and its ability to sustain itself in the free market without federal incentives, Iowans may be doubly reassured by their state's penchant for finance, insurance and healthcare operations.
Central among those multiple projects in the past year was the September 2007 announcement by
Wellmark Blue Cross and Blue Shield
that it would consolidate approximately 2,000 positions scattered around Des Moines into a new, 500,000-sq.-ft. (46,450-sq.-m.), $195-million headquarters, where an additional 63 jobs would be created.
The headquarters is rising on 6.5 acres (2.6 hectares) in a business park designed by the city for just such a project, Western Gateway Park. Chief negotiating parties included Des Moines City Manager Rick Clark and Mayor Frank Cownie, the city council and Iowa Health Systems. The incentive package offered by the city was the first in the city's history to reward environmentally sound building practices, and it will help retain a company that has called Des Moines home for nearly all of its 68 years.
"We have gone through a rigorous selection process, weighed all the options and determined that remaining in downtown Des Moines made the best sense," said Wellmark Chairman and CEO John Forsyth, adding that the complex process of acquiring or gaining options on all of the property from the multiple owners could not have been possible without the above partners' assistance.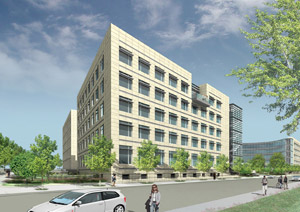 The company had also considered a 64-acre (26-hectare) site in West Des Moines where it had purchased land as either an investment or a possible headquarters location. Among the reasons for the West Gateway choice, said Forsyth, were:
• It supports Wellmark's business processes by allowing for a configuration that accommodates large floor plates and key adjacencies for all departments;
• It offers the opportunity to provide outdoor green space, as well as easy access to public transportation;
• It has a positive impact on employee retention and recruitment since employee surveys indicated a strong preference to remain downtown, which is central to most employee residences;
• The costs of acquisition, site development, and utility infrastructure are consistent with Wellmark's commitment not to charge customers additionally for the construction.

One of the Family
One of four communities to welcome a $600-million Google data center in 2007 was Council Bluffs, Iowa, just across the Missouri River from Omaha, Neb.
This one involves rehab of existing industrial buildings, formerly owned by Kansas City Life on a parcel near Lake Manawa. The Council Bluffs Industrial Foundation has purchased an option on 130 acres (52.6 hectares) across a creek from the 55-acre (22.3-hectare) site the project will occupy. The project will generate 200 jobs that pay an average salary and benefits package of $50,000.
Recent work on a new power plant from MidAmerican Energy certainly had an attractive effect, as did the quality of other fiber-optic, land and road infrastructure. Some project the server farm could use up to one third of the power plant's base power.
Among the parties putting it all together for Google were the city council and chamber of commerce and the Pottawattamie County Growth Alliance. Together, they worked for more than a year on a lead generated by the Iowa Department of Economic Development and MidAmerican Energy. Google will benefit from a sliding-scale property tax rebate that goes from 100 percent for two years to 80 percent for the next two and half years to 60 percent until 2024, when the rebates end. In the meantime, the project will still be paying up to $65 million in taxes during that span to various entities.
The search firm's targeted search received targeted incentives. Like so many big-ticket projects, this one benefited from quick legislative action, with the passage of a sales tax and property tax exemption for cooling systems, power infrastructure, generators, electricity and other equipment for "Web search portals that invest at least $200 million."
Also available for expansion is another 1,000 acres (405 hectares). "We are still evaluating the development potential of the other two parcels," said Google at the time of the project announcement, "and we look forward to working with the city of Council Bluffs, Pottawattamie County, and CBIF on the evaluation."



Site Selection Online – The magazine of Corporate Real Estate Strategy and Area Economic Development.
©2008 Conway Data, Inc. All rights reserved. SiteNet data is from many sources and not warranted to be accurate or current.