ONLINE INSIDER
It's been one week since Amazon's HQ2 site de-selection in New York. Conway Executive Vice President Ron Starner puts things in perspective.
FROM SITE SELECTION MAGAZINE JANUARY 2019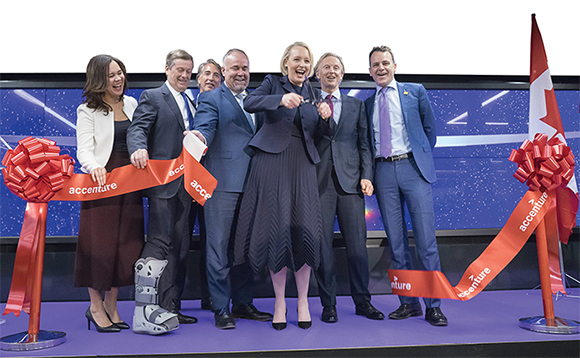 NEWS DIGEST
Read quick-hitting stories about Apple in Austin; Forrester's tech talent capitals; new hubs from Accenture and Amazon in Toronto; 900 jobs from Element AI in Montreal; and the latest survey findings in the country mouse vs. city mouse debate.
CONWAY ANALYTICS SNAPSHOT
Yes, it's true: WeWork has indeed taken over the office sector. Now it's taking over former cultural venues as well. The newest outbreak has occurred in Paris, France, where WeWork France has signed a 12-year lease with real estate investment and development group Générale Continentale Investissements (GCI) for the entire 75,000-sq.-ft., seven-floor Opéra Italiens building (below) in the central 9th arrondissement, near La Place de l'Opera, located near public transit and a cluster of financial, tech, legal, insurance and luxury-market firms.
From 2013 through 2017, we tracked 44 site investments from WeWork in the world's most dynamic cities. It's ballooned from there, with among the most recent a lease of nearly the same square footage as in Paris at the Towers at Williams Square in the Dallas-Fort Worth suburb of Las Colinas.
Flexible space inventory (including coworking space, incubators and other short-term space options) has grown at an annual rate of 23 percent since 2010, says a January report from JLL, with New York now home to 16.1 million sq. ft. of it. New York tops JLL's list of the top 10 U.S. markets poised for rapid flex office growth in 2019 (below), with Amazon's still-viable HQ2 choice Northern Virginia coming in at No. 6. By 2030, says JLL, 30 percent of the entire office market will be flex space.
Top 10 U.S. Cities for Flex Office Growth in 2019
New York
San Francisco
Silicon Valley
Austin
Boston
Northern Virginia
Washington, D.C.
Seattle
Denver
Los Angeles (Westside)
SITE SELECTION RECOMMENDS
The best tracking of who works in coworking and other flex spaces in the U.S. has come from MBO Partners, who in 2018 published their eighth "State of Independence in America" report tracking the nation's independent workforce, which now numbers 42 million. Independent work is or has been a part of nearly 47 percent of Americans' careers, a number that is poised to swell to 52 percent in the next five years, says MBO, even as traditional payroll jobs also grow. "Independent work and traditional jobs are not engaged in a zero-sum fight, but rather, growing in unison," said Gene Zaino, CEO of MBO Partners.
Infographic courtesy of MBO Partners
Mahindra Electric Mobility
Lead Signal: April 2018
Conway Analytics delivered a Lead Signal highlighting that Mahindra Electric was considering building an additional electric vehicle component plant in India. Mahindra was seeking to increase the percentage of local content for its EV program and was in discussions with local supply partners.
Project: January 2019
Mahindra Electric Mobility recently announced the completion of its first Electric Technology Manufacturing Hub in Bengaluru, India. The $14-million investment will create 100 new jobs. The new facility will manufacture battery packs, power electronics and motor assemblies. Mahindra Electric Mobility is a subsidiary of the Indian conglomerate Mahindra & Mahindra.
Lead Signal
Project
BULGARIA
Teklas Bulgaria is investing $17.4 million in a new rubber manufacturing plant in Vratsa, Bulgaria, an administrative center and historical railroad junction in the northern foothills of the western Balkan Mountains. The new plant will manufacture rubber components for the automotive industry and employ 500 people. Teklas Bulgaria is a subsidiary of Teklas Kaucuk Sanayi ve Tikaret AS, a Turkish automotive components producer specializing in products for fluid circulation.
USA
Owens Corning recently acquired an existing manufacturing plant in Blythewood, South Carolina, for $13.6 million. The plant will be converted to produce coated, non-woven insulation products and will add capacity to existing glass-based coating solutions in South Carolina. Production is expected to commence at the end of 2019 and create 16 new jobs. Owens Corning develops, manufactures and markets insulation, roofing and fiberglass composites. The company has 19,000 employees in 37 countries.
If this looks like a film set for a James Bond blockbuster, you're not far off. Conway President and Site Selection Publisher Adam Jones-Kelley made this photo last week in the Souk Madinat Jumeirah district in Dubai, UAE, an authentic re-creation of an ancient Middle Eastern bazaar with plenty of modern luxury shopping and fine cuisine tossed in for good measure.