FROM SITE SELECTION MAGAZINE MARCH 2019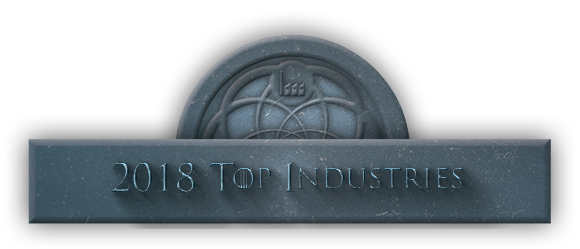 TOP INDUSTRIES
Following the same industry groupings as Conway's World's Most Competitive Cities report, our annual map of the highest-capex projects in the world's top industrial sectors in 2018 shows machinery, equipment & construction leading the way, and enough cement plants to build a competitive city or two.
NEW ZEALAND
Hilton Foods is building a new $50 million meat processing facility in Auckland, New Zealand. The new 170,000-sq.-ft. facility will be complete by mid 2020. Hilton Foods is a major meat processing company based in the United Kingdom with operations across Europe, Australia and New Zealand.
SPAIN
VMware has announced that it will invest $100 million to establish a new digital sales center in Barcelona, Spain. The new operation will create 250 new jobs and provide sales and support in the EMEA region. VMware is based in Palo Alto, California, and provides cloud, mobility, networking and security services to 500,000 corporate customers around the world.
SITE SELECTION RECOMMENDS
New U.S. Census Bureau estimates released last week show that Dallas-Fort Worth-Arlington, Texas, had the largest numeric growth with a gain of 131,767 (1.8 percent) in 2018, followed by Phoenix-Mesa-Scottsdale, Ariz. with an increase of 96,268 (2 percent). Two of the 10 fastest-growing metro areas in 2018 also are in Texas: Midland (No. 1), with a growth of 4.3 percent (7,383) and Odessa (No. 5), with a growth of 3.2 percent (4,951). Florida and Utah also each contain two of the fastest-growing metro areas.
Among the most dramatic facts one can uncover in the tables? The overall population decrease in Puerto Rico between 2017 and 2018 comes to nearly 130,000 — many no doubt contributing to the net domestic in-migration in areas across the U.S.
The Outsource to the Caribbean Conference
The Outsource to the Caribbean Conference 2019 (OCC 2019) is a pan-Caribbean outsourcing event for industry players in the business process outsourcing (BPO) sector. The Conference will bring together over 300 industry leaders from the public and private sector in the Caribbean as well as investors looking for outsourcing services opportunities and are considering investing in the Caribbean's BPO. 
This is your opportunity to;
Discover what the Caribbean has to offer as a nearshore outsourcing destination;
Establish your presence in the Caribbean;
Expand your regional footprint;
Meet the highest level decision makers;
Market your business cost effectively
Secure your discounted rate of $500 USD for both the conference and expo.  Visit www.outsource2caribbean.org or contact: Michele Marius at conference@outsource2caribbean.org
Conway staff photographer Carmyn Suzor made this image last week of the Great Wall in China. The series of walls and fortifications totals more than 13,000 miles in length.