FROM SITE SELECTION MAGAZINE NOVEMBER 2019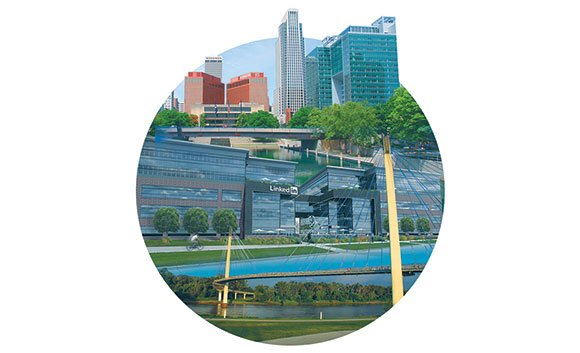 NEBRASKA
How a Silicon Valley juggernaut embraced a tech hub in the Heartland.

DATA CENTERS
One company's expansion strategy along the unfolding edge of the data center universe.
CONWAY ANALYTICS SNAPSHOT
Why wait for the holidays to get together? This map shows which states lead in multi-generational households.

Map courtesy of U.S. Census Bureau
Tis the season to give thanks for a cornucopia of holiday statistics to chew on: First, the thorough resources of the Missouri Economic Research and Information Center inform us that, among other national facts, the Show-Me State ranked No. 4 in total turkey production in 2018, behind North Carolina, Minnesota and Indiana. The U.S. Census Bureau's treasure chest of facts includes the reminder that there were only 2,499 total colonists the year of the first Thanksgiving 399 years ago. That first Thanksgiving included 90 guests from the Wampanoag tribe. The 2010 Census counted 6,500 members of the Wampanoag American Indian tribal grouping.
A separate October release from the Census took a look at numbers related to the overall holiday and shopping season. Here are three that stand out:
$67.7 billion: The estimated value of retail sales by electronic shopping and mail-order houses in December 2018, the highest estimated total for any month last year.
$19.4 billion: The estimated retail sales for the nation's department stores in December 2018, a decrease of 4.3% from December of the previous year.
$1.9 billion: The value of U.S. imports of Christmas ornaments from China for 2018. China accounted for 92.7% of U.S. total imports of Christmas ornaments.
USA
Foxx Life Sciences, a laboratory equipment supplier based in New Hampshire, has announced that it will expand its New Hampshire presence with the opening of a 75,000-sq.-ft. facility in Londonderry. The project will allow the company to triple cleanroom space and sterile manufacturing capabilities. The company is investing $1 million in the project, which will include a renovation of the facility and construction of three new cleanrooms.
IRELAND
U.S.-based PR and business analytics firm PublicRelay recently announced plans to open an office in Cavan, Ireland, along the N3 highway just south of the border with Northern Ireland. The company intends to create 20 jobs in Cavan in the next two years. Last year the company opened its first Ireland office in Dublin. PublicRelay cites the access to educated talent in the region and innovative nature of Cavan's new Digital Hub for its location decision. The Digital Hub co-working space in July was named part of Siro and Vodafone's national Gigabit Hub Initiative.
— Compiled by Olivia Vener, Consultant, Conway Advisory
SITE SELECTION RECOMMENDS
CBRE's annual Holiday Retail Trends Guide "delves into factors that will influence the U.S. retail market as it posts an anticipated 4 percent sales gain this November and December from last year's season, according to the National Retail Federation's forecast." While e-commerce will surge again by between 11% and 14%, says CBRE, other trends include the continuing proliferation of pop-up stores, and the growing popularity of resale goods as gifts. An Accenture survey found that 48% of consumers would buy pre-owned apparel and accessories as gifts, and 56% would accept pre-owned merchandise as gifts this season.
FTI Consulting's 2019 U.S. Holiday Retail Forecast projects 5.2% growth in discretionary holiday spending, noting that the online channel now commands nearly a 16% share of total retail sales "and will continue to gain just over one percentage point of market share annually, or about $69 billion in retail sales that will move from store-based purchases to the online channel in 2019." FTI projects $185 billion of online retail sales in the fourth quarter of 2019, an increase of 15% year-over-year from the fourth quarter of 2018. The report highlights that with total retail sales growing at about 4% annually, the movement of sales from stores to online is the equivalent of approximately 50% of the industry's total annual sales growth.
Conway President and Site Selection Publisher Adam Jones-Kelley made this photo this week of Conway Staff Photographer Carmyn Suzor in Old Town Warsaw, Poland, as she walked past the Polish Flowers Tavern. After more than 85% of the city's historic center was destroyed by Nazi troops during the Warsaw Uprising in August 1944, a five-year reconstruction campaign by its citizens after the war resulted in what UNESCO calls "today's meticulous restoration of the Old Town, with its churches, palaces and marketplace. It is an outstanding example of a near-total reconstruction of a span of history covering the 13th to the 20th century."