FROM SITE SELECTION MAGAZINE JANUARY 2020

E-COMMERCE & LOGISTICS
Light industrial is all the rage for e-commerce.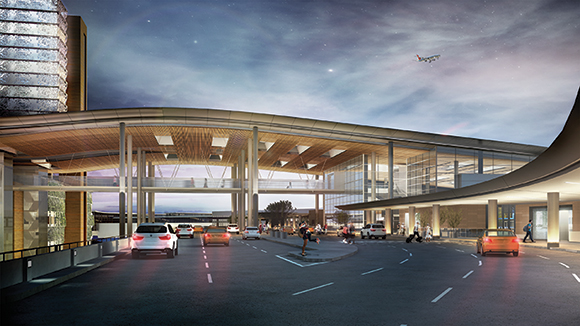 INVESTMENT PROFILE: NASHVILLE INTERNATIONAL AIRPORT
Fast-growing Nashville International Airport (BNA) seeks to connect more people, businesses and countries through its BNA Vision expansion plan.
URUGUAY
Finnish forest products firm UPM continues to move forward with its 2.1-million-metric-ton greenfield eucalyptus pulp mill near Paso de los Toros in central Uruguay. Besides the mill, the total investment of US$3 billion also includes a pulp terminal in the port of Montevideo as well as investments in local facilities in Paso de los Toros. The company's overall approach also includes housing investment in the area, a scholarship program for students to attend Uruguay's leading technical universities, and a surplus of wood-fueled power that UPM says will help Uruguay balance its energy portfolio.
MINNESOTA
A new 354,000-sq.-ft. distribution center from Costco Wholesale is one of three new industrial buildings being constructed in an industrial park along I-35 in Owatonna, Minnesota, about an hour south of the Twin cities. The other two projects are from industrial air conditioner manufacturer Daikin and truck/trailer part maker Minimizer.
SITE SELECTION RECOMMENDS
What do state pension fund liabilities have to do with economic development and corporate investment? Two reports answer that question and prompt many more. Last week, Good Jobs First, the D.C.-based watchdog group, released "Putting State Pension Costs in Context," features five states (with seven more coming) where public-employee pensions are currently being debated. "The report found that $2.6 billion was spent on corporate subsidies and tax breaks in Arizona, Connecticut, Kentucky, Oklahoma, and Wyoming during FY 2018," GJF said. "About three-quarters of that amount would have covered the states' pension system contributions."
The other report worth your while is "The State Pension Funding Gap: 2017," released in June 2019 by The Pew Charitable Trusts. Among its findings: "Only Idaho, Nebraska, New York, North Carolina, South Dakota, Tennessee, and Utah joined Wisconsin in being at least 90% funded." Wisconsin was best funded, at 103% of its pension liabilities.
Conway President and Site Selection Publisher Adam Jones-Kelley made this photo in early January in Maldives, the group of atolls in the Indian Ocean that achieved independence from its status as a British protectorate in 1965. Some 80% of Maldives is 1 meter or less above sea level — the highest point is the 8th tee of the golf course on Villingi Island, at 5 meters (16.4 ft.). With a population of around 391,000, the republic's economy is primarily fueled by tourism and fisheries. Among investments tracked by Conway Analytics in Maldives over the past several years was a $15 million, 250-job warehouse in 2017 from Ensis Fisheries, the republic's largest seafood exporter, which just last month inaugurated a new 400-job processing plant.