FROM SITE SELECTION MAGAZINE JANUARY 2020

BUSINESS PROCESS OUTSOURCING
We ran the top 50 BPO companies by revenue through our project database to find out where the cream of the crop have invested in operations over the past several years.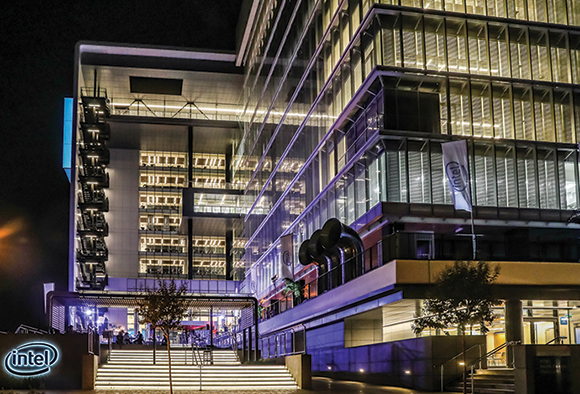 NEWS DIGEST
Avy demonstrates its drone in Amsterdam; Intel opens a new center in Israel; Tesla is building in Berlin; NASA picks a site on an asteroid; top global cities for entrepreneurs in three sectors.
CONWAY ANALYTICS SNAPSHOT
Map courtesy of The Tax Foundation
The Tax Foundation this week released updated data on state corporate income tax rates and brackets. Forty-four states levy them, with rates ranging from 2.5% in North Carolina to 12% in Iowa. Six states have top marginal rates of 9% or higher, while 10 states have rates at or below 5%. Thirty states and D.C. have a single-rate system, which the Foundation observes "minimizes the incentive for firms to engage in economically wasteful tax planning to mitigate the damage of higher marginal tax rates that some states levy as taxable income rises."
Other states, meanwhile, forgo corporate income tax in favor of a gross receipts tax, "which are generally thought to be more economically harmful than corporate income taxes due to tax pyramiding and lack of transparency." Delaware and Oregon impose gross receipts taxes in addition to corporate income taxes, while states such as Pennsylvania, Virginia and West Virginia permit gross receipts taxes at the local (but not state) level. The Foundation also notes significant changes this year favorable to companies in Florida, Georgia, Mississippi, Missouri, Indiana and New Jersey.
Tax Foundation indices provide two of the eight criteria we examine each year in our state business climate rankings, which Georgia topped for a record seventh straight year in November. The chart below shows how the 25 states in our rankings measure up when it comes to their top marginal rate. The average rate across all 25 is 5.12%. The average across the top 10 is 4.58%.
Top Marginal Corporate Tax Rates in Top
Business Climate States
Business Climate
Ranking
State
Top Marginal Corporate
Income Tax Rate (%)
1
Georgia
5.75%
2
North Carolina
2.50%
3
Ohio
0%
4
Texas
0%
5
South Carolina
5%
5
Virginia
6%
7
Tennessee
6.50%
8
Indiana
5.50%
9
Alabama
6.50%
10
Louisiana
8%
11
Arizona
4.90%
12
Nebraska
7.81%
13
Nevada
0%
14
Kentucky
5%
14
Missouri
4.00%
16
Michigan
6%
17
Florida
4.46%
17
Utah
4.95%
19
Iowa
12%
19
Oklahoma
6%
21
Illinois
9.50%
21
South Dakota
0%
23
Wisconsin
7.90%
24
Mississippi
5%
25
Colorado
4.63%
COLOMBIA
LafargeHolcim, which since 2013 has operated a shared services center in Medellín's Ruta N Innovation District that employs 400, this week committed to locate a technological innovation center there that will involve an investment of $10 million and will serve all of the Americas. "This technological leadership site will generate in the first stage 250 jobs and in the final stage more than 1,000," said Medellín Mayor Daniel Quintero Calle. "This is the path for a Software Valley in this Fourth Industrial Revolution."
MARYLAND
The Kroger Co. and Ocado, a grocery e-commerce technology firm, last week announced Frederick, Maryland, as the latest location for a Customer Fulfillment Center (CFC). The project will create 400 jobs and attract $55 million in investment. Up to 100 more jobs will be added later as the service area of the 350,000-sq.-ft. facility expands. "This site will be key to delivering amazing grocery experiences to households across Maryland, Pennsylvania and the District of Columbia," said Luke Jensen, CEO of Ocado Solutions. "The warehouse will be a key component of the seamless fulfilment ecosystem that Kroger is developing for customers across the United States." So far, Conway Analytics has tracked other facilities in this network in Monroe, Ohio; Groveland, Florida; Forest Park, Georgia; and Lancaster, Texas.
SITE SELECTION RECOMMENDS
Location technology specialist TomTom this week released the results of the TomTom Traffic Index, a report detailing the traffic situation in 416 cities in 57 countries. "Bengaluru takes the top spot this year with drivers in the southern Indian city expecting to spend an average of 71% extra travel time stuck in traffic," TomTom reported. Moscow is the most congested in Europe with 59%. Los Angeles (42%) is among three California cities in the top five in the U.S., but when all of North America is considered, Mexico City tops the list, while — surprising perhaps to all but the Canadians who live there — Vancouver, Toronto and Montreal all make the top 10.
Amsterdam — where TomTom's headquarters is located — ranked 190th, but even there the average driver lost four days and 16 hours in rush hours — enough time, says TomTom, to have watched 99 episodes of "Game of Thrones," knitted five sweaters or baked 5,410 cookies.
Most Congested Cities Globally (overall daily congestion level – extra travel time – population over 800,000)
| | | | | | |
| --- | --- | --- | --- | --- | --- |
| 1 | Bengaluru, India | 71% | 6 | Moscow, Russia | 59% |
| 2 | Manila, Philippines | 71% | 7 | Lima, Peru | 57% |
| 3 | Bogota, Colombia | 68% | 8 | New Delhi, India | 56% |
| 4 | Mumbai, India | 65% | 9 | Istanbul, Turkey | 55% |
| 5 | Pune, India | 59% | 10 | Jakarta, Indonesia | 53% |
"Welcome, giant pansies. Please feel free to bask in my glow." Sacha Baron Cohen spoke those lines as Julien the lemur in the 2005 DreamWorks animated feature film "Madagascar." This month, Conway, Inc. Global Director of Training & Events Laura Martin was in Antananarivo, Madagascar, to deliver custom FDI training, and photographed this real live lemur at Lemur Park just outside the city. "It was pretty cool to see them in Madagascar," she says, though she admits, "I was very sad that Air France didn't have the movie on the plane."