FROM SITE SELECTION MAGAZINE JANUARY 2020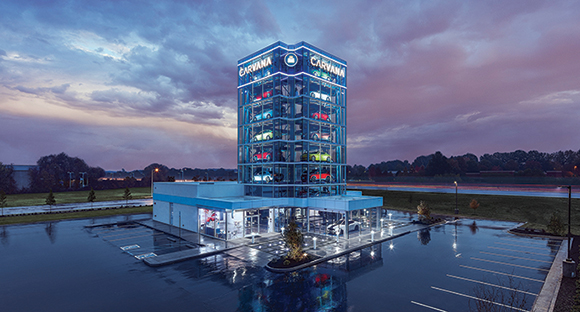 TENNESSEE
GIVE Grants boost vocational education programs in rural counties.
TENNESSEE
After banning its Marketplace sellers from using FedEx Ground and Home services for Prime deliveries during the height of holiday shipping in December, Amazon lifted that prohibition in January. Either way, Amazon is investing in FedEx's backyard, with a $200 million, 1,000-worker fulfillment center in the Frayser community in north Memphis announced in late January. The center joins other Tennessee fulfillment and sortation centers in Charleston, Chattanooga, Lebanon, Memphis, Murfreesboro, and Nashville, a Prime Now Hub in Nashville, and the company's forthcoming 5,000-job tech hub in Nashville, which will house tech and management functions for Amazon's Retail Operations division. Since 2010, Amazon says it has invested more than $6.5 billion into its local fulfillment center infrastructure and through compensation. "Amazon employs 6,500 Tennesseans, and that number continues to grow," said Tennessee Governor Bill Lee.
IRELAND
"Botox maker's boss seeks wrinkle-free transition" read the headline in Irish newspaper The Independent in January when Dublin-based Allergan and its new corporate parent AbbVie unveiled a new manufacturing and R&D expansion at the plant Allergan originally sited in Westport, Ireland, in 1977. Reversing the former trend of domiciling in Ireland, U.S.-based AbbVie announced its $63 billion acquisition of Allergan in June 2019, just two months after Allergan had pledged a €65 million (US$84 million), 63-job expansion at the site, which makes Botox. The announced investment in the biologics facility is now €160 million (US$207 million), and includes a new microbiology and cell-based lab and investments in eye products manufacturing facilities. Allergan employs around 2,000 in Ireland, with the merger expected to close soon.
CONWAY ANALYTICS SNAPSHOT
Graph courtesy of Cushman & Wakefield
A new course delivered by MIT Professional Education, Developing Health-Centered Communities: The Next Revolution in Real Estate, brings together faculty across many disciplines from the MIT Center for Real Estate and Harvard Medical School Executive Education (HMS) to explore innovative ways of adapting and developing urban spaces to support the health and well-being of the world's growing aging population. The course takes place April 13-17, 2020, on both the MIT and HMS campuses. "Health-centered communities are a revolutionary concept that could transform the future of urban and suburban planning," said Dennis Frenchman, director of the MIT Center for Real Estate and the Class of 1922 Professor of Urban Design and Planning, at the announcement this week, noting how the well-being goals of baby boomers and millennials may overlap.
Among the regions that have looked to address aging as an economic development opportunity is Louisville, Kentucky, whose efforts were first documented in Site Selection a decade ago. Other cities such as Columbia, South Carolina; Kilkenny, Ireland; Miami, Florida; and Edmonton, Alberta, Canada, are saluted in a report published last year by Milken Institute's Center for the Future of Aging, "Age-Forward Cities for 2030." Cross-reference that research with the new study from Cushman & Wakefield, "Demographic Shifts: The World in 2030," whose analysis will be featured in a report on Asia in Site Selection's March issue.
SITE SELECTION RECOMMENDS
RE-member RE-Powering America's Land Initiative? It's the EPA program promoting renewable power generation on contaminated sites that Site Selection first highlighted a decade ago. It's still alive and well. A December update from the program notes that EPA has reviewed developer and community source data to identify documented benefits for 295 sites. As of September 2019, the RE-Powering Initiative has identified 352 renewable energy installations on 327 contaminated lands, landfills, and mine sites, with a cumulative installed capacity of 1,710.2 megawatts (MW). You can find and learn about every one of them via the RE-Powering Mapper tool.
As the cost of doing business in Charlotte, Asheville, and Greenville, SC, continues to increase, it's time to come to beautiful Rugherford County, NC. The area boasts a strong workforce with customized training available. 14 prime acres are ready for new construction including commercial, warehouse or build-to-suit. The 16,000 sf Rutherford Business Center at 500 West Street is the only Class A office between Charlotte and Asheville with space available for immediate lease and/or purchase. Tax credits and grants available for new job creation and investment. Rutherford County is renewd and ready today!
For more information email rab@naibeverly-hanks.com and visit naibeverly-hanks.com.
Site Selection Managing Editor Adam Bruns made this photo of altocumulus clouds from Conway, Inc. headquarters in Peachtree Corners, Georgia, last week.