FROM SITE SELECTION MAGAZINE MARCH 2020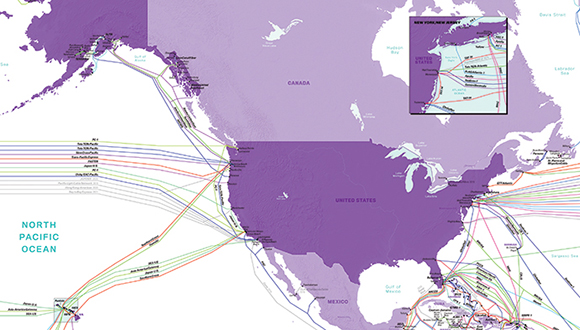 DATA CENTERS
An increasingly dense submarine web supports the web we're on all the time.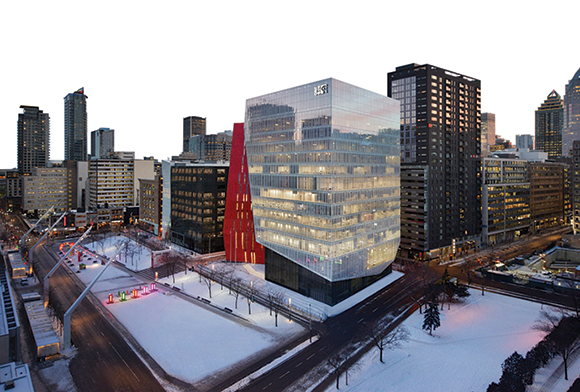 NEWS DIGEST
A Montreal award winner; new data on U.S rare earth minerals; which states raised their minimum wage; UPS and Waymo get autonomous in Phoenix; mass timber operation moves into former Arkansas steel plant.
Following positive feedback from many of the hundreds of participants in last week's Conway webinar "Winning FDI Strategies in Uncertain Times," addressing economic recovery from the COVID-19 pandemic, Conway will host another webinar focusing on the U.S. this coming Friday, April 3. Register now for "How America Will Lead the Global Recovery," featuring renowned geopolitical strategist and analyst Peter Zeihan.
INDIANA
Troy, Michigan–based Inteva Products, a global automotive supplier of engineered components and systems, announced plans March 18 to expand operations in Bluffton, Indiana, in the northeast part of the state. The $42 million investment will involve leasing, renovating and equipping a 260,000-sq.-ft. facility, and aims to create up to 419 new jobs by the end of 2023. Inteva expects the new facility to be fully operational by summer 2021.
"Inteva Products was founded in the Midwest and we are proud to expand our manufacturing footprint there to better serve our customers," said Lon Offenbacher, CEO and president of Inteva Products, in a news release from Northeast Indiana Regional Partnership. "We are grateful to the Indiana Economic Development Corporation for its support." Inteva employs more than 9,000 associates at over 30 locations in North America, Europe and Asia.
CALIFORNIA
Weber Logistics earlier this month added a 353,361-sq.-ft. distribution center (DC) in Jurupa Valley, California, to its warehousing and distribution network. The multi-client facility, Weber's largest, is the company's fifth DC in Southern California's Inland Empire region and 12th DC in the state. Weber's DC footprint in the Inland Empire is now 1,567,492 sq. ft. — an expansion of 42% in the last two years. The new operation just west of I-15 will also result in the hiring of 30 new Weber employees.
"The continued demand for high-velocity retail warehouse distribution here is driving the expansion of every solid 3PL player," Weber Logistics COO Bob Lilja said in a company press release. "The western portion of the Inland Empire region is optimal for both import and regional food product distribution. Every other geography in the western U.S. comes in second."
SITE SELECTION RECOMMENDS
As jurisdictions worldwide seek to control the spread of COVID-19 by temporarily closing non-essential businesses, among the industry niches making the case for essential status is the refractory business. "The lining of every single reactor, transport vessel or kiln uses a wide range of refractory products including bricks, monolithics and high-temperature insulation wool," says the Brussels-based World Refractories Association, noting that around 70% of refractories are sold to the steel industry. "Refractories play the triple role of providing mechanical strength, protection against corrosion and thermal insulation."
"Refractories should be recognized as a critical industry that must continue to operate," the WRA stated in a March 27 release. "Without refractories, important industries and the products they produce would not exist. Whether it is the ambulances we drive, the hospitals we use, the roads we rely on, the medical equipment that we need, the communications tools we use, the waste we need to incinerate, or the medicines we take, the world we know would not exist without refractories. In the context of COVID-19, our customers in the steel, aluminum, copper, glass, chemicals, energy, waste management and pulp & paper industries are directly responsible for supplying the primary materials used to produce desperately needed items such as hospital beds, ambulances, respirators, face masks, and other medical devices. Their production processes cannot occur without refractories, even in the short term."
Germany-based RHI Magnesita is the world's largest refractory company, with 35 production sites and 13 raw material sites.

Photo courtesy of RHI Magnesita
Site Selection Managing Editor Adam Bruns made this photo during spring break on Sanibel Island, Florida, in April 2014. Sanibel and the adjoining Captiva Island feature 15 miles of beaches, 25 miles of bicycle-only paths, 250 different types of seashells and zero stoplights. Among the places to spot some of the 230 species of birds found in the area is the 5,000-acre J.N. "Ding" Darling National Wildlife Refuge, named for the Pulitzer Prize-winning cartoonist for the Sioux City Journal and Des Moines Register who went on to be named director of the U.S. Biological Survey, the forerunner of the U.S. Fish and Wildlife Service, in July 1934 by President Franklin D. Roosevelt. Among other accomplishments in his 18 months as director, Darling initiated the Federal Duck Stamp Program.