FROM SITE SELECTION MAGAZINE MARCH 2020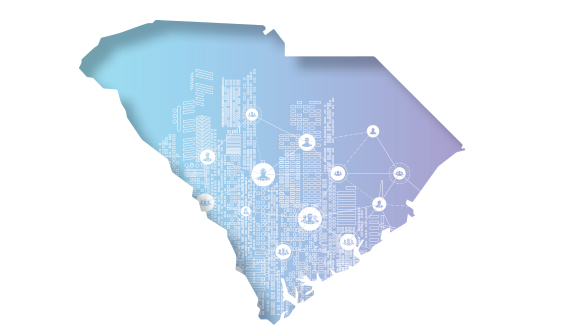 SOUTH CAROLINA
David Cuda, Colliers International senior vice president and director of corporate solutions for South Carolina, shares insights on state and metro markets.
BRAZIL
Work continues on the Puma II expansion project from Brazilian paper and packaging giant Klabin, with the first phase expected to go operational in 2021 with the capacity to produce 450,000 tons a year of 100% kraftliner paper from eucalyptus fiber (Eukaliner), a product that Klabin exports and transforms into its own corrugated packaging. A second phase involves construction of a supplementary fiber line integrated to a kraftliner paper machine with annual capacity of 470,000 tons. At the height of construction, the overall project will create around 11,000 jobs. Founded in 1899, Klabin has 17 industrial units in Brazil and one in Argentina.
WASHINGTON
According to The Dalles Chronicle, Cascade Cherry Growers in partnership with Pacific Coast Cherry Packers and sales marketer Sage Fruit Company are investing over $4 million in a cherry hydro-cooler and cold storage facility in Dallesport, aiming to have it up and running by harvest time in June. The building will cool the cherries before shipping to Pacific Coast's packaging facility in Wapato, more than 80 miles to the north. Dallesport is part of The Dalles, located east of Portland, Oregon, along the Columbia River separating the two states. Washington State grows more sweet cherries than any other region in the nation.
SITE SELECTION RECOMMENDS
Among the data products that might pair well with Conway Analytics is a new division from New York–based Thomas, which has unveiled Thomas Industrial Data, based on the company's Thomasnet.com® platform that includes 1,500,000+ buyers per month that source products and services from 70,000+ categories, containing 500,000+ North American suppliers. "This sourcing activity creates petabytes of market and industry trend data that provides an unprecedented window into the industrial economy," says the company. Thomas also publishes the Thomas Manufacturing Index (TMX), which reflects the fundamentals of industrial activity across the United States and Canada. See the latest version overlaid on the S&P 500 here. In addition, Thomas also recently launched the Coronavirus Resource Hub for the Manufacturing Sector to mobilize and organize essential production and delivery of mission-critical supplies needed in the fight against the pandemic.
Approximately 800 vessels and 35 million short tons of cargo move each year through the Port of Duluth-Superior, situated 2,342 miles inland from the Atlantic Ocean.

Photo by Tim Mlodozyniec courtesy of the Duluth Seaway Port Authority
It seems that the pandemic has canceled every rite of spring. But the trees are still blossoming, the birds are still chirping and the salties are still sailing. That's what they call the oceangoing vessels that transit the St. Lawrence Seaway. The Port of Duluth — the Great Lakes' westernmost port — had to cancel its usual First Ship celebration because of COVID-19 precautions. But Federal Churchill, a 656-foot ice-class bulk carrier owned by Montréal-based Fednav, still came in on April 8. The ship docked at the Riverland Ag terminal to load approximately 23,000 short tons of durum wheat destined for Italy.
"Since the arrival of the first First Ship after the Seaway's opening in 1959, generations of people in the Twin Ports have gathered to celebrate the first saltie sailing in, a true sign of spring and also of the prosperity these great ships help deliver to our region," said Deb DeLuca, executive director of the Duluth Seaway Port Authority. "This year, under the cloud of COVID-19, we can't gather together in our usual ways, but we can still celebrate a sign of brighter days to come, and a cargo from our region that will help bring sustenance and hope to the people of Italy."